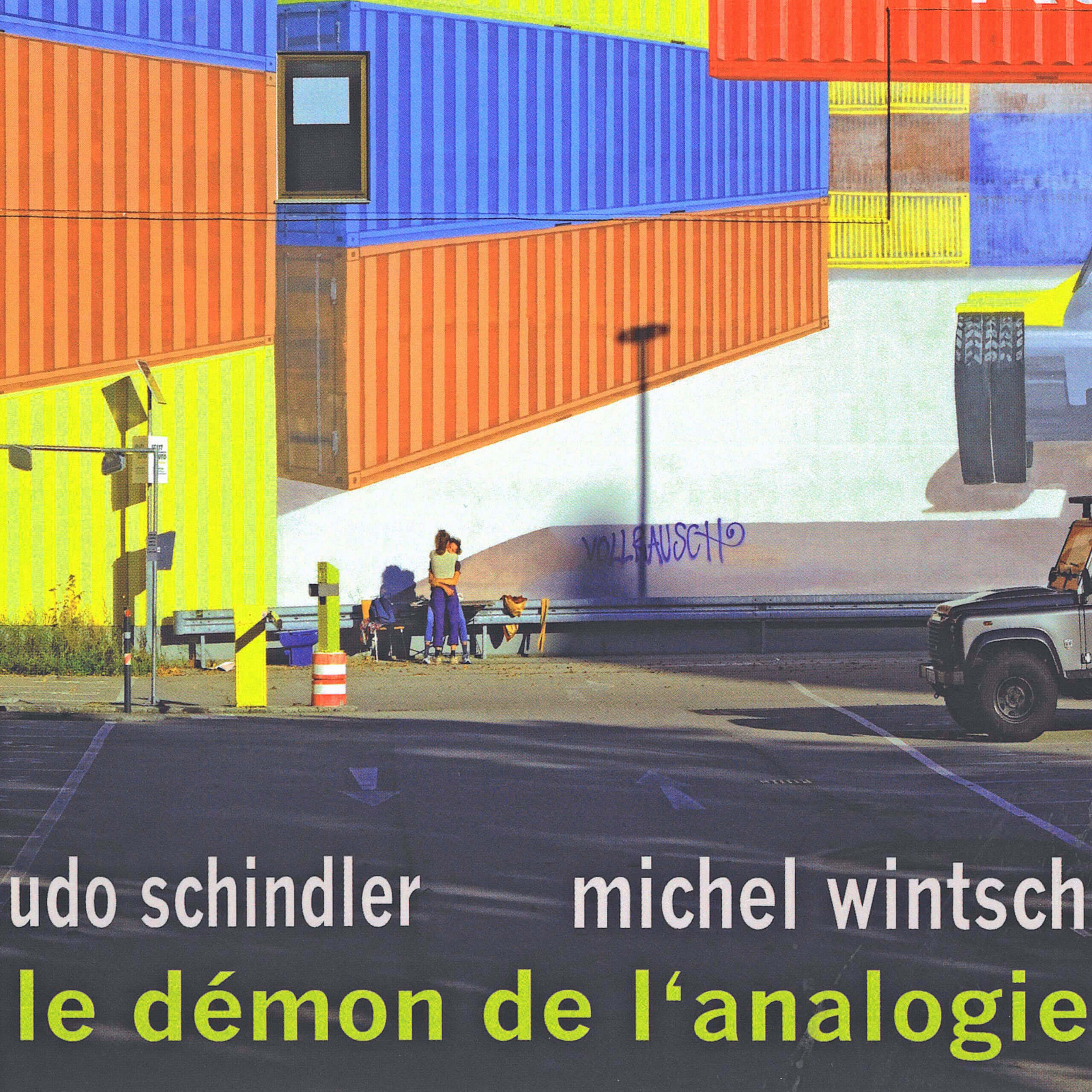 Udo Schindler & Michel Wintsch
le démon de l'analogie
FMR CD630-0422
Udo Schindler       clarinets & saxophones
Michel Wintsch     pleyel piano
le démon de l'analogie   06:13
des paroles                        09:16
inconnues                          02:22
chantérent-elles              05:07
sur vous levres                 02:15
lambeaux mandits          06:30
d`une phrase                    08:27
absurde?                            01:53
Live rec. at September 30th, 2016 by Udo Schindler at the 67th Salon für Klang+Kunst in Krailling/Munich 
Mix & master by Wolfgang Obrecht / Tonstudio RichArt
Cover photo by Udo Schindler
Inside photos by KP Mendler
All compositions by Udo Schindler (GEMA) & Michel Wintsch (Suisa)
Graphic design by Schindler & FMR
Produced by Udo Schindler
Executive production by FMR
le démon de l'analogie / unheimliche analogie / the demon of analogy
Avez-vous déjà entendu des mots inconnus sortir de vos lèvres, fragments importuns d'une phrase absurde ? Erklangen schon einmal von deinen lippen unbekannte worte, unwillkommene fetzen eines absurden satzes?Have you ever heard unknown words rang out from your lips, unwelcome fragments of an absurd sentence?         Stéphane Mallarmé
Les mots de Stéphane Mallarmé ont été publiés pour la première fois en 1874 dans la revue du monde. Les titres des pièces sont S.M. emprunté, qui comprend ses textes comme des instruments. Les harmonies sonores de la langue française mettent le lecteur au défi de déchiffrer, d'allier complexité et ambiguïté. Vous ne serez pas dévoré. Le lecteur/auditeur doit s'impliquer et être lui-même créatif, laisser de l'espace à ses fantasmes.
Die worte von Stéphane Mallarmé sind erstmals 1874 in der revue du monde veröffentlicht.
Die titel der musikstücke sind S.M. entlehnt, der seine texte als instrumente versteht. Die klangharmonien der französischen sprache fordern den leser zum entziffern, zum kombinieren der komplexität und mehrdeutigkeit auf. Sie lassen sich nicht verschlingen. Der leser/hörer muß sich darauf einlassen und selbst kreativ werden, seinen phantasien raum geben.
The words of Stéphane Mallarmé are first published in 1874 at la revue du monde nouveau.
The titles of the pieces are borrowed from Stéphane Mallarmé, who sees his texts as instruments. The sound harmonies of the French language challenge the reader to decipher and combine the complexity and ambiguity. You will not be devoured. The reader / listener has to get involved and be creative himself, give his fantasies space. us