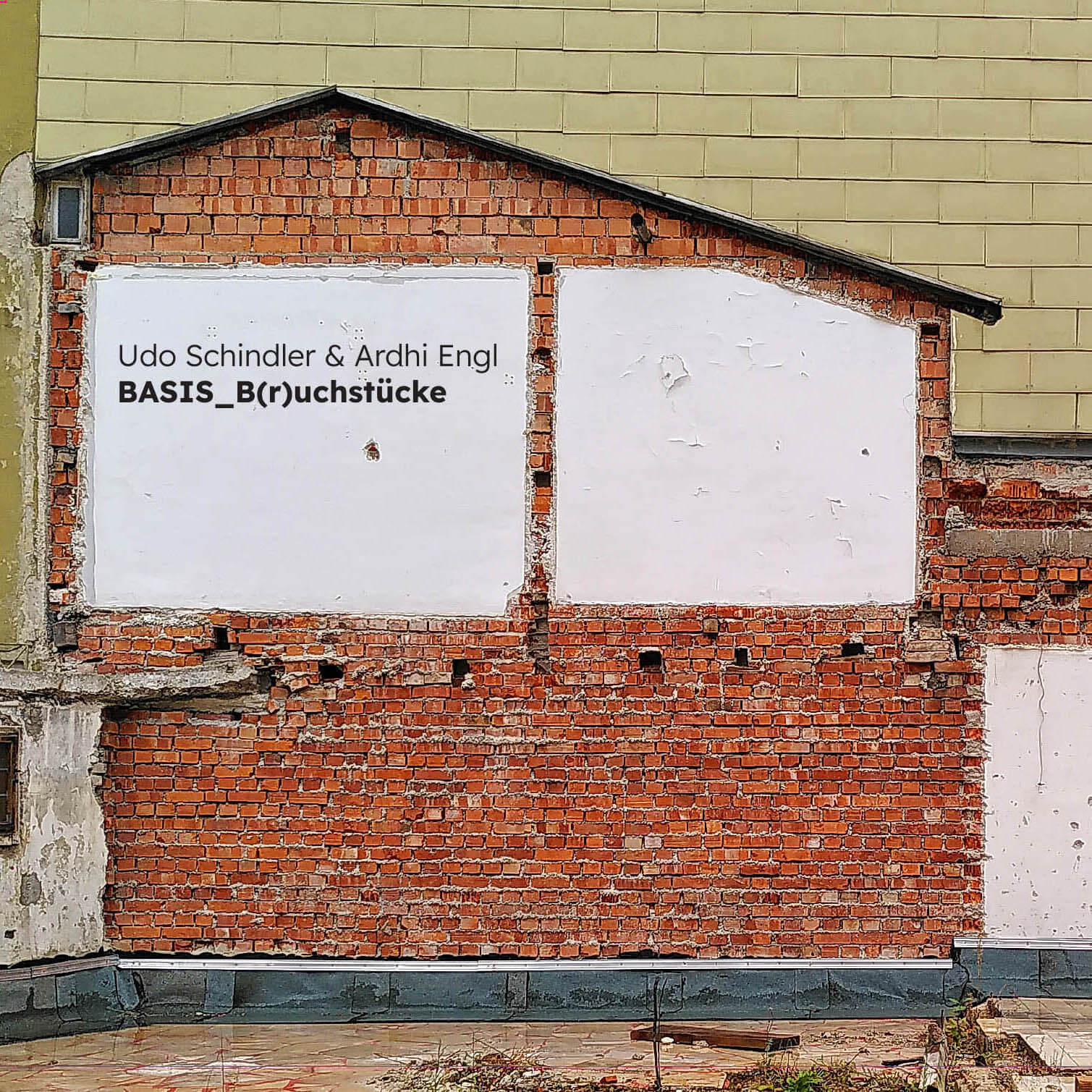 Udo Schindler & Michel Wintsch
BASIS_B(r)uchstücke
experimental chamber music in the BASIS_Klangraum #2
Creative Sources CS 750 CD
Udo Schindler       clarinets & theremin
Michel Wintsch     self invented instruments
BASIS_B(r)uchstück #1   09:12
BASIS_B(r)uchstück #2   04:58
BASIS_B(r)uchstück #3   08:25
BASIS_B(r)uchstück #4   07:26
BASIS_B(r)uchstück #5   06:10
BASIS_B(r)uchstück #6   04:32
BASIS_B(r)uchstück #7   03:32
BASIS_B(r)uchstück #8   06:28
BASIS_B(r)uchstück #9   04:22
audio & video recordings March 11th, 2022 at BASIS_Klangraum 
in MUCCA & dasvinzenz (Munich) by Udo Schindler (arch-musik)
mixed & mastered by Wolfgang Obrecht/Tonstudio RichArt (Munich)
compositions by Udo Schindler, Ardhi Engl (GEMA)
cover photo by Udo Schindler
inside photos by KP Mendler
graphic design by Carlos Santos
produced by Udo Schindler
Executive Production by Ernesto Rodrigues
thanks for support to Tom Biburger, Robert Spitz, Gabi Sabo, Wolfgang Obrecht, Michael Kurz, KP Mendler
video by Michael Kurz
https://www.youtube.com/watch?v=gJh7TmSRd4Q
BASIS_Klangraum (BASIS Booksalon at MUCCA). Basis means in English BASIC.
A new sound space for contemporary, experimental and improvised music is introduced at MUCCA. 
It can be seen as a successor project to the Salon für Klang+Kunst, which gave up after the 99th event due to corona.
The performances are co-sponsored and supported by the dasvinzenz theatre.
The acoustically performed space is the book estate of the legendary left-wing former bookshop with antiquarian bookshop in Munich, the Basis-Buchhandlung. 
Founded in 1972, the bookshop on Adalbertstraße in Munich was a focal point for critical minds for almost 40 years and an intellectual staple for many, including me. The institution, as such it was to be called, had to close about ten years ago.
The recorded space with the leftover books is an adequate shell for the unadjusted improvised sounds we create there. 
The play on words Buchstücke means book pieces in english and Bruchstücke  means fragments. It's a reference to the space that is 'wallpapered' with the spiritual.
https://arch-musik.de/; http://www.ardhi-engl.de/
https://dasvinzenz.de/; http://www.mucca.org/