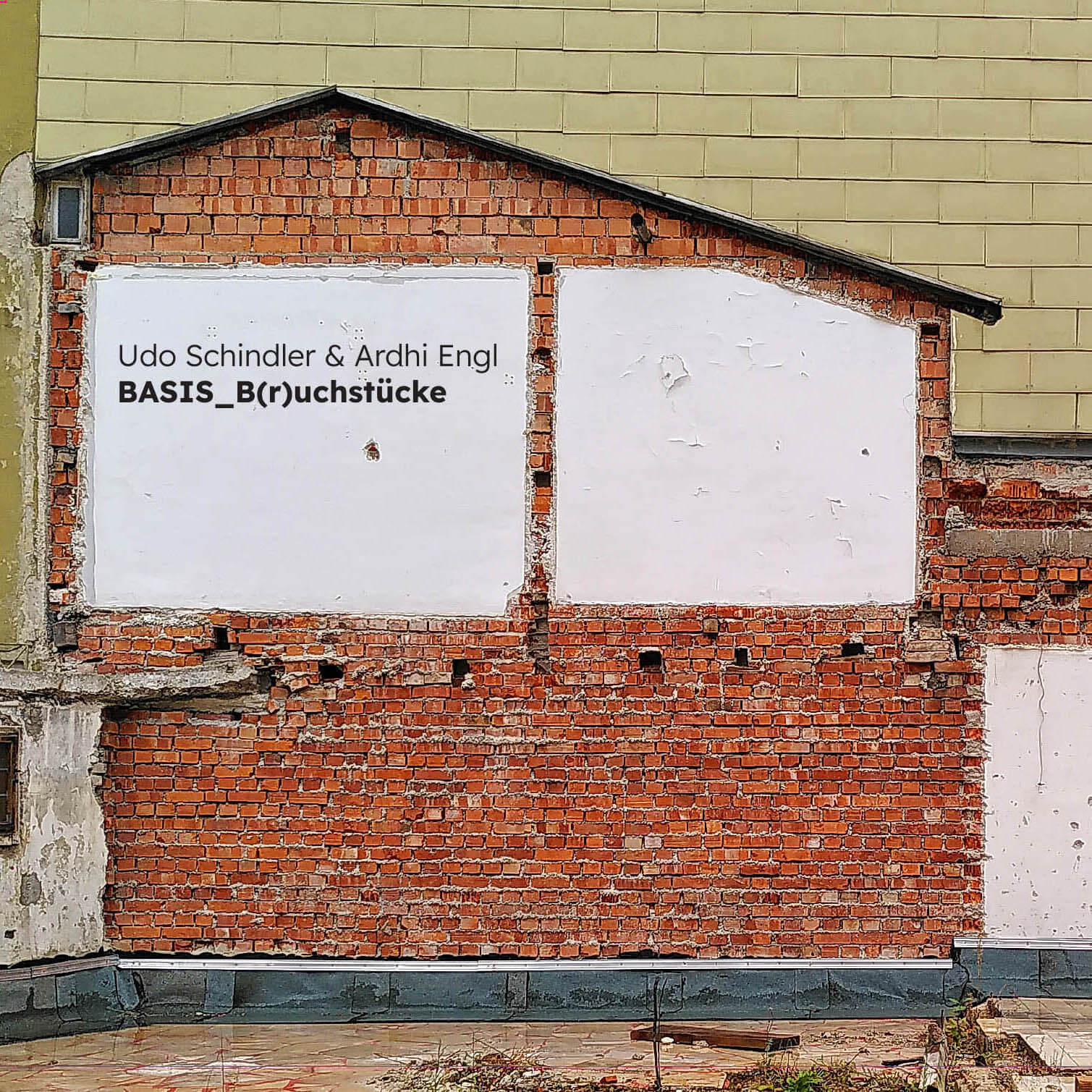 Udo Schindler & Michel Wintsch
BASIS_B(r)uchstücke
experimental chamber music in the BASIS_Klangraum #2
Creative Sources CS 750 CD
Udo Schindler       clarinets & theremin
Michel Wintsch     self invented instruments
BASIS_B(r)uchstück #1   09:12
BASIS_B(r)uchstück #2   04:58
BASIS_B(r)uchstück #3   08:25
BASIS_B(r)uchstück #4   07:26
BASIS_B(r)uchstück #5   06:10
BASIS_B(r)uchstück #6   04:32
BASIS_B(r)uchstück #7   03:32
BASIS_B(r)uchstück #8   06:28
BASIS_B(r)uchstück #9   04:22
audio & video recordings March 11th, 2022 at BASIS_Klangraum 
in MUCCA & dasvinzenz (Munich) by Udo Schindler (arch-musik)
mixed & mastered by Wolfgang Obrecht/Tonstudio RichArt (Munich)
compositions by Udo Schindler, Ardhi Engl (GEMA)
cover photo by Udo Schindler
inside photos by KP Mendler
graphic design by Carlos Santos
produced by Udo Schindler
Executive Production by Ernesto Rodrigues
thanks for support to Tom Biburger, Robert Spitz, Gabi Sabo, Wolfgang Obrecht, Michael Kurz, KP Mendler
video by Michael Kurz
https://www.youtube.com/watch?v=gJh7TmSRd4Q
Reviews
UDO SCHINDLER, ARDHI ENGL
Basis–B(r)uchstücke.
Experimental Chamber Music
Udo Schindler (bcl, cbcl, Theremin),
Ardhi Engl (selbst gebaute Instrumente)
Der inzwischen 70-jährige Münchner Improvisator, Organisator und Architekt Udo Schindler ist vielseitig interessiert und vernetzt mit einem internationalen Kreis ähnlich Orientierter, zu denen auch Schweizer zählen. Seine Klangerforschungen, die er besonders mit Duoaufnahmen dokumentiert, werden dementsprechend von ganz Verschiedenem angeregt. …
Die Aufnahme Schindlers mit Ardhi Engl vom vergangenen März ist die erste der neuen Konzertreihe im BASIS–Klangraum des Münchener MUCCA. Auf seinen gestrichenen, gezupften und geblasenen Eigenbau-Instrumenten produziert Engl faszinierende Sounds und seine Erfahrung mit Tanz- und Theaterprojekten schärft seinen Sinn für Dramatik.
Hier geht's nicht um reibende Kontraste, sondern um Synthese. Die unterschiedlichen Qualitäten der Instrumente finden sich in sensiblen Zwiegesprächen nahe bei Kammermusik und "folklore imaginaire". Zwar ist man auch hier bestrebt, unerhörte Strukturen und Stimmungen zu erspielen, aber das führt oft zu fast meditativen Momenten klanglicher und atmosphärischer Übereinstimmung.
The now 70-year-old Munich improviser, organiser and architect Udo Schindler has a wide-ranging interested and networked with an international circle of similarly oriented people, including Swiss among them. His sound explorations, which which he documents in particular with duo recordings, are accordingly inspired by very different stimulated. …
Schindler's recording with Ardhi Engl of last March is the first of the new concert series in the BASIS sound room of the Munich MUCCA.
On his bowed, plucked and blown instruments Engl produces fascinating instruments, Engl produces fascinating sounds and and his experience with dance and theatre projects theatre projects sharpens his sense of drama. Here it's not about rubbing contrasts, but about synthesis. The different qualities of the instruments instruments are found in sensitive dialogues close to chamber close to chamber music and "folklore imaginaire".
Here, too, the musicians strive to create unheard-of structures and moods, but this often leads to often leads to almost meditative moments of tonal and and atmospheric harmony.
Jazz'nMore Nr.5-2022 / Jürg Solothurnmann
BASIS_B(r)uchstücke (Creative Sources, CS 750 CD), UDO SCHINDLERs experimentelle Klarinetten- & Thereminmusik mit ARDHI ENGL, dem als Beschaller von Gerhard Polt und Spielgefährte von Geoff Goodman ja beinahe prominenten Münchner Original, an einer Metagitarre Marke Eigenbau, ist eine buchstäbliche Liebeserklärung an die einstige Basis-Buchhandlung in der Adalbertstraße, wo der Dealer ihres Vertrauens Münchner Bücherwürmern jahrzehntelang neben dem Gesuchten auch noch das Notwendige an Herz & Hirn legte. Entstanden ist es als dasvinzenZ-Gastspiel in der Bibliothek des MunichCenter of Community Arts [MUCCA], wo sich nach 99 Konzerten im Salon für Klang+Kunst in Krailling mit der Basis_Klangraum-Reihe eine Fortsetzung abzeichnet. Engls String-Ding, gestrichen und getupft wie gerupft, und seine Flöten- und halb gesungenen Didgeridootöne evozieren mit dem klarinettistischen Krähen, Plörren, Ploppen oder surrendem Theremin ein bizarres Morgenland, in dem neutönende Sophistication und romantische Restbestände mit anarchischem Gusto einem 'primitiven' Modernismus frönen.
BASIS_B(r)uchstücke (Creative Sources, CS 750 CD), UDO SCHINDLER's experimental clarinet & theremin music with ARDHI ENGL, the Munich original who is almost a celebrity as Gerhard Polt's stomacher and Geoff Goodman's playmate, on a meta-guitar of his own making, is a literal declaration of love to the former Basis bookshop in Adalbertstraße, where for decades the dealer of their confidence put the necessary things to the hearts and brains of Munich bookworms in addition to what they were looking for. It was created as a dasvinzenZ guest performance in the library of the MunichCenter of Community Arts [MUCCA], where, after 99 concerts in the Salon für Klang+Kunst in Krailling, a continuation is on the horizon with the Basis_Klangraum series. Engl's string-thing, bowed and dabbed as if plucked, and his flute and half-sung didgeridoo sounds evoke with the clarinetistic crowing, plunking, plopping or whirring theremin a bizarre Orient in which neo-tonal sophistication and romantic remnants indulge in a 'primitive' modernism with anarchic gusto.
BAD ALCHEMY [BA 116 rbd] Rigobert Dittmann
 —
The more I listen to his music, the more convinced I become that Udo Schindler is one of the un(der)sung master reedsmen both in the strange streams of sound he coaxes out of his horns and the concerted way he avoids the conventional grammar. It is as if he is building a new vernacular for his instrument in real time.
Schindler's unique style comes through particularly well in duos and, it seems, in live performances. He took the pandemic to dig through his back catalog of recordings. Many of these reached public ears through download only releases on his Bandcamp page and, notably, many were duos. Indeed, Schindler seems to have really gravitated to the duo, likely somewhat because of practicality but also because of the possibilities of that configuration. It offers big spaces for each musician to be heard — full blast or sotto voce — and gives each a counterpart — sometimes a companion and others a sparring partner — with whom to bounce around ideas and to whom to respond. Depending on the instrumentation and the players, it also frees the musicians from rhythm's centripetal force and gives them license to explore other, in this case amelodic and atonal, places.
By now, of course, musicians have returned to the stage. In March 2022, Schindler and multi-instrumentalist Ardhi Engl met for a performance in Munich's BASIS-Klangraum for an intimate session of nine duos, captured here on BASIS_B(r)uchstücke. Schindler came to the session with clarinets and theremin, something rarely heard in such formats perhaps because of how understated its sound is. Engl brought along a slew of homemade instruments. Many seem to be strings and wind instruments, though it is sometimes difficult to tell, just as, at points, it is difficult to discern his from Schindler's contributions. Others sound electronic, complementing Schindler's warbling with crackling fuzz. This album covers a lot of sonic terrain. The musicians deploy everything from clucks and squeals to entwining trills and warped foghorn calls to metal-on-metal grind. Really, almost everything except for clear extended melodies or full tones (though the latter do slip through fleetingly at points.) That diversity, however, works when harnessed by these two musicians. I know little about their prior history together. But it is clear that in March of 2022, they hit their stride together — fragmented and wonderfully, relentlessly oblique.
Je öfter ich seine Musik höre, desto mehr bin ich davon überzeugt, dass Udo Schindler einer der un(der)besungenen Meisterbläser ist, sowohl in den seltsamen Klangströmen, die er seinen Hörnern entlockt, als auch in der konzertierten Art und Weise, wie er die konventionelle Grammatik vermeidet. Es ist, als ob er in Echtzeit eine neue Umgangssprache für sein Instrument entwickeln würde. 
Schindlers einzigartiger Stil kommt besonders gut in Duos und, wie es scheint, bei Live-Auftritten zur Geltung. Er nutzte die Pandemie, um sich durch seinen alten Katalog von Aufnahmen zu wühlen. Viele davon wurden der Öffentlichkeit nur als Download auf seiner Bandcamp-Seite zugänglich gemacht, und vor allem waren viele davon Duos. Schindler scheint sich tatsächlich zum Duo hingezogen zu fühlen, wahrscheinlich aus praktischen Gründen, aber auch wegen der Möglichkeiten dieser Konstellation. Es bietet jedem Musiker einen großen Raum, um gehört zu werden – mit voller Wucht oder sotto voce – und gibt jedem ein Gegenüber – manchmal einen Begleiter und manchmal einen Sparringspartner -, mit dem er Ideen austauschen und auf den er reagieren kann. Je nach Besetzung und Spielern befreit es die Musiker auch von der zentripetalen Kraft des Rhythmus und gibt ihnen die Freiheit, andere – in diesem Fall amelodische und atonale – Orte zu erkunden.
Inzwischen sind die Musiker natürlich auf die Bühne zurückgekehrt. Im März 2022 trafen sich Schindler und der Multiinstrumentalist Ardhi Engl zu einem Auftritt im Münchner BASIS-Klangraum für eine intime Session mit neun Duos, die hier auf BASIS_B(r)uchstücke festgehalten wurde. Schindler kam zu der Session mit Klarinetten und Theremin, etwas, das in solchen Formaten selten zu hören ist, vielleicht weil sein Klang so unaufdringlich ist. Engl brachte eine ganze Reihe von selbstgebauten Instrumenten mit. Viele scheinen Streich- und Blasinstrumente zu sein, obwohl es manchmal schwierig ist, sie zu unterscheiden, genauso wie es manchmal schwierig ist, seine und Schindlers Beiträge auseinanderzuhalten. Andere klingen elektronisch und ergänzen Schindlers Trällern mit knisterndem Fuzz. Dieses Album deckt ein weites klangliches Terrain ab. Die Musiker setzen alles ein, von Glucksen und Quietschen über verschlungene Triller und verzerrte Nebelhornrufe bis hin zu Metall-auf-Metall-Grind. Wirklich fast alles, mit Ausnahme von klaren, ausgedehnten Melodien oder vollen Tönen (obwohl letztere an manchen Stellen flüchtig durchscheinen).  Diese Vielfalt funktioniert jedoch, wenn sie von diesen beiden Musikern genutzt wird. Ich weiß wenig über ihre gemeinsame Vorgeschichte. Aber es ist klar, dass sie im März 2022 gemeinsam in die Vollen gingen – fragmentiert und wunderbar, schonungslos schräg.
NYC / review by Nick Ostrum / 2023-04-04
Udo Schindler & Michel Wintsch
Udo Schindler & Ardhi Engl / Basis_ B[r]uchstücke / Creative Sources CS 750 CD
Sylvain Kassap & Héléne Labarriére / Dédicaces / Émouvance emv 1047
Trying to avoid the cliché that two similar constituted duos can create radically distinct music is difficult, but it rings true here. And it's not because while clarinetist Sylvain Kassap and bassist Héléne Labarriére, both French, use conventional instruments while Ardhi Engl, who partners with clarinetist Udo Schindler uses a self-invented instrument. That's because Engl's method of playing his stringed instrument isn't unlike that used on a regular double bass. Instead it's that while Kassap, who has recorded with Hamid Drake and Labarriére with Christophe Rocher may sometimes use unconventional techniques, but their commitment is to the song form. That's why Jacques Brel's "Jaurès" ends their disc without cleavage. Meanwhile the Germans, Engl, who has played with Sebi Tramontana, and Schindler, who has partnered multiple exploratory players, are most concerned with improvisational experimentation rather than the shape or conclusion of Basis_ B[r]uchstücke's nine numerical tracks.
Moreover Dédicaces' exact number of tracks are linear. The tandem improvising asserts sympathetic harmony and measured balance over whatever angled and vibrated reed tones and pumping and popping strings are worked into the mix. Even "Jaurès", which ends with warm clarinet sighs and bass strums, begins with alternating clarion and nephritic reed timbres. On those tracks mostly dedicated to solo flights, Kassap's invention extends to near-pan flute variations Arcadian clarion flutters and basso breaths, while Labarriére inflates her woody walking bass capacity to almost boogie-woogie-like thumping rhythms.
Balancing creative and chromatic inferences throughout as they glide up and down the scale, the bassist's and clarinet's largest canvases are colored on "You" and "Une cure ". Beginning as a string buzzing and chalumeau reed register exposition on the former, the andante movement is pierced by altissimo reed cries and whistles, although consistency is later restored with measured bass strings strokes. Labarriére's bass line thickens in response to tension engendered by Kassap's irregular shrills on "Une cure ". But fragmented split tones and string slaps eventually work out the dual pointillist to adagio completion by the end.
Schindler and Engl signal their strategy as early as "Basis_ B[r]uchstücke #1". With the clarinetist's Theremin murmurs added to the fabricated instrument's oscillations, a polyphonic mix of snarling tremolo drones and sul ponticello string strokes marks the exposition. Soon enough though the two trade places with the clarinetist's circularly breathed clarion squeaks replaced by an almost pastoral mellow line and Engl creating near-vocalized aviary flanges from his instrument. Tonal research continues through the remainder of the disc with constant timbral churning emphasizing numerous variations. Although Theremin whooshes and warbles are most prominent on "Basis_ B[r]uchstücke #8" for example, the main focus is on how the string player attains mandolin-like frails and seems to be stroking two string sets at once. That's even as he suggests a story-telling melody. Energetic overblowing and systematic split tones are part of Schindler's game plan as switches between straight and bass clarinet and from clarion to chalumeau registers. But owning to the tunes' exploratory nature none is emphasized over the others. Thickened tones and vibrating scoops almost in the contrabass clarinet pitch may predominate on "Basis_ B[r]uchstücke #6" for instance as the reedist pushes forward without seemingly stopping for breath; or arching doits, bites and spetrofluctuation are heard on "Basis_ B[r]uchstücke #9". Yet not only is this output alternated with inverse textures from the same reeds, but also on both Engl moves from the singing harp-like plinks he brings to other tunes to bass guitar-like stops and flanges that underline and maintain equilibrium.
Those fascinated by the progression in clarinet/bass clarinet improvisation will no doubt be absorbed in these sessions. So will many non-woodwind players who like to chart music's progress.
JAZZWORD–Ken Waxman / September 19, 2023
Es ist schwierig, das Klischee zu vermeiden, dass zwei ähnlich zusammengesetzte Duos radikal unterschiedliche Musik schaffen können, aber hier trifft es zu. Und das liegt nicht daran, dass der Klarinettist Sylvain Kassap und die Bassistin Héléne Labarriére, beide Franzosen, konventionelle Instrumente verwenden, während Ardhi Engl, der sich mit dem Klarinettisten Udo Schindler zusammentut, der selbst erfundene Instrumente benutzt. Das liegt daran, dass Engls Spielweise auf seinem Saiteninstrument der eines normalen Kontrabasses nicht unähnlich ist. Kassap, der mit Hamid Drake aufgenommen hat, und Labarriére mit Christophe Rocher verwenden zwar manchmal unkonventionelle Techniken, sind aber der Liedform verpflichtet. Deshalb endet Jacques Brels "Jaurès" auch ohne Dekolleté auf ihrer Scheibe. Die Deutschen Engl, der schon mit Sebi Tramontana gespielt hat, und Schindler, der mit mehreren experimentierfreudigen Musikern zusammengearbeitet hat, sind eher mit improvisatorischen Experimenten beschäftigt als mit der Form oder dem Abschluss der neun numerischen Titel von Basis_ B[r]uchstücke.
Außerdem ist die genaue Anzahl der Stücke bei Dédicaces linear. Das improvisierende Tandem behauptet eine sympathische Harmonie und ein ausgewogenes Gleichgewicht über den schrägen und vibrierenden Tönen der Zungen und den pumpenden und pochenden Streichern, die in den Mix eingearbeitet werden. Selbst "Jaurès", das mit warmen Klarinettenseufzern und Bassschlägen endet, beginnt mit abwechselnden Klarinetten- und nephritischen Rohrblattklängen. In den Stücken, die hauptsächlich Soloflügen gewidmet sind, erstreckt sich Kassaps Erfindungsreichtum auf fast panische Flötenvariationen, arkadische Klarinettenflöten und Basso-Atmung, während Labarriére ihre holzige Walking-Bass-Kapazität zu fast Boogie-Woogie-ähnlichen stampfenden Rhythmen aufbläst.
Während sie auf der Tonleiter auf und ab gleiten und dabei kreative und chromatische Andeutungen machen, sind die größten Leinwände des Bassisten und der Klarinette auf "You" und "Une cure" zu hören. Die Andante-Bewegung, die im ersten Stück mit dem Summen der Streicher und der Exposition des Chalumeau-Rohrregisters beginnt, wird von Altissimo-Schreien und -Pfeifen durchbrochen, obwohl die Konsistenz später durch gemessene Basssaitenanschläge wiederhergestellt wird. Labarriéres Basslinie verdichtet sich als Reaktion auf die Spannung, die durch Kassaps unregelmäßige Schreie in "Une cure" erzeugt wird. Doch fragmentierte Spalttöne und Streicherschläge arbeiten den doppelten Pointillismus schließlich bis zum Adagio aus.
Schindler und Engl signalisieren ihre Strategie bereits in "Basis_ B[r]uchstücke #1". Zu den Schwingungen des fabrizierten Instruments gesellt sich das Theremin-Gemurmel des Klarinettisten, und ein polyphoner Mix aus knurrenden Tremolo-Drones und Sul-Ponticello-Saitenanschlägen markiert die Exposition. Schon bald tauschen die beiden jedoch die Plätze, wobei die kreisförmig gehauchten Klarinettenquietschgeräusche des Klarinettisten durch eine fast pastorale, sanfte Linie ersetzt werden und Engl seinem Instrument fast vokalisierte Vogelflüge entlockt. Die klangliche Erforschung setzt sich im weiteren Verlauf der CD fort, wobei zahlreiche Variationen durch ständige Klangveränderungen hervorgehoben werden. Obwohl Theremin-Rauschen und -Trällern zum Beispiel bei "Basis_ B[r]uchstücke #8" im Vordergrund stehen, liegt das Hauptaugenmerk darauf, wie der Streicher mandolinenähnliche Fransen erreicht und zwei Saitensätze gleichzeitig zu streicheln scheint. Und das, obwohl er eine erzählende Melodie vorschlägt. Energetisches Überblasen und systematische Spalttöne sind Teil von Schindlers Spielplan, ebenso wie der Wechsel zwischen gerader und Bassklarinette und zwischen Klarinetten- und Chalumeau-Registern. Aber dem Erkundungscharakter der Melodien entsprechend wird keine über die andere hervorgehoben. Verdickte Töne und vibrierende Schöpfungen fast in der Kontrabassklarinetten-Tonhöhe können zum Beispiel bei "Basis_ B[r]uchstücke #6" vorherrschen, wenn der Bläser vorwärts drängt, ohne scheinbar eine Atempause einzulegen; oder bogenförmige Doits, Bisse und Spektrofluktuation sind bei "Basis_ B[r]uchstücke #9" zu hören. Doch nicht nur, dass sich dieser Output mit umgekehrten Texturen aus denselben Rohrblättern abwechselt, sondern auch, dass Engl in beiden Stücken von den singenden Harfen-ähnlichen Plinks, die er in andere Stücke einbringt, zu Bassgitarren-ähnlichen Registern und Flanschen wechselt, die das Gleichgewicht unterstreichen und aufrechterhalten.
Diejenigen, die von den Fortschritten in der Klarinette/Bassklarinette-Improvisation fasziniert sind, werden zweifellos von diesen Sessions begeistert sein. Das Gleiche gilt für viele Nicht-Holzbläser, die gerne den Fortschritt der Musik verfolgen.
JAZZWORD–Ken Waxman / September 19, 2023