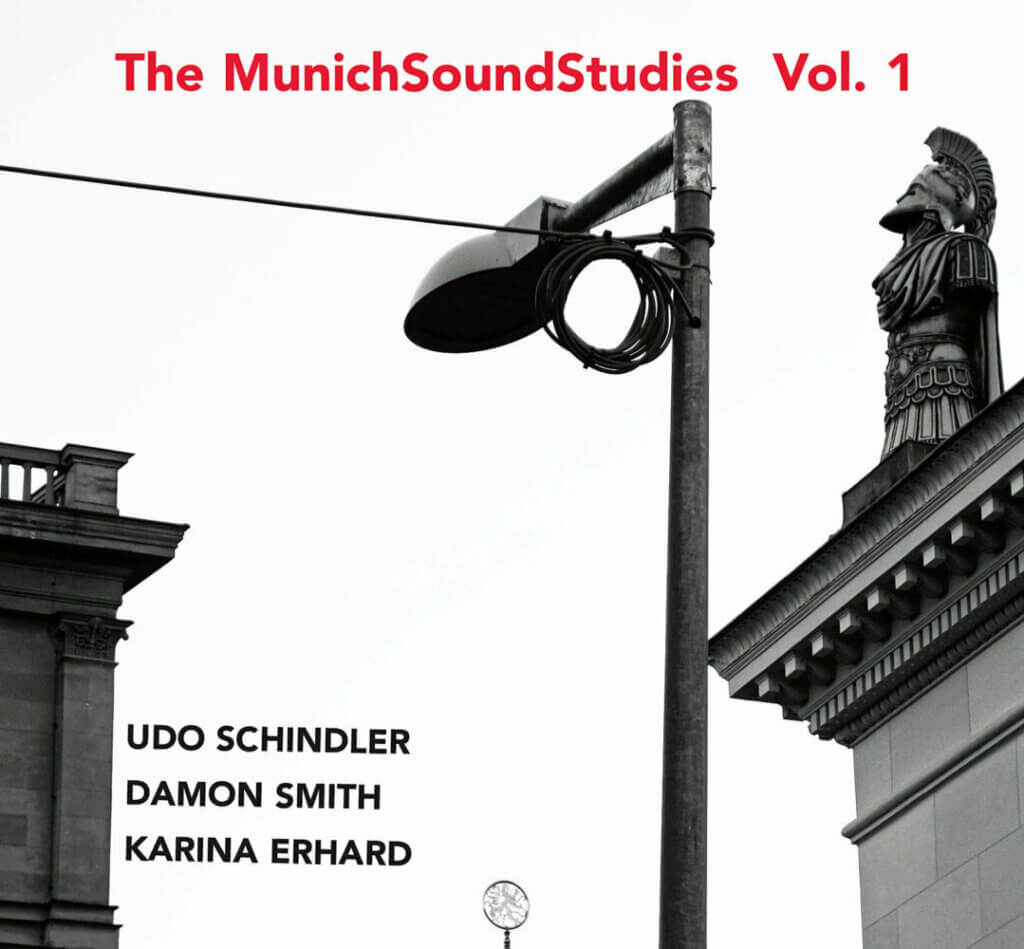 The MunichSoundStudies Vol. 1
FMRCD593-0920
Vol.1 · dasvinzenz_encounter 
dasvinzenz December 12th, 2019
Udo Schindler       clarinet, bass clarinet, alto horn
Damon Smith        double bass
Karina Erhard        c flute & alto flute
a_e.1       5:46
a_e.2       7:17

a_e.3       8:01

a_e.4       8:12

a_e.5     10:10
a_e.6       6:17
live recording by Gottfried Düren/arToxin
mixed & mastered by Wolfgang Obrecht/Tonstudio RichArt, Munich
artwork in the background at Galerie arToxin by Sati Zech 
all music by Udo Schindler (GEMA), Karina Erhard (GEMA), Damon Smith (BMI), 
Video by Michael Kurz (& Udo Schindler)
https://www.youtube.com/watch?v=FeEJ7qjCB70
Inside photos & cover photo by Udo Schindler
graphic design by Udo Schindler
produced by Udo Schindler
executive production by Trevor Taylor
 thanks for support to Wolfgang Obrecht/Tonstudio RichArt, Michael Kurz/video, Robert Spitz/dasvinzenz, Angelika Dönhärl & Gottfried Düren/Galerie arToxin, Alexander Grünert/bass maker, Friederike Altdörfer/general support, Ernst Nebhuth, the Schauer Family, Karina Erhard, Jaap Blonk & Damon Smith
www.arch-musik.de, www.balancepointacoustics.com; www.karina-erhard.de; www.artoxin.de
Emil Schuhmacher 1957


I do listen to your music and I I think it's excellent. It's just it's impossible on our end to cover a wide range of CDs at this point. I will personally promote a couple titles of yours and maybe play some of it on my podcast on the 15th (December 2021)
David Haney / Cadence Magazine (USA)
mss #1
Featuring Udo Schindler on clarinets & alto horn, Damon Smith on contrabass and Karina Erhard on C & alto flutes. Recorded live at Galerie at Toxin in December of 2019. Munich-based reeds player, Udo Schindler, has recorded some 40 discs since his first disc in 2007. Schindler is a marvelous, diverse multi-instrumentalist who switches between various reeds (clarinets & saxes) and brass (cornet & alto horn). Schindler has worked with more than a dozen players, each of whom plays different instruments, making each session something quite different. For this trio date, Schindler works with Boston-based bassist, Damon Smith, who keeps a high profile working many many greats: Joe McPhee, Peter Kowald, Henry Kaiser and many others. The third person here is a flutist named Karina Erhard, whose name is unrecognized be me.
Mit Udo Schindler an Klarinetten und Althorn, Damon Smith an Kontrabass und Karina Erhard an C- und Altflöten. Live aufgenommen in der Galerie at Toxin im Dezember 2019. Der in München lebende Holzbläser Udo Schindler hat seit seiner ersten Scheibe im Jahr 2007 rund 40 CDs aufgenommen. Schindler ist ein wunderbarer, vielfältiger Multiinstrumentalist, der zwischen verschiedenen Reedinstrumenten (Klarinetten und Saxophone) und Blechblasinstrumenten (Kornett & Althorn) wechselt. Schindler hat mit mehr als einem Dutzend Spielern zusammengearbeitet, von denen jeder unterschiedliche Instrumente spielt, was jede Session zu etwas ganz anderem macht. Für dieses Trio-Date arbeitet Schindler mit dem in Boston ansässigen Bassisten Damon Smith zusammen, der mit vielen Größen wie Joe McPhee, Peter Kowald, Henry Kaiser und vielen anderen bekannt ist. Die dritte Person hier ist eine Flötistin namens Karina Erhard, deren Name mir nicht bekannt ist.
Bruce Gallanter_DMG / NYC