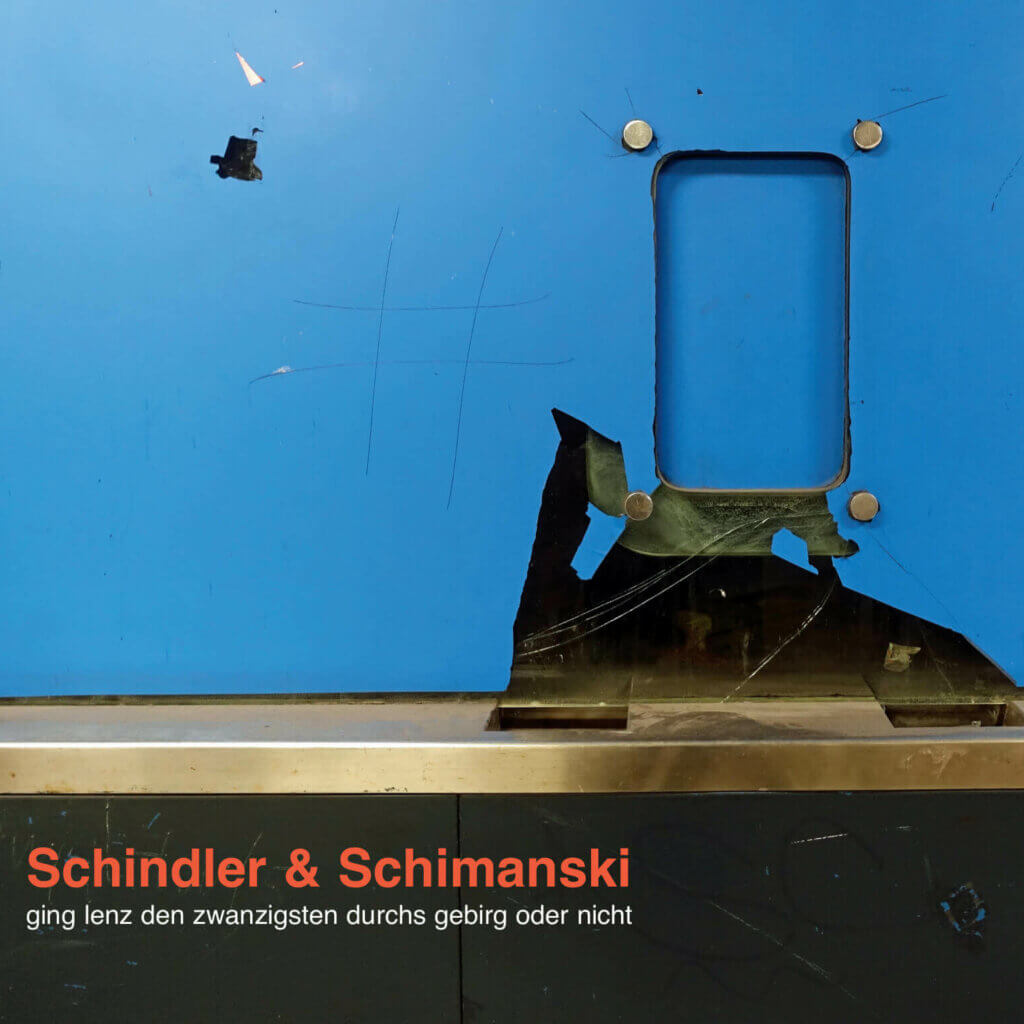 Schindler & Schimanski
ging lenz den zwanzigsten durchs gebirg oder nicht
FMRCD607-0321

Udo Schindler               altosax, brass, synthesizer
Patrick Schimanski       percussion, live electronic, voice
ging                   7:51

lenz                   3:49
den                    6:44
zwanzigsten     5:37
durchs               7:56

gebirg                3:26
oder                   8:19
nicht                  5:01
the CD title as well as the tracks refer to the novel LENZ by Georg Büchner.
live recording of the performance on November 24th, 2017
at the 79th Salon für Klang+Kunst Krailling/Munich by Udo Schindler
compositions by Udo Schindler & Patrick Schimanski (GEMA)
mix by Patrick Schimanski
editing & master by Wolfgang Obrecht/Tonstudio RichArt, Munich
cover photo by Udo Schindler
insidephotos by KP Mendler
graphic design by FMR
produced by Udo Schindler
executive production by Trevor Taylor
thanks for support to Wolfgang Obrecht, KP Mendler, Robert Tucci/Hornboerse, Bruno Waltersbacher; Doepfer Musikelektronik GmbH
Lenz isoliert_
Sozial distanziert_
Im Dialog mit _ einzig der Natur_
Mit sich selbst? Oder mit dem was von ihm übrig ist_
Kleine, unmerkliche Wahrnehmungen_ "petites perceptiones" bei Leibniz
"Vorstellungen" von etwas_ Ideen von Dialog. Eine Unzahl von Wassertropfen lässt das
Rauschen des Regens werden_ und erklingen….
Geräusch spricht mit Klang_ Klang wird Geräusch_
Lenz_ nur vordergründig isoliert. Er hört die Natur und er hört Glocken_ In der Ferne.
Lenz isolated
Socially distanced
In connection with the bare nature
In connection with himself? Or what still remains of him?
Little, imperceptible perceptions "petites perceptions" as Leibniz said.
"Imaginations" of something_ Ideas of a dialog. Innumerable water drops are allowing the sough of rain to will and sound…
Noise talking with sound, sound becomes noise
Lenz, perhaps not isolated in real. He hearkens the nature and he hearkens bells, far away.
Patrick Schimanski