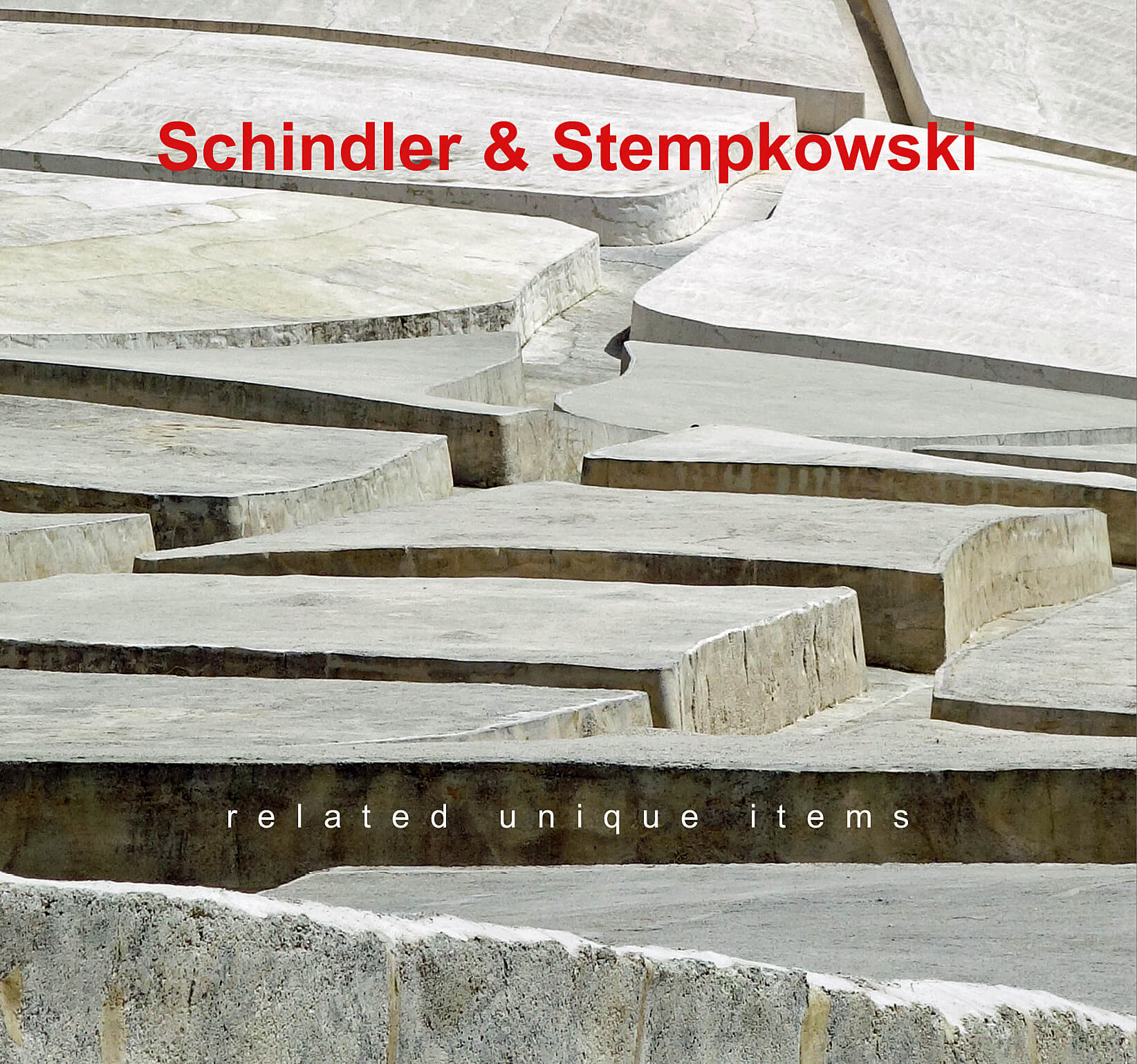 Schindler & Stempkowski
related unique items [LowToneStudies]

FMRCD621-0721
Udo Schindler                    clarinets, saxophones, brass
Thomas Stempkowski     double bass
1. Beauty & Consequence
1.1 B&C_1        18:58
   1.2 B&C_2          3:11
   1.3 B&C_3          5:30
2.  Autonomy & Commitment.
2.1 A&C_1         12:22
   2.2 A&C_1         16:48
   2.3 A&C_1           4:37
   2.4 A&C_1           4:33
All used titles are borrowed by the inspiring book of exciting architecture:
staab – Verwandte Unikate / related unique items.
A work report about an esteemed architect colleague.
Merging of contradictions into a coherent unit.
THOMAS STEMPKOWSKI and I agreed to dedicate these recordings with double bass to the memory of our colleague Simon H. Fell. 
It could hardly be more tragic and macabre, because Thomas died unexpectedly (for me) on June 12th, 2021 during the production of this CD.
I never would have thought that the recordings would be a farewell and memorial album. We had plans. The first meeting stimulated us, the interpersonal and the inner sound was right. 
A strong voice is silent, not only will I miss it!
us:
The music is dedicated to the British bassist, composer & label head SIMON H. FELL who died on June 28th, 2020 . As a valued colleague whom I wanted to invite for my concert series 'low tone studies' and the "Salon für Klang+Kunst" in 2021 in Munich.
live recording of the performance on October 26th, 2019 at the 97th Salon für Klang+Kunst, Krailling/Munich by Udo Schindler / Autonomy & Commitment
and on October 25th, 2019 at Galerie artoxin by Gottfried Düren / Beauty & Consequence – both concerts took place as part of the concert series 'low-tone studies'.
music by Udo Schindler (GEMA), Thomas Stempkowski (AKN)
choice & cuts by Thomas Stempkowski
mix, master & editing by Wolfgang Obrecht/Tonstudio RichArt, Munich
cover photo by Udo Schindler – the motif is Cretto de Burri (Gibellina landscape artwork by Alfredo Burri)
insidephotos by Udo Schindler
exhibited art in the galerie arToxin by Sati Zech
graphic design by …
produced by Udo Schindler & Thomas Stempkowski
Executive production by …
thanks for support to Wolfgang Obrecht, the Schauer Family, Michael Kurz, Erik Zwang Eriksson, Gottfried Düren & Angelika Donhärl/Galerie arToxin.
Udo Schindler plays exclusively Robert Tucci / Perantucci mouthpieces for the low brass and uses a bass clarinet neck designed by Martin Suter / Blashaus.
The metal contrabass clarinet, based on a Leblanc clarinet, is rebuilt and improved by Bruno Waltersbacher / sax-o-phon
Thomas Stempkowski had played a double bass built by Oskar Kappelmeyer in 2001, a Gabriel Lemböck copy and used a bow by Bernd Dölling.
Video by Udo Schindler & Erik Zwang Eriksson
October 25th, 2019 Galerie arToxin/München 
https://www.youtube.com/watch?v=HD4xO7gNSF0&feature=youtu.be
https://www.youtube.com/watch?v=G7HAZlUcvdU&feature=youtu.be
https://www.youtube.com/watch?v=-ZgI90bbTNo&feature=youtu.be
https://www.youtube.com/watch?v=KC613lwBAFE&feature=youtu.be