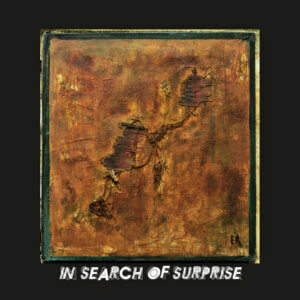 S.chindler R.olin L. ainé
IN SEARCH OF SURPRISE
FMR CD617-0721
Udo Schindler (DE)       cornet, soprano & baritone saxophones 
Etienne Rolin (USA)     basset horn, glissotar
Luc Lainé (FR)               vibraphone
open triangle

                16:17
airial exchange

             03:06
specific metallic.           02:41
metal overtones

           03:26
in search of surprise  

  08:30
very muted bari             06:58
quasi fugato.                  

 

08:07
live recording February 17th, 2021 by Udo Schindler (arch-musik) at Villa Waldberta in Feldafing-Munich / Germany
mixed & mastered by Wolfgang Obrecht/Tonstudio RichArt, Munich 
all compositions by Udo Schindler (GEMA); Etienne Rolin & Luc Lainé ( SACEM)
the cover image is a painting by Etienne Rolin "Terre bruleé"
inside photos by Anne Buscher (Schindler & Rolin)
graphic design by Schindler-Rolin-FMR
produced by Udo Schindler & Etienne Rolin
executive production by …
thanks for support to Wolfgang Obrecht (Tonstudio RichArt), Gabi Sabo, the villa staff & the scholarship holders & friends in the villa: Silke Eberhard, Nikolaus Neuser, Viola Yip, Nicola Hein
The international Trio S.R.L. has an interesting background as it emerged through an artistic residency in the Villa Waldberta (Feldafing/Munich) during the restricted Covid period from november 2020 to february 2021. The french american composer Etienne Rolin was introduced to multi instrumentalist Udo Schindler thanks to the cultural manager Gabi Sabo. Immediately from the first meeting there was a mutual understanding and confidence in the nature of the collaboration which covered 14 encounters and close to a dozen hours of recordings over a three month period.
The duo mode was in a coherent and compfortable state when Rolin suggested to Schindler to incorporate the french composer vibraphonist Luc Lainé into the sonic research team.
What emerged from our session was a unique blend of esthetic textures that covered a wide spectrum form jazz echoes to contemporary research. The attentive ear will navigate into the deep waters of dense micro-polyphony with enharmonic extensions leading to formants of sonic saturation.
The extended techniques from the wind and brass instuments are deftly answered by the metallic harmonic and rythmic impulses of the vibraphone.
It is important to note that the trio S.R.L. is made up of three composer-improvisors who inhabit a common ground a vanishing point where composition and improvisation meet.
The fresh and surprising elements of free exchange are counterbalanced by a sense of formal development as the music evolves from discreet counterpoint to massive quasi orchestral textures.
A special mention is necessary concerning the Glissotar. Invented in Budapest by Dani Vaczi, the Glissotar is a modern version of the hungarian tarogato. It is presented in a wooden conical form that is split then covered by a magnetic strip allowing for extended glissandi and mico-intervals. One could imagine a fretlees soprano sax using violon fingering technique!
Etienne had just received the Glissotar 5 weeks prior to this present recording  and thanks Udo and Luc who embraced the challenge of engaging this interplay with an unknown instrument.
Etienne Rolin June 2021
REVIEWS
I do listen to your music and I I think it's excellent. It's just it's impossible on our end to cover a wide range of CDs at this point. I will personally promote a couple titles of yours and maybe play some of it on my podcast on the 15th (December 2021)
David Haney / Cadence Magazine (USA)
Featuring Udo Schindler on cornet, soprano & baritone saxes, Etienne Rolin on basset horn (similar to alto clarinet) & glissotar (similar to a taragato) and Luc Lainè on vibes. Over the past 15 years, we've seen/heard more than a fifty discs from German reeds player Udo Schindler! From solo to duos (w/ Jaap Blonk & Frank Paul Schubert) to trios. The majority of these have appeared on the FMR label. For this disc Udo Schindler has a trio with Etienne Rolin (French/American) and Luc Lainè (French). I can't tell you very much about Mr. Rolin or Mr. Lainè, although Mr. Rolin can be found on an Emanem disc led by Kent Carter. 
This disc was recorded live in February of 2021 in Munich, Germany). Considering how much I like the vibes as an instrument, I was glad to hear another new (to me at least) vibes player in Luc Lainè. Eerie vibes are the first sound we hear when this disc begins along with hushed cornet and careful basset horn. A most dreamlike sound. Mr. Lainè does a great job of using the pedal on his vibes to create resonant notes which float in the air. Udo Schindler plays long toned drone on his bari sax for "very muted bari". While listening to this disc, I thought that this trio has a more chamber-like sound, unlike any other trio that I've heard. The interplay between both reeds & the cornet is consistently inventive, like a heated discussion between 2 or 3 people, each with deep knowledge and spirit to discuss something serious with a some slight detours for humor & surprising twists. A great disc all around! 
Mit Udo Schindler am Kornett, Sopran- und Baritonsaxophon, Etienne Rolin am Bassetthorn (ähnlich der Altklarinette) & Glissotar (ähnlich einem Taragato) und Luc Lainè an den Vibes. In den letzten 15 Jahren haben wir mehr als 50 Schallplatten des deutschen Rohrblattspielers Udo Schindler gesehen/gehört! Von Solo über Duos (mit Jaap Blonk & Frank Paul Schubert) bis hin zu Trios. Die meisten davon sind auf dem FMR-Label erschienen. Für diese Scheibe hat Udo Schindler ein Trio mit Etienne Rolin (französisch/amerikanisch) und Luc Laine (französisch). Ich kann Ihnen nicht viel über Mr. Rolin oder Mr. Laine erzählen, obwohl Mr. Rolin auf einer Emanem-Disc unter der Leitung von Kent Carter zu finden ist. Diese Disc wurde im Februar 2021 in München live aufgenommen. Wenn man bedenkt, wie sehr ich die Vibes als Instrument mag, war ich froh, mit Luc Lainè einen weiteren neuen (zumindest für mich) Vibes-Spieler zu hören. Unheimliche Vibes sind das erste Geräusch, das wir hören, wenn diese Scheibe zusammen mit gedämpftem Kornett und vorsichtigem Bassetthorn beginnt. Ein traumhafter Klang. Mr. Lainè macht es großartig, das Pedal für seine Vibes zu verwenden, um resonante Töne zu erzeugen, die in der Luft schweben. Schindler spielt auf seinem Bari-Saxophon langtonigen Drone – sehr gedämpftes Bari. Beim Hören dieser CD dachte ich, dass dieses Trio einen eher kammerähnlichen Klang hat, im Gegensatz zu jedem anderen Trio, das ich gehört habe. Das Zusammenspiel zwischen beiden Rohrblättern und dem Kornett ist durchweg erfinderisch, wie eine hitzige Diskussion zwischen 2 oder 3 Personen, jeder mit tiefem Wissen und Geist, um etwas Ernstes mit einigen kleinen Umwegen für Humor und überraschende Wendungen zu diskutieren. Rundum eine tolle Scheibe!
Bruce Lee Gallanter, DMG (Downtown Music Gallery NYC)
Meine Zeilen über UDO SCHINDLERs 27-blättrigen DL-Klangfächer auf Arch-Musik sind kaum fixiert (BA 112), da erweitert er das Spektrum schon wieder mit seiner 15., 16., 17. Veröffentlichung auf FMR-Records. In Search of Surprise (FMRCD617-0721), entstanden am 17.2.2021, zeugt von den Kontakten, die UDO SCHINDLER im Corona-Winter zu Stipendiaten der Villa Waldberta in Feldafing knüpfte. Zu Nicola Hein, Silke Eberhard oder, hier hörbar als S.R.L., zu ETIENNE ROLIN als gestandenem, seit 1974 in Frankreich lebendem, in Bordeaux lehrendem Composer-Performer mit einer Bandbreite von Kurtag bis Zorn und dazu noch Maler, der das Informel-Gemälde fürs Cover beisteuert, an Bassethorn & Glissotar, einem Zwitter aus Tarogato & Sopranosax. Mit LUC LAINÉ, der auch aus Bordeaux kommt, am Vibraphon bilden sie ein offenes Dreieck. Die glockigen, ihre Einhornhufe schwingenden Vibes liefern metalloide und gläserne Obertonschwingungen und verlocken die Bläser zu einem rhapsodischen Wechselspiel von Einklang, keckerndem, heulendem, ululierendem Call & Response und mikro-polyphonen Verdichtungen, wobei Rolin dem freisinnigen Kraillinger und seiner Palette aus kornettistischem Blechriss, infernalisch flammendem Soprano- & minotaurischem Baritonsax in geschmeidig schillernder Klangfarbfülle nicht nachsteht.  My lines about UDO SCHINDLER's 27-sheet DL sound fanatic on arch-musik are hardly fixed (BA 112), since he is expanding the spectrum again with his 15th, 16th, 17th release on FMR Records. In Search of Surprise (FMRCD617-0721), created on February 17th, 2021, testifies to the contacts UDO SCHINDLER made with fellows at Villa Waldberta in Feldafing in the Corona winter. To Nicola Hein, Silke Eberhard or, here audible as SRL, to ETIENNE ROLIN as a seasoned composer-performer who has been living in France since 1974 and teaching in Bordeaux with a range from Kurtag to Zorn and also a painter who is the in Formula painting for the cover contributed to Bassethorn & Glissotar, a hybrid of Tarogato & Soprano Sax. With LUC LAINÉ, who also comes from Bordeaux, on the vibraphone they form an open triangle. The bell-like vibes, swinging their unicorn hooves, deliver metalloid and glass overtone vibrations and entice the wind instruments to a rhapsodic interplay of unison, cheeky, howling, ululating call & response and micro-polyphonic condensation, with Rolin the free-thinking Kraillinger and his The palette of cornet-like sheet metal cracks, infernal flaming soprano & minotauric baritone sax in smooth, shimmering timbres is not inferior.
Bad Alchemy_Rigobert Dittmann [BA 113 rbd]
Unique voicing through the orchestration of saxophones, basset horn, glissotar (a modern continuous pitch wind instrument) and vibraphone, heard in this recording at the international artist house Villa Waldberta, in Feldafing-Munich, Germany, for seven recordings that blend free jazz forms with chamber jazz approaches with remarkable sophistication and composure.
Einzigartige Inszenierung durch die Orchestrierung von Saxophonen, Bassetthorn, Glissotar (ein modernes Blasinstrument mit kontinuierlicher Tonhöhe) und Vibraphon, zu hören in dieser Aufnahme im internationalen Künstlerhaus Villa Waldberta in Feldafing-München für sieben Aufnahmen, die Free Jazz-Formen vermischen mit Kammerjazz-Ansätzen mit bemerkenswerter Raffinesse und Gelassenheit.
Squidco NYC
Départ avec un xylophone cristallin (Luc Lainé) et cor de basset ( Etienne Rolin ) et ensuite cornet (Udo Schindler). Musique de chambre free – jazz avec questions réponses et empathie.Dans cette Recherche de la Surprise, Udo joue aussi des sax soprano et baryton ici et comme il ne s'agit pas de son premier album chez FMR, on le trouve multi-instrumentiste dans une dizaine d'autres CD's FMR  à la clarinette basse, clarinette en Eb, sax  ténor et alto, tuba, alto horn, tubax, euphonium en compagnie de Jaap Blonk, Damon Smith, Wilbert de Joode, Sebi Tramontana, Philipp Kolb, Ove Volquartz, Irene Kepl. Parvenir à maîtriser tous ses instruments n'est pas une sinécure et je dois dire que ses sonorités vocalisées et grasseyantes au cornet ne déparent pas l'élégante articulation du clarinettiste Étienne Rolin, un franco-américain entendu à son grand avantage  dans Summer Works 2009  du Rivière Composer's Pool,  un triple cd paru chez Emanem. Une magnifique musique de chambre en compagnie de Kent Carter, du violoniste Albrecht Maurer et du clarinettiste Theo Jorgensmann. En 1984, Étienne Rolin avait publié Portraits Quartet et Orchestre chez In&Out avec la participation de JJ Avenel, Kent Carter, Oliver Johnson, Jean-Luc Petit, Didier Colin, Carlos Zingaro dont il avait écrit la musique. In Search of Surprise? Oui la surprise est totale: Etienne Rolin joue aussi du glissotar, un instrument à anche simple dérivé du tarogato et muni d'une languette magnétique qui permet des glissandi impressionnants et un jeu microtonal. Udo s'en donne à cœur joie avec son sax  soprano ou son sax baryton quand  Luc Lainé , dont c'est une des premières apparitions sur un album de musique improvisée, est un remarquable vibraphoniste, cristallin et aérien qui laisse vibrer et résonner les lamelles dans l'espace. Il y a une belle complémentarité, un sens de la forme et de l'improvisation. Glissandi de part et d'autre, dialogues louvoyants, la vocalité expressive du free-jazz, contrepoints élastiques , lyrisme incisif, travail collectif et un final, quasi fugato, avec des emboîtements et des arabesques qu'on jugerait avoir été écrit par un compositeur qui s'éclate.
Ein Aufbruch mit kristallinem Xylophon (Luc Lainé) und Bassetthorn (Etienne Rolin) und dann Kornett (Udo Schindler). Freie Kammermusik – Jazz mit Fragen und Antworten und Einfühlungsvermögen. In dieser "Search for Surprise" spielt Udo hier auch Sopran- und Baritonsaxophon und da dies nicht sein erstes Album auf FMR ist findet man ihn als Multiinstrumentalist auf zehn weiteren FMR-CDs an Bassklarinette, Klarinette in Es, Tenor- und Altsaxophon, Tuba, Althorn, Tubax, Euphonium in Begleitung von Jaap Blonk, Damon Smith, Wilbert de Joode, Sebi Tramontana, Philipp Kolb, Ove Volquartz, Irene Kepl. Es ist keine leichte Aufgabe alle seine Instrumente zu beherrschen, und ich muss sagen, dass seine vokalisierten und fettigen Kornetttöne die elegante Artikulation des Klarinettisten Étienne Rolin nicht beeinträchtigen, der in Summer Works 2009 du Rivière Composer's Pool zu seinem großen Vorteil gehört wurde, eine Triple-CD von Emanem. Großartige Kammermusik mit Kent Carter, dem Geiger Albrecht Maurer und dem Klarinettisten Theo Jorgensmann. 1984 veröffentlichte Étienne Rolin Portraits Quartet et Orchestre bei In & Out unter Mitwirkung von JJ Avenel, Kent Carter, Oliver Johnson, Jean-Luc Petit, Didier Colin und Carlos Zingaro, für die er die Musik geschrieben hatte. Auf der Suche nach Überraschung? Ja, die Überraschung ist total: Etienne Rolin spielt auch das Glissotar, ein vom Tarogato abgeleitetes Einrohrblattinstrument, das mit einer Magnetlasche ausgestattet ist, die ein beeindruckendes Glissandi- und mikrotonales Spiel ermöglicht. Udo hat viel Spaß mit seinem Sopran- oder Baritonsax, wenn Luc Lainé, einer der ersten Auftritte auf einem improvisierten Musikalbum, ein bemerkenswerter Vibraphonist ist, kristallin und luftig, der die Klingen im Raum vibrieren und mitschwingen lässt. Es gibt eine schöne Komplementarität, ein Gefühl für Form und Improvisation. Glissandi auf beiden Seiten, fliehende Dialoge, die ausdrucksstarke Vokalität des Free-Jazz, elastische Kontrapunkte, prägnante Lyrik, kollektives Werk und ein abschließendes, fast fugato, mit Verschränkungen und Arabesken, die man als von einem Komponisten geschrieben hätte, der Spaß macht. 
Departure with a crystalline xylophone (Luc Lainé) and basset horn (Etienne Rolin) and then cornet (Udo Schindler). Free chamber music – jazz with questions and answers and empathy.In this Search for Surprise, Udo also plays soprano and baritone sax here and as this is not his first album on FMR, he is found as a multi-instrumentalist in ten other FMR CD's on bass clarinet, clarinet in Eb, tenor and alto sax, tuba, alto horn, tubax, euphonium in the company of Jaap Blonk, Damon Smith, Wilbert de Joode, Sebi Tramontana, Philipp Kolb, Ove Volquartz , Irene Kepl. Coming to master all his instruments is no easy task and I must say that his vocalized and greasy cornet tones do not detract from the elegant articulation of clarinetist Étienne Rolin, a Franco-American heard to his great advantage in Summer Works 2009 du Rivière Composer's Pool, a triple cd released by Emanem. Magnificent chamber music with Kent Carter, violinist Albrecht Maurer and clarinetist Theo Jorgensmann. In 1984, Étienne Rolin had published Portraits Quartet et Orchester at In & Out with the participation of JJ Avenel, Kent Carter, Oliver Johnson, Jean-Luc Petit, Didier Colin, Carlos Zingaro for whom he had written the music. In Search of Surprise? Yes, the surprise is total: Etienne Rolin also plays the glissotar, a single reed instrument derived from the tarogato and fitted with a magnetic tab that allows impressive glissandi and microtonal play. Udo has a blast with his soprano sax or baritone sax when Luc Lainé, one of the first appearances on an improvised music album, is a remarkable vibraphonist, crystalline and airy who lets the blades vibrate and resonate. in the space. There is a beautiful complementarity, a sense of form and improvisation. Glissandi on both sides, darting dialogues, the expressive vocality of free-jazz, elastic counterpoints, incisive lyricism, collective work and a final, almost fugato, with interlocking and arabesques that one would consider to have been written by a composer that is having fun.