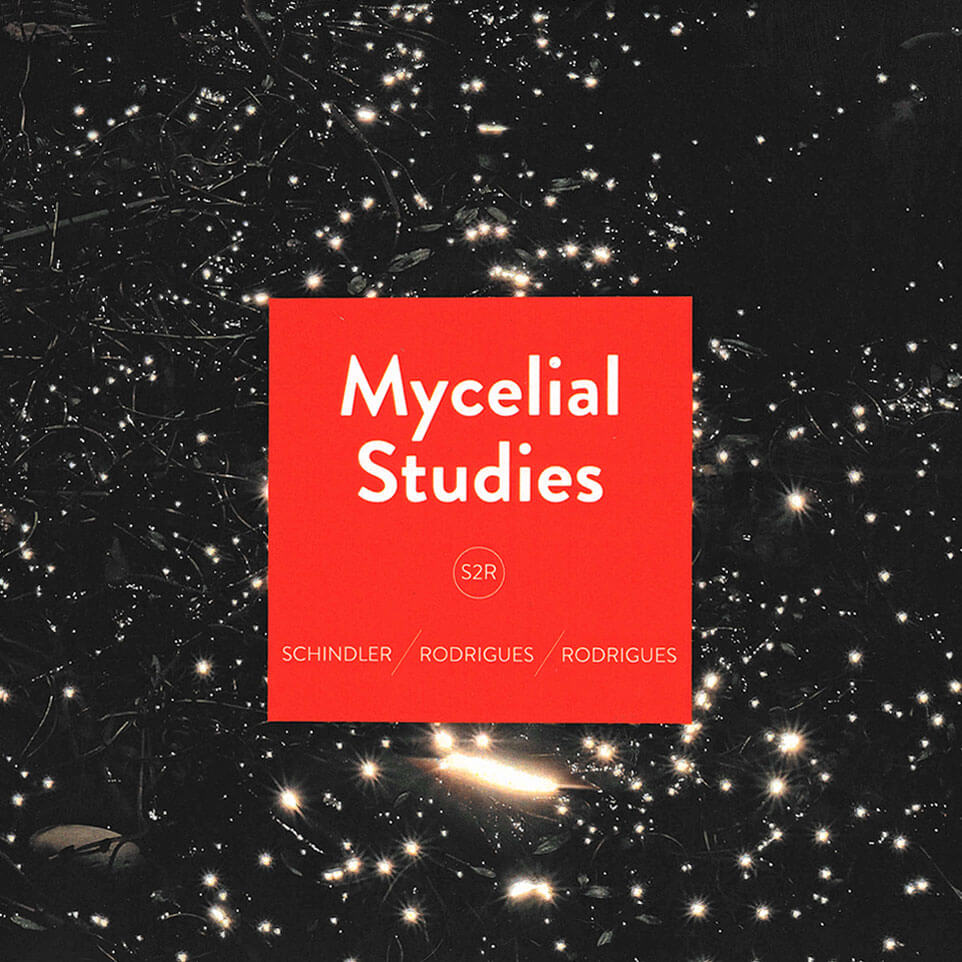 Schindler-Rodrigues-Rodrigues
S2R – Mycelial Studies I+II
DOUBLE CD Creative Sources CS 594 CD
Udo Schindler bass clarinet, soprano saxophone, cornet
Ernesto Rodrigues viola
Guilherme Rodrigues violoncello
artoxin_1st mycelium

13:51

 

artoxin_2nd mycelium

09:13
artoxin_3rd mycelium

12:56

artoxin_4th mycelium

13:03
artoxin_4th mycelium

12:53

artoxin_4th mycelium 10:01
live recording of the performance June 28th,
2018 at Galerie arToxin in Munich by Gottfried Düren (artoxin)
compositions by Schindler-Rodrigues-Rodrigues (GEMA & …)
mix & master by Wolfgang Obrecht/Tonstudio RichArt, Munich
cover photo by Udo Schindler
band photo by Udo Schindler
graphic design by Carlos Santos
produced by Udo Schindler
Executive production by Ernesto Rodrigues
thanks for support to Wolfgang Obrecht, Angelika Donhärl & Gottfried Düren (Galerie artoxin)
videolinks of the concert at arToxin:
https://youtu.be/3vn5x9N8lcc
https://youtu.be/t07lSAgURNQ
Mycelial Studies #2_Salon
Udo Schindler bass & contra bass clarinet,
soprano saxophone, cornet
Ernesto Rodrigues  viola
Guilherme Rodrigues violoncello
Salon_1st

 

mycelium

16:09

 

Salon_2nd mycelium

07:29   
Salon_3rd  mycelium 

11:38
Salon_4th  mycelium 

07:46
Salon_5th  mycelium 

08:30
Salon_6th  mycelium 

08:50
live recording of the performance June 29th, 2018 at the Salon für Klang+Kunst Krailling/Munich by Udo Schindler 
compositions by Schindler-Rodrigues-Rodrigues (GEMA & 
mix & master by Wolfgang Obrecht/Tonstudio RichArt, Munich
cover photo by Udo Schindler
band photo by KP Mendler
graphic design by Carlos Santos
produced by Udo Schindler ….
Executive Production by Ernesto Rodrigues
thanks for support to Wolfgang Obrecht, Angelika Donhärl & Gottfried Düren (Galerie artoxin)
Reviews
Two complete live performances in Munich at Galerie arToxin, and at Udo Schindler's Salon fur Klang + Kunst Krailling in 2018, with Schindler on bass clarinet, soprano saxophone and cornet, Ernesto Rodrigues on viola, and Guilherme Rodrigues on cello, balancing active and introspective dialog of advanced harmonics, (a)rhythmic approaches, and extraordinary technique. SQUIDCO
Die Mycelial Studies (CS 594, 2xCD) von UDO SCHINDLER mit ERNESTO & GUILHERME RODRIGUES, kurz S2R, führen zu Pilzen und deren Myzel. Eingefangen ist Schindlers Zusammenklang mit der Viola und dem Cello von Vater und Sohn am 28. & 29.06.2018 im arToxin München und beim 85. Salon für Klang + Kunst in Krailling, wobei er seinen Klangfächer aus Bassklarinette, Sopranosax und Kornett zuhause noch vertiefte mit Kontrabassklarinette. Die Portugiesen zeigen sich anfangs ganz introspektiv, mit schneemannlyrischem Geflimmer. Was Bocksprünge und knarrende, surrende Schraffuren nicht ausschließt. Schindler gibt sich dazu als Pilzkopf, der die Bassklarinette als Hookah schmaucht und helle Rauchringe bläst. Was wiederum erregte Turbulenzen mit einschließt, ein psychedelisches Schillern, kurvenreiche Hummelflüge durch romantisches Zwielicht, zirpende Heimlichtuerei, disharmonische Verwerfungen. Capriccios aus Pizzicato und bizarrem Flageolett in der Skala von Pierrots groteskem Riesenbogen bis Erich Zann, mit windschiefem Soprano über elegischen Reminiszensen. Die Machenschaften sind obskur genug, um unheimlich zu wirken, die Striche dissonant genug, um selbst das Licht zu krümmen. Hysterisch aufschrillend wird an den Stühlen gesägt, auf denen sie sitzen. Abgründige Bassschübe begehren zu filigranem Stricknadelgefiesel und Col-legno-Hieben auf bis in kirrendes Altissimo. Schindler röhrt, stringverschleiert, wie mit Didgeridoo oder verweht ins Tonlose. Gezüllte und zirpenden Kornettismen arve-henriksen hinter zartem Weben und Tüpfeln. Heftiger Sporenauswurf oder sonorer O-Ton kontrastieren mit weiteren bruitistischen Kürzeln. Warum das extented nennen, wenn es phantastisch ist, katzenjämmerlich, fingerbeerentänzerisch, psilocybin? Dem unfassbar toxinen Brainstorm folgt im Salon sogar noch ein Surplus. Mit quäkigem und knarzigem, insgesamt noch aufgekratzter irrlichterndem Gusto. Die Streicher sind, warm geworden, am zweiten Tag zu ausgelasseneren Streichen aufgelegt, während Schindler als schriller Triller oder verholzter Zunderschwamm, als Satans-Röhrling und des Teufels Schnupftabak das myzeliale Spektrum weit über das bloß Kulinarische hinaus vernichtungssüchtig ausreizkert. 
[rbd BA 103] Rigobert Dittmann
SCHINDLER / RODRIGUES / RODRIGUES – Mycelial Studies
BY MASSIMO RICCI SEPTEMBER 20, 2019
Sometimes the legendary abundance of Creative Sources releases can be a double-edged sword. While it does warrant the awareness of diverse lexicons introduced by artists of varying renown and extraction, the risk is also high of overlooking precious stones amidst the mass. Mycelial Studies – staged on June 28 and 29, 2018 in Munich by Udo Schindler (bass clarinet, soprano saxophone and cornet), Ernesto Rodrigues (viola) and Guilherme Rodrigues (cello) – potentially belongs in that category. The concerts are now immortalized on a 2-CD set comprising about 130 minutes of music that appears surrounded by a halo of importance (for lack of a better word).
The latter trait is suggested by several factors. To begin with, Schindler and the Rodrigueses exude rigorousness, reflected in each fragment of what they play. The trio acts as seriously as a speechless gathering of monks prior to a ritual. The most crucial aspect in such a typology of performance is the capacity of dissecting the timbral grain to collect every penny of substance and gravity. The inquisitive listener perceives individual notes, the superimpositions and permutations, and – naturally – the resulting impulsive counterpoint. But even in the parts where the propagations of tones and phrases promotes severe intricacy, the original silence from which everything comes is always discernible. You can feel the molecules in the air before they start to vibrate after the triggering gesture.
Having said that, there are moments that literally verge on dramatic, the parallelism of urgencies pushing the interplay towards areas of (still elegant) pre-explosiveness. Three men dance barefoot in between strident clusters, serpentine lines, sharp harmonics. In total control of dynamics and pigmentations, their ears are perennially perked up to catch the infinitesimal motion. The marriage of chronic arrhythmia and imperturbable atonality symbolizes the sort of equality/equanimity only achievable through a dispassionate analysis of the problems presented by a conversation. However, where regular folks inevitably fall – namely, placing the ego firmly in charge in a growingly pointless chit-chat – musicians at this level of perception keep indicating methods for fortifying a healthy rationalism, without forgetting the necessary visionary hues.
Manchmal ist die legendäre Fülle an Creative Sources-Veröffentlichungen ein zweischneidiges Schwert. Während es das Bewusstsein für verschiedene Lexika garantiert, die von Künstlern unterschiedlicher Berühmtheit und Herkunft eingeführt wurden, ist das Risiko hoch, Edelsteine ​​inmitten der Masse zu übersehen. Mycelial Studies – veranstaltet am 28. und 29. Juni 2018 in München von Udo Schindler (Bassklarinette, Sopransaxophon und Kornett), Ernesto Rodrigues (Bratsche) und Guilherme Rodrigues (Cello) – gehören möglicherweise in diese Kategorie. Die Konzerte sind jetzt auf einem 2-CD-Set verewigt, das etwa 130 Minuten Musik umfasst und von einem bedeutenden Heiligenschein umgeben zu sein scheint (mangels eines besseren Wortes).
Das letztere Merkmal wird von mehreren Faktoren nahegelegt. Zunächst strahlen Schindler und die Rodrigueses Strenge aus, die sich in jedem Fragment ihres Spiels widerspiegelt. Das Trio handelt so ernst wie eine sprachlose Ansammlung von Mönchen vor einem Ritual. Der wichtigste Aspekt bei einer solchen Leistungstypologie ist die Fähigkeit, das Timbralkorn zu zerlegen, um jeden Cent Substanz und Schwerkraft zu sammeln. Der neugierige Zuhörer nimmt einzelne Noten, die Überlagerungen und Permutationen und natürlich den daraus resultierenden impulsiven Kontrapunkt wahr. Aber selbst in den Bereichen, in denen die Ausbreitung von Tönen und Phrasen eine starke Kompliziertheit fördert, ist die ursprüngliche Stille, aus der alles stammt, immer erkennbar. Sie können die Moleküle in der Luft fühlen, bevor sie nach der auslösenden Geste zu vibrieren beginnen.
Dennoch gibt es Momente, die buchstäblich dramatisch werden, die Parallelität der Dringlichkeiten, die das Zusammenspiel in Richtung (noch eleganter) Präexplosivität treiben. Drei Männer tanzen barfuß zwischen schrillen Clustern, Serpentinen und scharfen Harmonischen. Um die Dynamik und Pigmentierung vollständig zu kontrollieren, werden ihre Ohren ständig hochgezogen, um die Infinitesimalbewegung einzufangen. Die Verbindung von chronischer Arrhythmie und unerschütterlicher Atonalität symbolisiert die Art von Gleichheit / Gleichmut, die nur durch eine leidenschaftslose Analyse der Probleme eines Gesprächs erreicht werden kann. Wo jedoch normale Leute unweigerlich fallen – nämlich das Ego fest im Griff zu haben -, zeigen Musiker auf dieser Wahrnehmungsebene Methoden zur Stärkung eines gesunden Rationalismus auf, ohne die notwendigen visionären Farbtöne zu vergessen.
Touching Extremes_Massimo Ricci