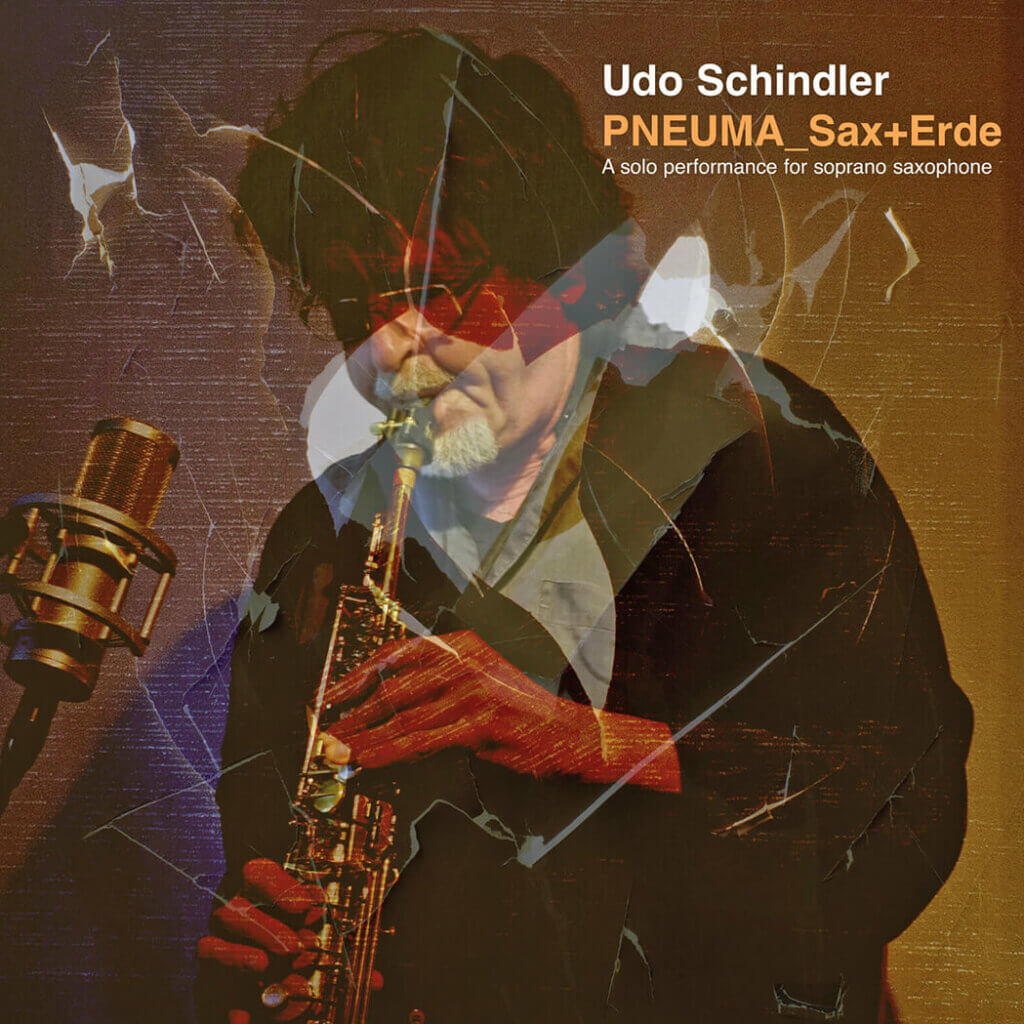 Udo Schindler
PNEUMA_Sax+Erde
Udo Schindler – soprano saxophone
PNEUMA_Sax+Erde I

22:05
PNEUMA_Sax+Erde II

16:00

52 snow (encore)

  2:41

40:51
live recording on April 27th, 2018 at Atelier Ekkeland Götze in Munich by Udo Schindler (arch-musik)
mixed & mastered by Wolfgang Obrecht/Tonstudio RichArt, Munich
all compositions by Udo Schindler (GEMA)
liner notes by Udo Schindler
cover photo: Udo Schindler
translation by Friedrich Mader
graphic design by Ekkeland Götze, Udo Schindler & Trevor Taylor
produced by Udo Schindler
thanks for support to Ekkeland Götze & the guests, Wolfgang Obrecht (Tonstudio RichArt), Friedrich Mader for translations, Dirk Brauner for the microphones, Max Frei for expert advice and repairs of my saxophones.
www.arch-musik.de; www.ekkeland.de
Linernotes
PNEUMA_SAX
This is the title for my solo performances on wind instruments. The first CD featuring soprano saxophone and bass clarinet was recorded on July 1st 2011 at Galerie FOE156, Munich, in dialog with Maciek Czapski's PNEUMA installation at AUSSTELLUNGOHNETITEL. 
During the last years I played many concerts with musicans of diverse genres – ranging from experimental to Jazz and non-European music – and I also added several brass instruments (euphonium, tuba and cornet) to my woodwind arsenal. This is why solo playing became less of a priority. However, the intense work on sound research and extended playing techniques continued, noise and microtonal textures were perfected, even inspiring some composers of New Music in their strategies.
Exciting and rare musical statements of various approaches with pairings of wind instruments were highly acclaimed by international critics, for instance Parnassia Palustris with FP Schubert & US on soprano saxophones, Answer & Maybe a Question with Ove Volquartz & US on bass & contrabass clarinets, as well as wind duets with Marco von Orelli, Frank Gratkowski a.o., documented on labels in GB, Portugal and Switzerland. In the fall of 2018 Confront Records (GB) will release a solo CD for contrabass clarinet.
The soprano saxophone, a notoriously capricious and unruly instrument, and particularly demanding in the execution of extended techniques, was my first wind instrument and has been my companion for 40 years. The symbiotic existence with my coeval Selmer Mark VI presents an additional challenge, since the instrument, with its handicaps and restricted playing comfort, is anything but state of the art. Within the context of the Atelier I will showcase selected, EARTHed options of the instrument's cosmos. The concert is a non-idiomatic affirmation of sound, of the heart of sound, as Giacinto Scelsi called it, free of listening conventions, for a perceptive and unprejudiced audience expecting the unexpected.
REVIEWS
UDO SCHINDLER PNEUMA_Sax+Erde (FMR Records, FMRCD549-0120) 
'Pneuma' ist das Stichwort, wenn Schindler allein zu Werke geht, wie zuletzt bei "Pneuma_Extreme" 2016 mit Kontrabassklarinette. 2018 im Atelier von Ekkeland Götze 2018 spielte er aber Sopranosax, das kratzbürstigste Blasrohr in seinem Sortiment. Ausgerechnet den feurigen, dem Ruach, Chi und Prana gleichen Lufthauch hat er da 'geerdet' mit den 'Erdbildern' von Götze, der in seinem 1989 in München begonnenen "Bild der Welt" seinerseits Tiepolos allegorisches Weltbild in der Würzburger Residenz erdet. In freskalen 'Terragrafien', die Bodenproben aller Kontinente enthalten, als essentielle und welthaltig konkrete Erdbild-Serie in erd-, kohle-, rötel- oder aschefarbener Chromatik. Aber wie sehr da auch Erde auf Wasser trifft, verlebendigt wird das erst durch Feuer und vergeistigt durch Pneuma. 2012 wurde das schon mal bei "Rote Erde" audiovisualisiert mit 'Würzburger' Weltmusik von Klaus-Hinrich Stahmer, die in 'Redland' oder 'Songlines' sogar wortgleich mit Götze harmoniert. Als hätte Schindler Stahmers 'Singt, Vögel' vernommen, stimmt er Grasmückenlieder, Blechspatzentiraden und Trauerschnäppergesänge an. Threnodien für Marsyas, mit der vom Wind verbreiteten Binsenweisheit, dass Götter einem die Haut vom Leib und die Eselsohren lang ziehen, wenn man das schmerzlüsterne Moll des Aulos dem C- & D-Dur-Glanz der höheren Mächte vorzieht. Der Kraillinger spaltet, ohne dass sich Vergleiche zu Evan Parker oder Urs Leimgruber anbieten, mit zartbitter angerauten Zungenschlägen Grashalm für Grashalm in tausenderlei Farbtöne. Aus Grün werden in ungeschönter Wirklichkeits- und Detailtreue Gift, Patina und Grünspan. Schindler evoziert heiseres Sauerampfergrün, dissonantes Kandinsky- und Giallogelb, gekrähtes Tschitscherin. Erst '52 snow (encore)' keckert er rostfreier, tiriliert er vogeliger. Ofanbylur? So sagen die Isländer für 'Schneefall bei Wind'. Schindlers Songlines umfassen, universaler als nur isländisch, Eisfeuer, regizide Erbsensuppe, Scelsis Toninnenschau, vom Snæfellsjökull bis nach Stromboli. 
UDO SCHINDLER PNEUMA_Sax + Erde (FMR Records, FMRCD549-0120)
'Pneuma' is the key word when Schindler works alone, as was the case with "Pneuma_Extreme" 2016 with double bass clarinet. In 2018 at Ekkeland Götze's studio, however, he played sopranosax, the most scratchy blowpipe in his range. Of all places, the fiery breath of air, which is the same as Ruach, Chi and Prana, he 'grounded' with Götze's 'earth images', who, in his 'Image of the World' started in Munich in 1989, tie Tiepolo's allegorical worldview to the Würzburg residence. In fresco 'terrographs', which contain soil samples from all continents, as an essential and globally concrete series of earth images in earth, coal, reddish or ash-colored chromaticism. But no matter how much earth meets water, it is only brought to life by fire and spiritualized by pneuma. In 2012 this was audiovisualized on "Rote Erde" with 'Würzburger' world music by Klaus-Hinrich Stahmer, which in 'Redland' or 'Songlines' even harmonized word-for-word with Götze. As if Schindler had heard Stahmers' Singing, Birds, he was singing warbler songs, tin sparrow tirades and pied flycatchers. Threnodes for Marsyas, with the wisdom of the wind that gods pull your skin and your donkey's ears long, if you prefer the painful minor of Aulos to the C & D major glory of the higher powers. The Kraillinger splits, without comparing it to Evan Parker or Urs Leimgruber, with a bit of roughened tongue strokes of grass for grass in thousands of colors. Green is turned into poison, patina and verdigris in unadorned realism and detail. Schindler evokes hoarse sorrel green, dissonant Kandinsky and Giallo yellow, crowed Tschitscherin. It was not until '52 snow (encore) 'that he made a rustier, tirilier bird. Ofanbylur? This is what the Icelanders say for 'snowfall in wind'. Schindler's Songlines include, more universal than just Icelandic, ice fires, regic pea soup, Scelsi's clay show, from Snæfellsjökull to Stromboli.
[BA 106 rbd] Rigobert Dittmann
Reedist and mutli-instrumentalist Udo Schindler's first instrument was a soprano sax, and this solo concert at Atelier Ekkeland Götze in Munich in 2018 brings to the foreground his 40 years of experience, advanced technique, and creative approach to this capricious and demanding instrument, performing a 2-part free-form "PNEUMA-Sax+Erde" and an encore.
Squidco