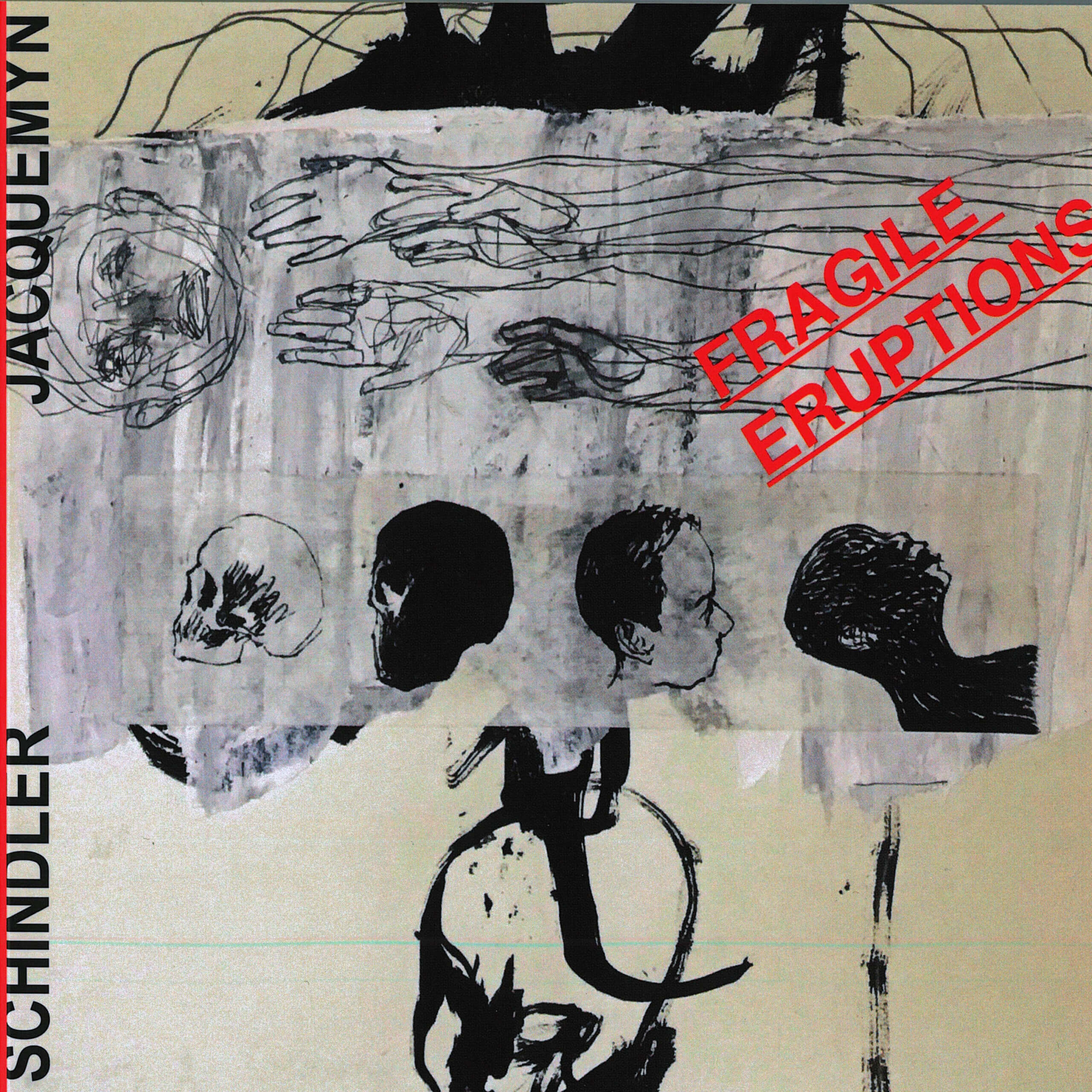 Udo Schindler & Peter Jacquemyn
FRAGILE ERUPTIONS
FMR CD625-0422
Udo Schindler (DE)    clarinets, saxophones, brass
Peter Jacquemyn       double bass, voice
Part1 [salon] exploding fragility
e.f. #1         03:07

e.f. #

2

 

        04:07
e.f. #3         07:45

e.f. #

4         06:15
e.f. #5  

      02:33
e.f. #6         02:23
Part2 [arToxin] floating energy surge
f.e.f. #1         07:21
f.

e.f. #

2

 

        07:23
f.e.f. #3         03:15
f.

e.f. #

4         12:17
f.e.f. #5  

      06:34
"To break and be able to grow together again in a better way: that is the difficult art."
"Aufbrechen und besser zusammenwachsen können: das ist die schwierige Kunst."
Asger Jorn
live recording of the performance on November 29th, 2019 at the 98th Salon für Klang+Kunst Krailling / Munich by Udo Schindler (part one) & 
on November 30th, 2019 at Galerie arToxin / Munich by Gottfried Düren (part two)
mix & master by Wolfgang Obrecht/Tonstudio RichArt, Munich
compositions by Udo Schindler & Peter Jacquemyn (GEMA)
drawing on the front cover by Peter Jacquemyn
inside photos by Udo Schindler
artwork / exhibition in the Galerie arToxin by Rasso Hecker
graphic design by Udo Schindler & FMR
produced by Udo Schindler
Executive production by FMR
thanks for support to Wolfgang Obrecht, the Schauer Family, Angelika Donhärl & Gottfried Düren/Galerie arToxin, KP Mendler, Michael Kurz
videos by Michael Kurz
November 30th, 2019 at Galerie arToxin/München
https://www.youtube.com/watch?v=VkUkaffkumA
https://www.youtube.com/watch?v=_CwGyPm3W2E
www.arch-musik.de;
www.jacquemyn.com
REVIEWS
The new CD with Peter is really fantastic! Both of you are playing great. The design is beautiful as well!
Good work!
Damon Smith http://www.balancepointacoustics.com; http://balancepointacoustics.bandcamp.com
Live recordings of two sessions of fully free and uniquely creative duo improvisations by Udo Schindler on clarinets, saxophone and brass, and Peter Jacquemyn on double bass & voice, recorded on November 29th, 2019 at the 98th Salon für Klang+Kunst Krailling/Munich by Udo Schindler (part one) & on the next day at Galerie arToxin by Gottfried Düren (part two).
Live-Mitschnitte von zwei Sessions mit völlig freien und einzigartig kreativen Duo-Improvisationen von Udo Schindler an Klarinetten, Saxophon und Blechbläsern und Peter Jacquemyn an Kontrabass & Stimme, aufgenommen am 29. November 2019 beim 98. Salon für Klang+Kunst Krailling/München von Udo Schindler (Teil 1) und am nächsten Tag in der Galerie arToxin von Gottfried Düren (Teil 2).
Squidco / NYC  
Auch zwei neue CDs auf FMR Records zeigen wieder UDO SCHINDLERs Spannweite: Fragile Eruptions(FMRCD625-0422) enthält die Begegnungen am 29./30.11.2019 bei 98. Salon für Klang+Kunst und in der Galerie arToxin mit PETER JACQUEMYNs Kontrabass & Stimme. Der Belgier ist einer, der mit Kettensäge und Axt Holzskulpturen aus Baumstämmen schält und mit ähnlichem Spirit seinen Bass mit Bögen, Blechdosen und energischen Griffen traktiert. Seit über zwei Jahrzehnten, im Deep-Music-Verbund mit Peter Kowald und William Parker, mit André Goudbek, Phil Minton, Evan Parker, John Dikeman, mit Gunda Gottschalk als Duo Periculoso und in Baggerboot. Für die schwierige Kunst des Aufbrechens und Zusammenwachsens mit Schindlers Reeds und Brass berufen die beiden sich auf Asger Jorn, Jacquemyn veranschaulicht es als Handwerk und Kopfarbeit, als Murx und Spleen. Um die Leitplanken der Klangwelt aufs Derbste zu schrammen, in kratzender, knurpsender, quäkender, züllender, spotzender Kakophilie. Schindlers Soprano gilft, der Belgier sägt und summt und mischt dazu Oberton-'Flötentöne' und Maulwerkquerulanz. Er fiebert bassbogenbrummig zu murrender Tuba, er hält mit stramm joggendem Pizzikato Schritt mit der feuerpanisch fliehenden Bassklarinette oder dem durchs zerborstene Mundstück Gerbsäure spritzenden Soprano. Diese energiegeladenen LowToneStudies führen über zerklüftete Spaltklang- und Blechrisslava, mit dem Bass als Killerhornissula, als schwärmendem Flagellant. Oder rubbelnd, Gummisaiten twangend, mit surrendem Glissando, zur versumpft blökenden, panisch aufschrillenden Tuba sausend, tobend, hysterisch glitschend. Das Extro federt das eigene Pathos ab mit nicht allzu bierernstem Vibrato und nochmal launig angerautem Bogenstrich und Zungenschlag. 
Two new CDs on FMR Records again show UDO SCHINDLER's span: Fragile Eruptions (FMRCD625-0422) contains the encounters on 29/30 November 2019 at 98th Sa¬lon for Klang+Kunst and at the arToxin gallery with PETER JACQUEMYN's double bass & voice. The Belgian is one who peels wooden sculptures out of tree trunks with a chainsaw and axe, and with similar spirit trades his bass with bows, tin cans and energetic fingerings. For over two decades, in deep music association with Peter Kowald and William Parker, with André Goudbek, Phil Minton, Evan Parker, John Dikeman, with Gunda Gottschalk as Duo Periculoso and in Baggerboot. For the difficult art of breaking up and growing together with Schindler's reeds and brass, the two invoke Asger Jorn, Jacquemyn illustrates it as craft and brainwork, as murx and spleen. To scrape the guard rails of the sound world in the crudest way, in scratching, growling, squawking, spouting, mocking cacophilia. Schindler's Sprano is gilft, the Belgian saws and hums and mixes overtone 'flute tones' and muzzle crossulance. He feverishly bass-bows to murmuring tuba, he keeps pace with tightly jogging pizzicato with the fire-panic fleeing bass clarinet or the soprano spraying tannic acid through the cracked mouthpiece. These energetic low¬tone studies lead over jagged cleavage sound and brass crack lava, with the bass as a killer hornissula, a swarming flagellant. Or rubbing, twanging rubber strings, with whirring glissando, to the muffled bleating, panic-striking tuba whizzing, raving, hysterically slithering. The extro cushions its own pathos with a not too beery vibrato and once more whimsically roughened bowing and tonguing.
Bad Alchemy-Rigobert Dittmann [BA 115 rbd]
Udo Schindler! Three Of a Perfect Pair! 
Niemiecki saksofonista, klarnecista, muzyk prawdziwie multiinstrumentalny, Udo Schindler kończy w tym roku 70 lat i zdaje się obchodzić tę zacną rocznicę w sposób niebywale huczny. Nowe nagrania sypią się jak z rogu obfitości, nie sposób ich wszystkich ogarnąć jedną parą receptorów słuchu, ani tym bardziej, opisać wszystkie zgrabną i pokrętna metaforyką Pana Redaktora. Ale ponieważ jubileusz, to rzecz ważna, redakcja zwarła szyki i przygotowała dla swych ukochanych Czytelników skromny wybór nowości artysty.
Zapraszamy na odczyt i odsłuch trzech duetów. Dwa z nich popełnione zostały w towarzystwie szczególnie na tych łamach hołubionych, swobodnie improwizujących kontrabasistów – Petera Jacquemyna i Meinrada Kneera, trzecia zaś powstała w wyniku kooperacji z pianistą Michelem Wintschem, muzykiem niezwykle intrygującym, który z pozycji wyciszonego kameralisty potrafi w ułamku sekundy przejść na pozycję dyktującego warunki gry. Na tle tych muzyków nasz jubilat wypada doprawdy imponująco. Sięga po cały arsenał instrumentów dętych, nie tylko drewnianych, ale także blaszanych i brnie w swobodne strumienie dźwiękowe z gracją godną nie jednego jubileuszu.
So, welcome to the world of Udo! 
Der deutsche Saxophonist, Klarinettist und wahrhaftige Multiinstrumentalist Udo Schindler wird dieses Jahr 70 Jahre alt und scheint dieses edle Jubiläum auf bemerkenswert aufwendige Weise zu feiern. Neue Aufnahmen strömen wie ein Füllhorn, es ist unmöglich, sie alle mit einem einzigen Paar Hörrezeptoren zu erfassen, geschweige denn, sie alle mit den hübschen und verdrehten Metaphern von Herrn Editor zu beschreiben. Aber weil ein Jubiläum eine große Sache ist, haben sich die Redakteure zusammengerissen und eine bescheidene Auswahl an Neuigkeiten des Künstlers für ihre geschätzten Leser zusammengestellt.
Wir laden Sie ein, drei Duette zu lesen und zu hören. Zwei der Duette entstanden in Begleitung von Peter Jacquemyn und Meinrad Kneer, Kontrabassisten, die auf diesen Seiten besonders beliebt sind, und das dritte wurde in Zusammenarbeit mit dem Pianisten Michel Wintsch geschrieben, einem äußerst faszinierenden Musiker, der in der Lage ist, in Sekundenbruchteilen von der Position eines ruhigen Kammermusikers in die eines Diktators der Spielbedingungen zu wechseln. Vor dem Hintergrund dieser Musiker ist unser Jubilar wirklich beeindruckend. Er schöpft aus dem gesamten Arsenal der Blasinstrumente, nicht nur der Holzbläser, sondern auch der Blechbläser, und stürzt sich mit einer Anmut, die so manchem Jubiläum würdig ist, in frei fließende Klangströme.
German saxophonist, clarinettist and truly multi-instrumentalist, Udo Schindler turns 70 this year and seems to be celebrating this noble anniversary in a remarkably lavish manner. New recordings are pouring in like a horn of plenty, it is impossible to encompass them all with a single pair of auditory receptors, let alone describe them all with the neat and twisted metaphors of Mr Editor. But because an anniversary is a big deal, the editors have pulled themselves together and prepared a modest selection of the artist's news for their beloved readers.
We invite you to read and listen to three duets. Two of the duets were written in the company of Peter Jacquemyn and Meinrad Kneer, double bass players who have been particularly popular in these pages, and the third was written in collaboration with pianist Michel Wintsch, an extremely intriguing musician, who is able to move from the position of a quiet chamber musician to one who dictates the playing conditions in a split second. Against the background of these musicians, our jubilarian is truly impressive. He draws on the entire arsenal of wind instruments, not only woodwinds, but also brass, and rushes into free-flowing streams of sound with a grace worthy of many a jubilee.
Fragile Eruptions with Peter Jacquemyn
Album zawiera dwa różne koncerty, a otwierające go sześć improwizacji tworzy pierwszy z nich. Na wejściu dostajemy się w mroczne opary prychającego, dużego klarnetu i zapętlonego smyczka kontrabasowego. Od pierwszej frazy akcje są zadziorne, dynamiczne, z pewną ulotną tanecznością. Od noise acoustic po upalone post-chamber! W kolejnej części intrygujący posmak industrialu – preparacje, krótsze lub dłuższe drony i pierwszy raz gardłowy śpiew kontrabasisty. Przy okazji mały dysonans – dęciak wydaje się być delikatny, kontrabas zaś skrzy się mocą i wielokolorową poświatą. W trzeciej odsłonie pojawia się instrument blaszany, nisko zawieszony, dość niedelikatny w brzmieniu – mruczy i syczy na wprost smyczka, która pracuje bardzo nisko na nogach. Dwa niedźwiedzie walczą tu o względy ukochanej, ale po chwili spoglądają ku niebu i postanawiają wybrać się na wspólną przebieżkę. Czwarta improwizacja budowana jest w trybie pizzicato i wyśpiewywana przez duży klarnet. Pachnie tu szybkim jazzem, a temperatura nagrania systematycznie rośnie, mimo dość czystego frazowania z obu stron. Finał ginie w uroczych drobiazgach. W piątej odsłonie muzycy prezentują nam dość fizjologiczne dźwięki. Czujemy nieprzyjemny zapach i śpiew cedzony przez zaciśnięte zęby. Dużo imitacji, wzajemnych przekomarzań, a także gardłowe jodłowanie. Ostatni antrakt pierwszego koncertu syci się mrocznym klimatem, nisko zawieszonymi frazami smyczka i dużego klarnetu. I tu narracja pnie się ku grze i dobrze eskaluje emocje, na zakończenie lepiąc się w jeden strumień dźwiękowy.
W trakcie drugiego koncertu muzycy zamieniają się stronami. Kontrabas schodzi na lewo, dęciaki okupują stronę przeciwną. Początek należy od intensywnie post-barokowego smyczka i saksofonu, który syczy zimnym powietrzem. Kontrabasista wpada tu w furię, saksofonista trzyma jednak dystans. Są i modlitwy, i pijackie zaśpiewy. Potem muzycy delikatnie tłumią emocje, ale nie przestają być niebezpieczni. W drugiej części dość długiej improwizacji bystry tryb pizzicato sprawia, iż całość zionie ogniem free jazzu. Peter zbiera tu same laury, gra całym ciałem i budzi realną trwogę! W kolejnej części Udo serwuje nam festiwal zaskakujących dźwięków. Nie wiemy, jakiego używa instrumentu, może nawet więcej niż jednego! Bas wpada w pętle, ciężko oddycha i szuka melodii. Z dętych znaków zapytania wyłania się w końcu śpiewny saksofon. Narracja łyka dużo jazzu w żagle, znów szczyptę jodłowania i drobnych preparacji. Dziewiąty trak na dysku, to ledwie miniatura – żale wielkopostne i dęte rezonanse. A tuż po nich opus magnum albumu! Nisko zawieszony smyczek, blaszane pomruki i zaśpiewy. Kontrabasista znów idzie w tango – śpiewa barok, dewastuje struny i buduje drony, pod które podczepia się zasapany blaszak. Wrzaski, jęki i kocie skomlenia, what a game! Ostatnia improwizacja musi leczyć rany. Post-barokowy, ale brudny smyczek i popiskujący saksofon w pozie lamentu. Pod sam koniec spod pach artystów dobywa się delikatny swąd free jazzu. 
Das Album enthält zwei verschiedene Konzerte, wobei die ersten sechs Improvisationen das erste bilden. Am Eingang geraten wir in die dunklen Dämpfe einer schnaubenden großen Klarinette und eines geschlungenen Kontrabassbogens. Von der ersten Phrase an ist die Handlung lebhaft, dynamisch, mit einer gewissen flüchtigen Tanzbarkeit. Von Noise Acoustic bis Stoned Post-Chamber! Im nächsten Satz gibt es einen faszinierenden Vorgeschmack auf Industrial – Vorbereitungen, kürzere oder längere Drones und zum ersten Mal den kehligen Gesang des Kontrabassisten. Diesmal ein wenig Dissonanz – die Blechbläser wirken zart, während der Kontrabass kraftvoll und farbenfroh leuchtet. Im dritten Abschnitt tritt ein Blechblasinstrument auf, tief und ganz undefiniert im Klang – es säuselt und zischt gegenüber dem Bogen, der sehr tief auf seinen Füßen arbeitet. Hier kämpfen zwei Bären um die Gunst ihrer Geliebten, aber nach einer Weile blicken sie zum Himmel auf und beschließen, gemeinsam einen Spaziergang zu machen. Die vierte Improvisation ist im Pizzicato-Modus aufgebaut und wird von einer großen Klarinette gesungen. Hier riecht es nach schnellem Jazz, und die Temperatur der Aufnahme steigt stetig an, trotz recht sauberer Phrasierung auf beiden Seiten. Das Finale verliert sich in charmanten Kleinigkeiten. Im fünften Satz präsentieren uns die Musiker eher physiologische Klänge. Wir riechen unangenehme Gerüche und singen angestrengt mit zusammengebissenen Zähnen. Viel Nachahmung, gegenseitiges Geplänkel und kehliges Jodeln. Das letzte Vorspiel des ersten Konzerts verströmt eine düstere Atmosphäre mit tiefhängenden Phrasen von Bogen und großer Klarinette. Und hier drängt die Erzählung zum Spiel und eskaliert die Emotionen gut, die am Ende zu einem einzigen Klangstrom zusammenkleben.
Während des zweiten Konzerts tauschen die Musiker die Seiten. Der Kontrabass tritt nach links, die Blechbläser nehmen die gegenüberliegende Seite ein. Der Anfang gehört einem intensiv postbarocken Bogen und Saxophon, das kalt zischt. Hier gerät der Kontrabassist in Rage, der Saxophonist hingegen hält sich zurück. Es gibt sowohl Gebete als auch betrunkene Gesänge. Danach dämpfen die Musiker sanft ihre Emotionen, hören aber nicht auf, gefährlich zu sein. Im zweiten Teil der recht langen Improvisation lässt ein raffinierter Pizzicato-Modus das Ganze mit dem Feuer des Free Jazz atmen. Peter holt sich hier die Lorbeeren, spielt mit seinem ganzen Körper und sorgt für echten Schrecken! Im nächsten Satz serviert uns Udo ein Fest der überraschenden Klänge. Wir wissen nicht, welches Instrument er benutzt, vielleicht sogar mehr als eines! Der Bass fällt in Schleifen, atmet schwer und sucht nach einer Melodie. Ein singendes Saxophon taucht schließlich aus den Fragezeichen der Blechbläser auf. Die Erzählung streut viel Jazz in die Segel, wieder eine Prise Jodeln und kleine Vorbereitungen. Das neunte Stück auf der Scheibe ist kaum eine Miniatur – Fastenreue und Blechbläserresonanzen. Und gleich danach kommt das Opus magnum des Albums! Eine tief hängende Verbeugung, Blechbläser murmeln und singen. Der Kontrabassist tanzt wieder Tango – er singt barocke, vernichtende Streicher und baut Drones auf, unter denen sich ein schäbiger Blechmann einhakt. Schreie, Stöhnen und Katzenjammern, was für ein Spiel! Die letzte Improvisation muss die Wunden heilen. Postbarocke, aber schmutzige Verbeugungen und ein kreischendes Saxophon in Klagestimme. Ganz zum Schluss kommt ein sanfter Hauch von Free Jazz unter den Armen der Künstler hervor. 
The album contains two different concertos, with the opening six improvisations forming the first. On the entrance we get into the dark vapours of a snorting big clarinet and a looped double bass bow. From the first phrase the action is feisty, dynamic, with a certain fleeting danceability. From noise acoustic to stoned post-chamber! In the next movement there is an intriguing taste of industrial – preparations, shorter or longer drones and, for the first time, the throaty singing of the double bass player. A little dissonance on this occasion – the brass seems delicate, while the double bass sparkles with power and a multicoloured glow. In the third section, a brass instrument appears, low-pitched and quite undelicate in sound – it purrs and hisses opposite the bow, which works very low on its feet. Here two bears fight for the favour of their beloved, but after a while they look up to the sky and decide to go for a run together. The fourth improvisation is built in pizzicato mode and sung by a large clarinet. There is a smell of fast jazz here and the temperature of the recording steadily rises, despite fairly clean phrasing on both sides. The finale is lost in charming trifles. In the fifth movement the musicians present us with rather physiological sounds. We smell unpleasant odours and singing strained through clenched teeth. Lots of imitation, mutual banter and throaty yodelling. The final antecedent of the first concert oozes a dark atmosphere, with low-hanging phrases of bow and big clarinet. And here the narrative thrusts towards the game and escalates the emotions well, by the end sticking together into a single stream of sound.
During the second concert, the musicians swap sides. The double bass steps to the left, the brass occupies the opposite side. The beginning belongs to an intensely post-baroque bow and saxophone that hisses coldly. Here, the double-bassist goes into a fury, the saxophonist, however, keeps his distance. There are both prayers and drunken chants. Afterwards, the musicians gently dampen their emotions, but do not stop being dangerous. In the second part of the rather long improvisation, a clever pizzicato mode makes the whole thing breathe with the fire of free jazz. Peter takes the laurels here, plays with his whole body and inspires real terror! In the next movement, Udo serves us a festival of surprising sounds. We don't know what instrument he is using, maybe even more than one! The bass falls into loops, breathes hard and searches for a melody. A singing saxophone finally emerges from the brass question marks. The narrative sips a lot of jazz into the sails, again a pinch of yodelling and minor preparations. The ninth track on the disc is hardly a miniature – Lenten regrets and brass resonances. And just after these, the album's opus magnum! A low-slung bow, brass murmurs and chants. The double bassist goes tango again – singing baroque, devastating strings and building up drones, under which a seedy tin man hooks up. Screams, groans and cat whines, what a game! The final improvisation must heal the wounds. Post-baroque but dirty bowing and a screeching saxophone in a pose of lament. Towards the very end, a gentle whiff of free jazz comes from under the artists' arms.
trybuna muzyki spontaniczny / piątek, 8 lipca 2022
Notenpult spontan / Freitag, 8. Juli 2022
"To Break and be able to grow together again in a better way that is the difficult art". Citation d'Asger Jorn figurant sur la pochette de ce CD en duo entre un colosse de la contrebasse et un multi-instrumentiste impénitent crédité ici « clarinets, saxophones, brass » alors que le bassiste utilise la voix et sa capacité à émettre de remarquables chants d'harmoniques similaires au xoomij ou au kargyraa mongols. Je suis fort aise de retrouver mon compatriote Peter Jacquemyn sur un nouveau CD en duo avec le multi-instrumentiste Bavarois Udo Schindler lequel a entrepris une « Low Tone Series » avec des instrumentistes « graves » dont c'est le #7. Le goût de ce dernier pour la clarinette contrebasse coïncide très bien avec le jeu de plus en plus boisé du contrebassiste. Les improvisations enregistrées ici lors d'un concert mémorable à « salon » et « ar Toxin » dans la ville de Munich se composent de deux séries de six et cinq morceaux de durées assez variées et intitulées « exploding fragility » et « floating energy surge ». Peter Jacquemyn a hérité de son mentor Peter Kowald l'esprit des rencontres en duo et de la mise en commun mutuelle de l'improvisation libre ou « totale ». Son expérience puise aux sources de musiques ethniques et d'un free-jazz libéré des structures et préséances. Création sonore dans l'instant, duo funambule où le grain du son et le déchirement de textures et des harmoniques s'intègrent dans un feeling mélodico-rythmique ou plus exactement pulsatoire. Quand à Udo Schindler ses incursions dans le champ sonore avec ses différents instruments de souffle relancent l'intérêt et la connivence établie entre les deux artistes qui littéralement "habitent" l'esprit des lieux et incarnent leurs pérégrinations comme des moments intenses de la vraie vie, celle de l'écoute et de l'invention. Vous avez dit folklore imaginaire ? Voilà bien de quoi vous sustentez, sentir et humer tout au long de ces minutes qui se déroulent en étendant le temps et distendant les sonorités pour en découvrir l'écorce, la densité, leurs remous et vibrations. Graphismes – dessins de Peter Jacquemyn, sculpteur et dessinateur organique s'il en est ! Excellent et poétique.
"To Break and be able to grow together again in a better way that is the difficult art" (Zu brechen und wieder auf bessere Weise zusammenzuwachsen, das ist die schwierige Kunst). Ein Zitat von Asger Jorn auf dem Cover dieser Duo-CD zwischen einem Kontrabass-Koloss und einem reuelosen Multiinstrumentalisten, der hier mit "clarinets, saxophones, brass" kreditiert wird, während der Bassist die Stimme und ihre Fähigkeit, bemerkenswerte Obertongesänge ähnlich dem mongolischen Xoomij oder Kargyraa zu erzeugen, einsetzt. Ich freue mich, meinen Landsmann Peter Jacquemyn auf einer neuen CD im Duett mit dem bayerischen Multiinstrumentalisten Udo Schindler wiederzutreffen, der eine "Low Tone Series" mit "tiefen" Instrumentalisten begonnen hat, die hier als #7 vorliegt. Schindlers Vorliebe für die Kontrabassklarinette passt sehr gut zu dem zunehmend holzigen Spiel des Kontrabassisten. Die Improvisationen, die hier während eines denkwürdigen Konzerts im "salon" und "ar Toxin" in der Stadt München aufgenommen wurden, bestehen aus zwei Serien von sechs und fünf Stücken von recht unterschiedlicher Länge und tragen die Titel "exploding fragility" und "floating energy surge". Peter Jacquemyn hat von seinem Mentor Peter Kowald den Geist der Duo-Begegnungen und des gegenseitigen Austauschs in der freien oder "totalen" Improvisation geerbt. Seine Erfahrung schöpft aus den Quellen der ethnischen Musik und eines Free-Jazz, der sich von Strukturen und Präsenzen befreit. Klangschöpfung im Augenblick, ein Seiltänzer-Duo, bei dem die Körnung des Klangs und das Zerreißen von Texturen und Harmonien in ein melodisch-rhythmisches oder genauer gesagt pulsierendes Feeling integriert werden. Udo Schindlers Ausflüge in das Klangfeld mit seinen verschiedenen Blasinstrumenten wecken das Interesse und die zwischen den beiden Künstlern aufgebaute Konnivenz, die den Geist der Orte buchstäblich "bewohnen" und ihre Wanderungen als intensive Momente des wahren Lebens, des Zuhörens und Erfindens, verkörpern. Sie haben imaginäre Folklore gesagt? In diesen Minuten, in denen die Zeit ausgedehnt und die Klänge gedehnt werden, um die Rinde, die Dichte, den Wirbel und die Vibrationen zu entdecken, können Sie sich sattsehen, riechen und riechen. Grafiken – Zeichnungen von Peter Jacquemyn, einem organischen Bildhauer und Zeichner, wie er im Buche steht! Hervorragend und poetisch. 
"To Break and be able to grow together again in a better way that is the difficult art. Asger Jorn's quote on the cover of this duet CD between a colossus of the double bass and an unrepentant multi-instrumentalist credited here as "clarinets, saxophones, brass" while the bassist uses the voice and its ability to emit remarkable harmonic chants similar to the Mongolian xoomij or kargyraa I am delighted to find my compatriot Peter Jacquemyn on a new CD with the Bavarian multi-instrumentalist Udo Schindler, who has undertaken a "Low Tone Series" with "low" instrumentalists, of which this is #7. The latter's taste for the contrabass clarinet coincides very well with the bassist's increasingly woody playing. The improvisations recorded here during a memorable concert at "salon" and "ar Toxin" in Munich consist of two series of six and five pieces of varying lengths, entitled "exploding fragility" and "floating energy surge". Peter Jacquemyn inherited the spirit of duo encounters and the mutual sharing of free or 'total' improvisation from his mentor Peter Kowald. His experience draws on the sources of ethnic music and free jazz, free of structures and precedence. Sound creation in the moment, a tightrope duo where the grain of the sound and the tearing of textures and harmonics are integrated into a melodic-rhythmic or more precisely pulsating feeling. As for Udo Schindler, his incursions into the sound field with his various breath instruments rekindle the interest and the connivance established between the two artists who literally "inhabit" the spirit of the place and embody their peregrinations as intense moments of real life, that of listening and invention. Did you say imaginary folklore? Here is what you need to satiate, feel and smell throughout these minutes which unfold by extending time and distending the sounds to discover the bark, the density, their stirrings and vibrations. Graphics – drawings by Peter Jacquemyn, an organic sculptor and draughtsman if ever there was one! Excellent and poetic. 
Jean-Michel Van Schouwburg / https://orynx-improvandsounds.blogspot.com
UDO SCHINDLER,
PETER JACQUEMYN
Fragile Eruptions (Low Tone Studies #7 
Udo Schindler (sss, ss, ts, f-tuba), Peter Jacquemyn (b, voc)
Der inzwischen 70-jährige Münchner Improvisator, Organisator und Architekt Udo Schindler ist vielseitig interessiert und vernetzt mit einem internationalen Kreis ähnlich Orientierter, zu denen auch Schweizer zählen. Seine Klangerforschungen, die er besonders mit Duoaufnahmen dokumentiert, werden dementsprechend von ganz Verschiedenem angeregt. …
Teilweise groovend und jazznaher ist die Duo-Aufnahme "Fragile Eruptions" mit dem belgischen Bassisten und bildenden Künstler Peter Jacquemyn.
Letzterer formt seine Holzskulpturen mit der Motorsäge und ist auch in der Improvisation nicht zimperlich.
Die "low tones studies" – ein Dokument vom 98. Salon für Klang + Kunst 2019 – konzentrieren sich besonders auf die Erzeugung und Mischung einer Vielfalt kräftiger Ton- und Klangflächen sowie perkussiver Anspieltechniken – oft ebenso gegenwie miteinander. Die singenden, redenden und heulenden Gesten und die meist lebhaften, expresbesiven Interaktionen erinnern stark an allerlei Laute von Lebewesen. Und die Mehrklänge und Geräusche der Blasinstrumente und des gestrichenen Basses werden teilweise ergänzt von Jacquemyn mit Sprechgesang und Mongolischem. Die Improvisationen haben auch bestimmte Sujets, aber es geht in erster Linie um Action, um Energie und Intensität. …
The now 70-year-old Munich improviser, organiser and architect Udo Schindler has a wide-ranging interested and networked with an international circle of similarly oriented people, including Swiss among them. His sound explorations, which he documents in particular with duo recordings, are accordingly inspired by very different stimulated. …
Partly grooving and more jazz-like is the duo recording "Fragile Eruptions" with the Belgian bass player and and visual artist Peter Jacquemyn.
The latter forms his wooden sculptures with a chainsaw and is also and is not squeamish in improvisation either.
The "low tones studies" – a document from the 98th Salon for Sound + Art 2019 – focus particularly especially on the creation and mixing of a of a variety of powerful tones and sound surfaces as well as percussive allusion techniques – often as much against as with each other. The singing, talking and and howling gestures and the mostly lively, expressive interactions expressive interactions are strongly reminiscent of all kinds of of living creatures. And the multiple sounds and noises of the wind instruments and the bowed bass bass are partly complemented by Jacquemyn with sprechgesang and mongolian. The improvisations also have certain subjects, but it is but it is primarily about action, energy and intensity. …
Jazz'n More Nr.5-2022 / Jürg Solothurnmann
Udo Schindler & Peter Jacquemyn
Fragile Eruptions
FMR CD 625-0422
Enrico Fazio/Giancarlo Nino Locatelli
7 Rocks
We Insist! CD Stripped to essentials, two duos combine sounds available from the double bass and reeds to create sympathetic textures that don't need other instruments. A simple set of parries and thrusts, Italians, bass clarinetist Giancarlo Nino Locatelli and bassist Enrico Fazio use standard and extended techniques during seven relaxed and raucous duets. More expansive, the 11 tracks from two concerts by Belgium bassist Peter Jacquemyn and German multi-instrumentalist Udo Schindler carve out an edifice of deep listening free improvisation.
Despite the title of Fragile Eruptions it's not surprising that Schindler and Jacquemyn are sophisticated in the shaping of sturdy materials since the bassist is also a sculptor and Schindler, who plays clarinets, saxophones and brass here is also an architect. The two hit the ground running on "PART_ 1 e. f. #1" with reed squealing and trilling met by pressured spiccato from the bassist. Overall though, while the innovations are as elevated in both parts, Part 2 recorded a day later, sounds looser and more familiar as the tracks are further extended. Like a film moving from landscape to close ups, distant reed smears and puffs or high-pitched string rubs gradually come into focus as Jacquemyn's consistent stroking connects with hollowed split tone fragments and scoops from Schindler.
As the tracks evolve and timbres, the equivalent of wider-angle shots, open up to expose a tandem output of intense reed tongue slaps, honks and scoops with col legno and spiccato rubs that emphasize varied points on the strings. Simultaneously, the bassist's pressure is so intense that it threatens to figuratively set the bass on fire. Before the pairing completes this sequence with string bounces and multiphonic tongue slides, the extended "PART_ 2 f. e. f. #4" gives Schindler a chance to move round robin-like around his other instruments. Producing a brassy portamento that suggests Jew's harp twangs, he adds alphorn-like echoing triplets and unearths chalumeau register subterranean tones. Not to be outdone, Jacquemyn's slides and strops alternate between violin-pitched glissandi and darkened basement strokes. While still linear, this interaction proves the mastery of both with the timbral spectrum.
If any texture are missing on the second night that were emphasized in the stretched and slithering "Part 1" it's the vocalized yodeling and growling from the bassist. Used as another tonal diversion, his throat-and-mouth grumbles also reach high-pitched and low-pitched timbres whether they evolve in unison with his strained thumping or elevated near-the-scroll picking. Schindler responds in kind with expressions that include wider and wider overblowing, harsh pig-like snorting plus bites and doits from the top of the scale.
Locatelli, part of the Pipeline bands and Fazio, who was in the Minafra Sud Ensemble, recorded in much less formal circumstances one evening and these improvisations reflect that. With similar jumps from chalumeau and clarion tone from the bass clarinet and high-pitched twangs or low-pitched stops from the strings, their interface is often as polychromatic as Schindler's and Jacquemyn's. Working up to the impeccable broken octave counterpoint that closes the set on "Organogena", the two move through conventional and extended techniques. For instance Locatelli evolves from what sounds like barely there inner-tube blowing on "Effusiva" through split tone squeaks to smooth open horn curves. In turn Fazio slides from spiccato string pops to moderated emphasis, finally settling on moderate string slaps. On the other hand "Elastica" is an exercise in harshness as the droning reed scoops become harder and thicker as the piece evolves and the bassist displays resonating banjo-like plucks before the disparate expositions are balanced. Grainy growls, string tone evisceration, mouse-like squeaks and warmer string bounces also fit into the duet. Overall though, the vibrations lock in over time so that the entire session's timbres are integrated as well linear.
Reduced to their instrumental essence these veteran improvisers show all that can be accomplished with simpatico acoustic duos.
–Ken Waxman (jazzword) / January 10, 2023
Zwei auf das Wesentliche reduzierte Duos kombinieren die Klänge des Kontrabasses und der Rohrblätter, um sympathische Texturen zu schaffen, die keine anderen Instrumente benötigen. Die Italiener, der Bassklarinettist Giancarlo Nino Locatelli und der Bassist Enrico Fazio, setzen in sieben entspannten und rauen Duetten Standard- und erweiterte Techniken ein. Die 11 Tracks aus zwei Konzerten des belgischen Bassisten Peter Jacquemyn und des deutschen Multiinstrumentalisten Udo Schindler sind weitläufiger und bilden ein Gebilde aus tiefgründiger, freier Improvisation.
Trotz des Titels "Fragile Eruptions" ist es nicht verwunderlich, dass Schindler und Jacquemyn in der Formgebung von robusten Materialien versiert sind, denn der Bassist ist auch Bildhauer und Schindler, der hier Klarinetten, Saxophone und Blechbläser spielt, ist auch Architekt. Bei "PART_ 1 e. f. #1" legen die beiden gleich richtig los: Quietschende und trillernde Zungen treffen auf ein druckvolles Spiccato des Bassisten. Während die Innovationen in beiden Teilen gleich hoch sind, klingt Teil 2, der einen Tag später aufgenommen wurde, lockerer und vertrauter, da die Stücke weiter ausgedehnt sind. Wie in einem Film, der von der Landschaft zu Nahaufnahmen übergeht, rücken entfernte Rohrblattschmierereien und -stöße oder hohe Saitenschläge allmählich in den Fokus, wenn Jacquemyns gleichmäßiges Streicheln sich mit ausgehöhlten Split-Ton-Fragmenten und Schindlers Schöpfungen verbindet.
Im weiteren Verlauf der Stücke öffnen sich die Klangfarben, die einer Weitwinkelaufnahme gleichkommen, und geben den Blick frei auf ein Tandem aus intensiven Zungenschlägen, Hupen und Scoops mit Col Legno und Spiccato-Reibungen, die verschiedene Punkte auf den Saiten betonen. Gleichzeitig ist der Druck des Bassisten so intensiv, dass er den Bass bildlich gesprochen in Brand zu setzen droht. Bevor das Duo diese Sequenz mit Streichersprüngen und mehrstimmigen Zungenbewegungen abschließt, gibt das ausgedehnte "PART_ 2 f. e. f. #4" Schindler die Gelegenheit, sich wie ein Rotkehlchen um seine anderen Instrumente zu bewegen. Er erzeugt ein blechernes Portamento, das an Maultrommelwirbel erinnert, fügt alphornartig hallende Triolen hinzu und gräbt unterirdische Töne aus dem Chalumeau-Register aus. Jacquemyns Slides und Strops wechseln zwischen geigenartigen Glissandi und abgedunkelten Kellerschlägen. Dieses Zusammenspiel ist zwar immer noch linear, beweist aber, dass beide das klangliche Spektrum beherrschen.
Wenn am zweiten Abend irgendeine Textur fehlt, die in dem gedehnten und schleichenden "Part 1" hervorgehoben wurde, dann ist es das vokalisierte Jodeln und Knurren des Bassisten. Als weitere klangliche Abwechslung erreicht sein Kehlkopf- und Maulknurren auch hohe und tiefe Töne, die sich im Einklang mit seinem angestrengten Pochen oder seinem erhabenen Near-the-Scroll-Picking entwickeln. Schindler antwortet in gleicher Weise mit Ausdrücken, die ein immer breiteres Überblasen, ein raues, schweinisches Schnauben sowie Bisse und Töne aus den oberen Bereichen der Tonleiter umfassen.
Locatelli, der zu den Pipeline-Bands gehörte, und Fazio, der im Minafra Sud Ensemble spielte, nahmen eines Abends unter weitaus weniger formellen Umständen auf, und diese Improvisationen spiegeln dies wider. Die Improvisationen spiegeln dies wider. Mit ähnlichen Sprüngen von Chalumeau und Klarinettenton der Bassklarinette und hohen oder tiefen Tönen der Streicher ist ihre Schnittstelle oft so vielschichtig wie die von Schindler und Jacquemyn. Auf dem Weg zu dem tadellosen gebrochenen Oktavkontrapunkt, der das Set auf "Organogena" abschließt, bewegen sich die beiden durch konventionelle und erweiterte Techniken. Locatelli zum Beispiel entwickelt sich von dem, was bei "Effusiva" wie ein kaum vorhandenes Rohrblasen klingt, über geteilte Quietschtöne zu sanften offenen Hornkurven. Fazio wiederum gleitet von spiccato-Streicherklängen zu mäßiger Betonung, um sich schließlich auf mäßige Streicherklatschen einzulassen. Andererseits ist "Elastica" eine Übung in Härte, da die dröhnenden Schilfrohre im Laufe des Stücks immer härter und dicker werden und der Bassist banjoähnliche Zupfgeräusche von sich gibt, bevor die ungleichen Expositionen ausgeglichen werden. Körniges Knurren, das Ausweiden von Streicherklängen, mausähnliches Quietschen und wärmere Saitenhüpfer fügen sich ebenfalls in das Duett ein. Insgesamt aber fügen sich die Schwingungen mit der Zeit ein, so dass die Klangfarben der gesamten Session sowohl integriert als auch linear sind.
Reduziert auf ihre instrumentale Essenz zeigen diese Improvisationsveteranen, was mit sympathischen akustischen Duos alles erreicht werden kann.

—
The more I listen to his music, the more convinced I become that Udo Schindler is one of the un(der)sung master reedsmen both in the strange streams of sound he coaxes out of his horns and the concerted way he avoids the conventional grammar. It is as if he is building a new vernacular for his instrument in real time.
Schindler's unique style comes through particularly well in duos and, it seems, in live performances. He took the pandemic to dig through his back catalog of recordings. Many of these reached public ears through download only releases on his Bandcamp page and, notably, many were duos. Indeed, Schindler seems to have really gravitated to the duo, likely somewhat because of practicality but also because of the possibilities of that configuration. It offers big spaces for each musician to be heard — full blast or sotto voce — and gives each a counterpart — sometimes a companion and others a sparring partner — with whom to bounce around ideas and to whom to respond. Depending on the instrumentation and the players, it also frees the musicians from rhythm's centripetal force and gives them license to explore other, in this case amelodic and atonal, places. …
Je öfter ich seine Musik höre, desto mehr bin ich davon überzeugt, dass Udo Schindler einer der un(der)besungenen Meisterbläser ist, sowohl in den seltsamen Klangströmen, die er seinen Hörnern entlockt, als auch in der konzertierten Art und Weise, wie er die konventionelle Grammatik vermeidet. Es ist, als ob er in Echtzeit eine neue Umgangssprache für sein Instrument entwickeln würde.
Schindlers einzigartiger Stil kommt besonders gut in Duos und, wie es scheint, bei Live-Auftritten zur Geltung. Er nutzte die Pandemie, um sich durch seinen alten Katalog von Aufnahmen zu wühlen. Viele davon wurden der Öffentlichkeit nur als Download auf seiner Bandcamp-Seite zugänglich gemacht, und vor allem waren viele davon Duos. Schindler scheint sich tatsächlich zum Duo hingezogen zu fühlen, wahrscheinlich aus praktischen Gründen, aber auch wegen der Möglichkeiten dieser Konstellation. Es bietet jedem Musiker einen großen Raum, um gehört zu werden – mit voller Wucht oder sotto voce – und gibt jedem ein Gegenüber – manchmal einen Begleiter und manchmal einen Sparringspartner -, mit dem er Ideen austauschen und auf den er reagieren kann. Je nach Besetzung und Spielern befreit es die Musiker auch von der zentripetalen Kraft des Rhythmus und gibt ihnen die Freiheit, andere – in diesem Fall amelodische und atonale – Orte zu erkunden. …
NYC / review by Nick Ostrum / 2023-04-04
FRAGILE ERIUPTIONS
Les éruptions tout aussi puissantes et extrêmes qu'elles puissent être, peuvent se révéler fragiles lorsque des improvisateurs tentent d'en dominer leurs sortilèges. Mission accomplie ici dans ce magnifique duo entre le monolithique contrebassiste Peter Jacquemyn, subversif et expressionniste, et le souffleur multi-instrumentiste Udo Schindler, un artiste détonnant et de plus en plus convaincant au fil de ses nombreux enregistrements. Il est crédité ici « clarinets, saxophones, brass » : je tâcherai de ne pas trop décrire cet aspect des choses, soit le compte-rendu précis pour chaque instrument utilisé par rapport à chacune des 11 improvisations enregistrées au « salon » avec le sous- titre « Part 1 exploding fragility » et à « art – toxin » (Part 2 floating energy surge). J'apprécie particulièrement chez Jacquemyn, outre cette liberté sauvage irrépressible qui est sa marque, sa vocalise diphonique, similaire à celles des chanteurs chamans traditionnels de Sibérie (bouriates, mongols et touvins), comme on peut l'entendre au #5 de la Partie 1 ou au #3 de la Partie 2. Faut-il rappeler les nombreuses collaborations des ces deux improvisateurs, Jacquemyn ayant duetté avec Peter Kowald et tourné avec Mark Sanders, Jeffrey Morgan, André Goudbeek, Michel Doneda, Lê Quan Ninh, Tatsuya Nakatani, Ute Völker et Gunda Gottschalk. Et les enregistrements récents de Schindler avec Jaap Blonk, Damon Smith, Ove Volquartz, Sebi Tramontana, Wilbert De Joode ? À force de jouer avec tout qui se présente à eux, l'art du duo improvisé en toute liberté leur est devenu une seconde nature. Les échanges entre les deux improvisateurs s'étalent merveilleusement dans le temps dans des durées assez courtes, propices à créer une atmosphère, une qualité de relation, un sens de l'écoute précis, une emphase créative stimulante. Le contrebassiste adapte son jeu à chaque instrument différent du souffleur dont j'apprécie les sons écorchés bourrés d'incisives harmoniques à la clarinette basse ou les diffractions saturées à ce qui ressemble à un tuba ou un euphonium. On entend Jacquemyn faire frotter – glisser les graves graveleux de sa contrebasse vers les abysses ou faire flageoler – ondoyer le registre aigu de sa quatrième corde en fin de touche comme un lointain chant de baleines. Ailleurs, c'est le sax ténor qui graillonne renfrogné alors que l'archet puissant fait vibrer l'âme du gros violon. Quant à son pizzicato puissant, il fait sursauter la walking-bass comme un boxeur au saut à la corde jusqu'au moment où, entraîné par les coups de becs canardeurs d'Udo, ses gros doigts disjonctent créant des staccatos décalés et fragmentés. Viennent aussi corroborer leur état de transe, des voix fantomatiques d'origine inconnue, soit l'art surprenant des "techniques étendues" qui vibrent comme une voix d'outre-tombe 
Nous avons droit d'une part au développement assez logique de plusieurs improvisations parmi les onze contenues dans ce tonique compact et d'autre part à de superbes dérives poétiques aiguillonnées par les sens et les émotions de l'instant présent : à noter ce passage déjanté pizzicato vs un étrange saxophone soprano où vient s'ajouter une voix secrète. Excellent album dialogue où surgissent de superbes trouvailles sonores. Bonus : oeuvre de Peter Jacquemyn sur le recto de la pochette.  
improvandsounds.blogspot.com /JM van Schouwburg
Eruptionen, so mächtig und extrem sie auch sein mögen, können sich als zerbrechlich erweisen, wenn Improvisatoren versuchen, ihren Zauber zu beherrschen. In diesem wunderbaren Duett zwischen dem monolithischen, subversiven und expressionistischen Kontrabassisten Peter Jacquemyn und dem Multiinstrumentalisten und Bläser Udo Schindler, einem explosiven Künstler, der mit seinen zahlreichen Aufnahmen immer überzeugender wird, ist diese Aufgabe erfüllt worden. Er wird hier mit "clarinets, saxophones, brass" bezeichnet: Ich werde mich bemühen, diesen Aspekt der Dinge nicht zu sehr zu beschreiben, d. h. den genauen Bericht für jedes verwendete Instrument in Bezug auf jede der 11 Improvisationen, die im "Salon" mit dem Untertitel "Part 1 exploding fragility" und in "art – toxin" (Part 2 floating energy surge) aufgenommen wurden. Ich schätze an Jacquemyn neben der unbändigen wilden Freiheit, die ihr Markenzeichen ist, besonders ihre diphonische Vokalisation, die der der traditionellen Schamanensänger Sibiriens (Burjaten, Mongolen und Tuwiner) ähnelt, wie man in #5 von Teil 1 oder in #3 von Teil 2 hören kann. Muss man an die zahlreichen Kollaborationen dieser beiden Improvisatoren erinnern, wobei Jacquemyn mit Peter Kowald duettiert und mit Mark Sanders, Jeffrey Morgan, André Goudbeek, Michel Doneda, Lê Quan Ninh, Tatsuya Nakatani, Ute Völker und Gunda Gottschalk gedreht hat? Und die jüngsten Aufnahmen von Schindler mit Jaap Blonk, Damon Smith, Ove Volquartz, Sebi Tramontana, Wilbert De Joode? Durch das Spielen mit allem, was sich ihnen bietet, ist ihnen die Kunst des frei improvisierten Duos zur zweiten Natur geworden. Der Austausch zwischen den beiden Improvisationskünstlern lässt sich wunderbar über die Zeit in recht kurzen Zeiträumen ausdehnen, die geeignet sind, eine Atmosphäre, eine Beziehungsqualität, einen präzisen Sinn für das Zuhören und eine stimulierende kreative Emphase zu schaffen. Der Kontrabassist passt sein Spiel an jedes Instrument an, vom Bläser, dessen gehäutete Töne voller harmonischer Schneidezähne ich an der Bassklarinette schätze, bis hin zu den satten Beugungen an etwas, das wie eine Tuba oder ein Euphonium aussieht. Jacquemyn lässt die tiefen Töne seines Kontrabasses in die Tiefe gleiten oder das hohe Register seiner vierten Saite am Ende des Griffbretts wie einen fernen Walgesang wabern. 
An anderer Stelle kratzt das Tenorsax mürrisch, während der starke Bogen die Seele der großen Geige zum Schwingen bringt. Das kraftvolle Pizzicato lässt den Walking-Bass wie einen Boxer beim Seilspringen zucken, bis die dicken Finger durch Udos Schnabelhiebe in versetzte und fragmentierte Stakkatos ausbrechen. Die Trance wird auch durch Geisterstimmen unbekannter Herkunft untermauert – die überraschende Kunst der "erweiterten Techniken", die wie eine Stimme aus dem Grab schwingen. 
Wir bekommen einerseits die ziemlich logische Entwicklung mehrerer Improvisationen unter den elf, die in diesem kompakten Tonikum enthalten sind, und andererseits herrliche poetische Drifts, die von den Sinnen und Emotionen des gegenwärtigen Augenblicks angestachelt werden: Bemerkenswert ist diese verrückte Pizzicato-Passage vs. ein seltsames Sopransaxophon, zu dem eine geheime Stimme hinzukommt. Ausgezeichnetes Dialogalbum, in dem großartige Klangfindungen auftauchen. Bonus: Werk von Peter Jacquemyn auf der Vorderseite der Hülle.
Eruptions, however powerful and extreme they may be, can prove fragile when improvisers try to control their spells. Mission accomplished here in this magnificent duet between the monolithic double bassist Peter Jacquemyn, subversive and expressionist, and the multi-instrumentalist blower Udo Schindler, an explosive artist who is increasingly convincing with each of his many recordings. He is credited here with 'clarinets, saxophones, brass': I'll try not to describe this aspect of things too much, just the precise account for each instrument used in relation to each of the 11 improvisations recorded in the 'salon' with the subtitle 'Part 1 exploding fragility' and 'art – toxin' (Part 2 floating energy surge). As well as Jacquemyn's irrepressible wild freedom, I particularly appreciate her diphonic vocalization, similar to that of traditional Siberian shaman singers (Buryats, Mongols and Tuvins), as heard in #5 of Part 1 and #3 of Part 2. Jacquemyn has duetted with Peter Kowald and toured with Mark Sanders, Jeffrey Morgan, André Goudbeek, Michel Doneda, Lê Quan Ninh, Tatsuya Nakatani, Ute Völker and Gunda Gottschalk. And Schindler's recent recordings with Jaap Blonk, Damon Smith, Ove Volquartz, Sebi Tramontana and Wilbert De Joode? By dint of playing with everything that comes their way, the art of the free improvised duet has become second nature to them. The exchanges between the two improvisers are marvellously spread out over time in fairly short bursts, conducive to creating an atmosphere, a quality of relationship, a precise sense of listening, a stimulating creative emphasis. The double bassist adapts his playing to each different instrument, from the blower, whose flayed sounds full of harmonic incisors I appreciate, to the bass clarinet, or the saturated diffractions of what sounds like a tuba or euphonium. Jacquemyn can be heard making the low, gravelly tones of his double bass slide towards the abyss, or making the high register of his fourth string flutter and undulate at the end of the fingerboard like a distant whale song. 
Elsewhere, it's the tenor sax that scowls, while the powerful bow makes the soul of the large violin vibrate. As for its powerful pizzicato, it startles the walking-bass like a boxer jumping rope, right up to the moment when, drawn in by Udo's ducking pecks, its big fingers break apart, creating shifted and fragmented staccatos. Also corroborating their trance-like state are ghostly voices of unknown origin, the surprising art of 'extended techniques' that vibrate like a voice from beyond the grave. 
On the one hand, we are treated to the fairly logical development of several of the eleven improvisations contained in this tonic compact and, on the other, to some superb poetic drifts spurred on by the senses and emotions of the present moment: note this crazy pizzicato passage vs a strange soprano saxophone to which a secret voice is added. This is an excellent dialogue album, full of superb sonic discoveries. Bonus: artwork by Peter Jacquemyn on the front.