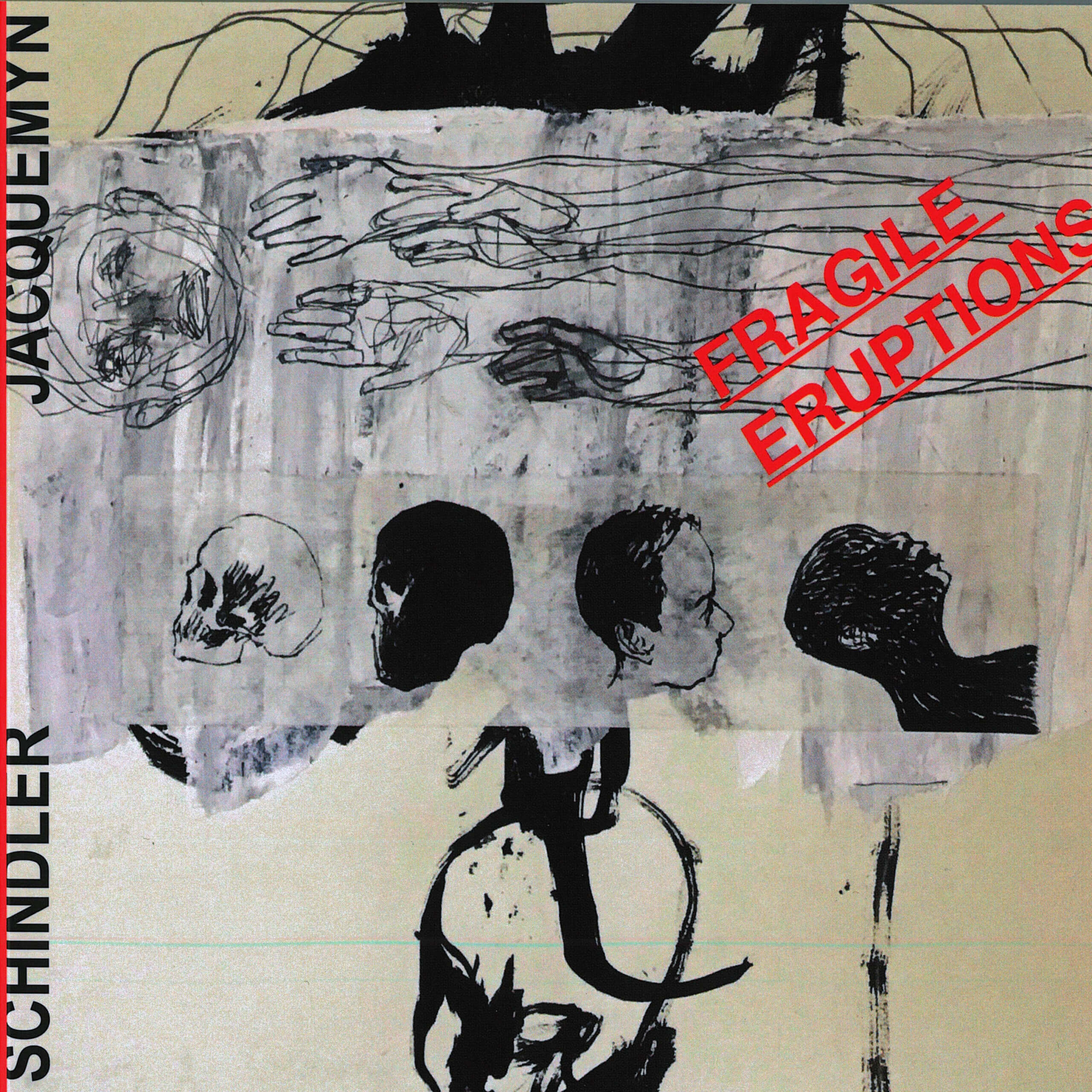 Udo Schindler & Peter Jacquemyn
FRAGILE ERUPTIONS
FMR CD625-0422
Udo Schindler (DE)    clarinets, saxophones, brass
Peter Jacquemyn       double bass, voice
Part1 [salon] exploding fragility
e.f. #1         03:07

e.f. #

2

 

        04:07
e.f. #3         07:45

e.f. #

4         06:15
e.f. #5  

      02:33
e.f. #6         02:23
Part2 [arToxin] floating energy surge
f.e.f. #1         07:21
f.

e.f. #

2

 

        07:23
f.e.f. #3         03:15
f.

e.f. #

4         12:17
f.e.f. #5  

      06:34
"To break and be able to grow together again in a better way: that is the difficult art."
"Aufbrechen und besser zusammenwachsen können: das ist die schwierige Kunst."
Asger Jorn
live recording of the performance on November 29th, 2019 at the 98th Salon für Klang+Kunst Krailling / Munich by Udo Schindler (part one) & 
on November 30th, 2019 at Galerie arToxin / Munich by Gottfried Düren (part two)
mix & master by Wolfgang Obrecht/Tonstudio RichArt, Munich
compositions by Udo Schindler & Peter Jacquemyn (GEMA)
drawing on the front cover by Peter Jacquemyn
inside photos by Udo Schindler
artwork / exhibition in the Galerie arToxin by Rasso Hecker
graphic design by Udo Schindler & FMR
produced by Udo Schindler
Executive production by FMR
thanks for support to Wolfgang Obrecht, the Schauer Family, Angelika Donhärl & Gottfried Düren/Galerie arToxin, KP Mendler, Michael Kurz
videos by Michael Kurz
November 30th, 2019 at Galerie arToxin/München
https://www.youtube.com/watch?v=VkUkaffkumA
https://www.youtube.com/watch?v=_CwGyPm3W2E
www.arch-musik.de;
www.jacquemyn.com
REVIEWS
The new CD with Peter is really fantastic! Both of you are playing great. The design is beautiful as well!
Good work!
Damon Smith http://www.balancepointacoustics.com; http://balancepointacoustics.bandcamp.com
Live recordings of two sessions of fully free and uniquely creative duo improvisations by Udo Schindler on clarinets, saxophone and brass, and Peter Jacquemyn on double bass & voice, recorded on November 29th, 2019 at the 98th Salon für Klang+Kunst Krailling/Munich by Udo Schindler (part one) & on the next day at Galerie arToxin by Gottfried Düren (part two).
Live-Mitschnitte von zwei Sessions mit völlig freien und einzigartig kreativen Duo-Improvisationen von Udo Schindler an Klarinetten, Saxophon und Blechbläsern und Peter Jacquemyn an Kontrabass & Stimme, aufgenommen am 29. November 2019 beim 98. Salon für Klang+Kunst Krailling/München von Udo Schindler (Teil 1) und am nächsten Tag in der Galerie arToxin von Gottfried Düren (Teil 2).
Squidco / NYC
Auch zwei neue CDs auf FMR Records zeigen wieder UDO SCHINDLERs Spannweite: Fragile Eruptions(FMRCD625-0422) enthält die Begegnungen am 29./30.11.2019 bei 98. Salon für Klang+Kunst und in der Galerie arToxin mit PETER JACQUEMYNs Kontrabass & Stimme. Der Belgier ist einer, der mit Kettensäge und Axt Holzskulpturen aus Baumstämmen schält und mit ähnlichem Spirit seinen Bass mit Bögen, Blechdosen und energischen Griffen traktiert. Seit über zwei Jahrzehnten, im Deep-Music-Verbund mit Peter Kowald und William Parker, mit André Goudbek, Phil Minton, Evan Parker, John Dikeman, mit Gunda Gottschalk als Duo Periculoso und in Baggerboot. Für die schwierige Kunst des Aufbrechens und Zusammenwachsens mit Schindlers Reeds und Brass berufen die beiden sich auf Asger Jorn, Jacquemyn veranschaulicht es als Handwerk und Kopfarbeit, als Murx und Spleen. Um die Leitplanken der Klangwelt aufs Derbste zu schrammen, in kratzender, knurpsender, quäkender, züllender, spotzender Kakophilie. Schindlers Soprano gilft, der Belgier sägt und summt und mischt dazu Oberton-'Flötentöne' und Maulwerkquerulanz. Er fiebert bassbogenbrummig zu murrender Tuba, er hält mit stramm joggendem Pizzikato Schritt mit der feuerpanisch fliehenden Bassklarinette oder dem durchs zerborstene Mundstück Gerbsäure spritzenden Soprano. Diese energiegeladenen LowToneStudies führen über zerklüftete Spaltklang- und Blechrisslava, mit dem Bass als Killerhornissula, als schwärmendem Flagellant. Oder rubbelnd, Gummisaiten twangend, mit surrendem Glissando, zur versumpft blökenden, panisch aufschrillenden Tuba sausend, tobend, hysterisch glitschend. Das Extro federt das eigene Pathos ab mit nicht allzu bierernstem Vibrato und nochmal launig angerautem Bogenstrich und Zungenschlag. 
.
Two new CDs on FMR Records again show UDO SCHINDLER's span: Fragile Eruptions (FMRCD625-0422) contains the encounters on 29/30 November 2019 at 98th Sa¬lon for Klang+Kunst and at the arToxin gallery with PETER JACQUEMYN's double bass & voice. The Belgian is one who peels wooden sculptures out of tree trunks with a chainsaw and axe, and with similar spirit trades his bass with bows, tin cans and energetic fingerings. For over two decades, in deep music association with Peter Kowald and William Parker, with André Goudbek, Phil Minton, Evan Parker, John Dikeman, with Gunda Gottschalk as Duo Periculoso and in Baggerboot. For the difficult art of breaking up and growing together with Schindler's reeds and brass, the two invoke Asger Jorn, Jacquemyn illustrates it as craft and brainwork, as murx and spleen. To scrape the guard rails of the sound world in the crudest way, in scratching, growling, squawking, spouting, mocking cacophilia. Schindler's Sprano is gilft, the Belgian saws and hums and mixes overtone 'flute tones' and muzzle crossulance. He feverishly bass-bows to murmuring tuba, he keeps pace with tightly jogging pizzicato with the fire-panic fleeing bass clarinet or the soprano spraying tannic acid through the cracked mouthpiece. These energetic low¬tone studies lead over jagged cleavage sound and brass crack lava, with the bass as a killer hornissula, a swarming flagellant. Or rubbing, twanging rubber strings, with whirring glissando, to the muffled bleating, panic-striking tuba whizzing, raving, hysterically slithering. The extro cushions its own pathos with a not too beery vibrato and once more whimsically roughened bowing and tonguing.
Bad Alchemy-Rigobert Dittmann [BA 115 rbd]
Udo Schindler! Three Of a Perfect Pair! 
Niemiecki saksofonista, klarnecista, muzyk prawdziwie multiinstrumentalny, Udo Schindler kończy w tym roku 70 lat i zdaje się obchodzić tę zacną rocznicę w sposób niebywale huczny. Nowe nagrania sypią się jak z rogu obfitości, nie sposób ich wszystkich ogarnąć jedną parą receptorów słuchu, ani tym bardziej, opisać wszystkie zgrabną i pokrętna metaforyką Pana Redaktora. Ale ponieważ jubileusz, to rzecz ważna, redakcja zwarła szyki i przygotowała dla swych ukochanych Czytelników skromny wybór nowości artysty.
Zapraszamy na odczyt i odsłuch trzech duetów. Dwa z nich popełnione zostały w towarzystwie szczególnie na tych łamach hołubionych, swobodnie improwizujących kontrabasistów – Petera Jacquemyna i Meinrada Kneera, trzecia zaś powstała w wyniku kooperacji z pianistą Michelem Wintschem, muzykiem niezwykle intrygującym, który z pozycji wyciszonego kameralisty potrafi w ułamku sekundy przejść na pozycję dyktującego warunki gry. Na tle tych muzyków nasz jubilat wypada doprawdy imponująco. Sięga po cały arsenał instrumentów dętych, nie tylko drewnianych, ale także blaszanych i brnie w swobodne strumienie dźwiękowe z gracją godną nie jednego jubileuszu.
So, welcome to the world of Udo! 
Der deutsche Saxophonist, Klarinettist und wahrhaftige Multiinstrumentalist Udo Schindler wird dieses Jahr 70 Jahre alt und scheint dieses edle Jubiläum auf bemerkenswert aufwendige Weise zu feiern. Neue Aufnahmen strömen wie ein Füllhorn, es ist unmöglich, sie alle mit einem einzigen Paar Hörrezeptoren zu erfassen, geschweige denn, sie alle mit den hübschen und verdrehten Metaphern von Herrn Editor zu beschreiben. Aber weil ein Jubiläum eine große Sache ist, haben sich die Redakteure zusammengerissen und eine bescheidene Auswahl an Neuigkeiten des Künstlers für ihre geschätzten Leser zusammengestellt.
Wir laden Sie ein, drei Duette zu lesen und zu hören. Zwei der Duette entstanden in Begleitung von Peter Jacquemyn und Meinrad Kneer, Kontrabassisten, die auf diesen Seiten besonders beliebt sind, und das dritte wurde in Zusammenarbeit mit dem Pianisten Michel Wintsch geschrieben, einem äußerst faszinierenden Musiker, der in der Lage ist, in Sekundenbruchteilen von der Position eines ruhigen Kammermusikers in die eines Diktators der Spielbedingungen zu wechseln. Vor dem Hintergrund dieser Musiker ist unser Juwelier wirklich beeindruckend. Er schöpft aus dem gesamten Arsenal der Blasinstrumente, nicht nur der Holzbläser, sondern auch der Blechbläser, und stürzt sich mit einer Anmut, die so manchem Jubiläum würdig ist, in frei fließende Klangströme.
German saxophonist, clarinettist and truly multi-instrumentalist, Udo Schindler turns 70 this year and seems to be celebrating this noble anniversary in a remarkably lavish manner. New recordings are pouring in like a horn of plenty, it is impossible to encompass them all with a single pair of auditory receptors, let alone describe them all with the neat and twisted metaphors of Mr Editor. But because an anniversary is a big deal, the editors have pulled themselves together and prepared a modest selection of the artist's news for their beloved readers.
We invite you to read and listen to three duets. Two of the duets were written in the company of Peter Jacquemyn and Meinrad Kneer, double bass players who have been particularly popular in these pages, and the third was written in collaboration with pianist Michel Wintsch, an extremely intriguing musician, who is able to move from the position of a quiet chamber musician to one who dictates the playing conditions in a split second. Against the background of these musicians, our jubilarian is truly impressive. He draws on the entire arsenal of wind instruments, not only woodwinds, but also brass, and rushes into free-flowing streams of sound with a grace worthy of many a jubilee.
Fragile Eruptions with Peter Jacquemyn
Album zawiera dwa różne koncerty, a otwierające go sześć improwizacji tworzy pierwszy z nich. Na wejściu dostajemy się w mroczne opary prychającego, dużego klarnetu i zapętlonego smyczka kontrabasowego. Od pierwszej frazy akcje są zadziorne, dynamiczne, z pewną ulotną tanecznością. Od noise acoustic po upalone post-chamber! W kolejnej części intrygujący posmak industrialu – preparacje, krótsze lub dłuższe drony i pierwszy raz gardłowy śpiew kontrabasisty. Przy okazji mały dysonans – dęciak wydaje się być delikatny, kontrabas zaś skrzy się mocą i wielokolorową poświatą. W trzeciej odsłonie pojawia się instrument blaszany, nisko zawieszony, dość niedelikatny w brzmieniu – mruczy i syczy na wprost smyczka, która pracuje bardzo nisko na nogach. Dwa niedźwiedzie walczą tu o względy ukochanej, ale po chwili spoglądają ku niebu i postanawiają wybrać się na wspólną przebieżkę. Czwarta improwizacja budowana jest w trybie pizzicato i wyśpiewywana przez duży klarnet. Pachnie tu szybkim jazzem, a temperatura nagrania systematycznie rośnie, mimo dość czystego frazowania z obu stron. Finał ginie w uroczych drobiazgach. W piątej odsłonie muzycy prezentują nam dość fizjologiczne dźwięki. Czujemy nieprzyjemny zapach i śpiew cedzony przez zaciśnięte zęby. Dużo imitacji, wzajemnych przekomarzań, a także gardłowe jodłowanie. Ostatni antrakt pierwszego koncertu syci się mrocznym klimatem, nisko zawieszonymi frazami smyczka i dużego klarnetu. I tu narracja pnie się ku grze i dobrze eskaluje emocje, na zakończenie lepiąc się w jeden strumień dźwiękowy.
W trakcie drugiego koncertu muzycy zamieniają się stronami. Kontrabas schodzi na lewo, dęciaki okupują stronę przeciwną. Początek należy od intensywnie post-barokowego smyczka i saksofonu, który syczy zimnym powietrzem. Kontrabasista wpada tu w furię, saksofonista trzyma jednak dystans. Są i modlitwy, i pijackie zaśpiewy. Potem muzycy delikatnie tłumią emocje, ale nie przestają być niebezpieczni. W drugiej części dość długiej improwizacji bystry tryb pizzicato sprawia, iż całość zionie ogniem free jazzu. Peter zbiera tu same laury, gra całym ciałem i budzi realną trwogę! W kolejnej części Udo serwuje nam festiwal zaskakujących dźwięków. Nie wiemy, jakiego używa instrumentu, może nawet więcej niż jednego! Bas wpada w pętle, ciężko oddycha i szuka melodii. Z dętych znaków zapytania wyłania się w końcu śpiewny saksofon. Narracja łyka dużo jazzu w żagle, znów szczyptę jodłowania i drobnych preparacji. Dziewiąty trak na dysku, to ledwie miniatura – żale wielkopostne i dęte rezonanse. A tuż po nich opus magnum albumu! Nisko zawieszony smyczek, blaszane pomruki i zaśpiewy. Kontrabasista znów idzie w tango – śpiewa barok, dewastuje struny i buduje drony, pod które podczepia się zasapany blaszak. Wrzaski, jęki i kocie skomlenia, what a game! Ostatnia improwizacja musi leczyć rany. Post-barokowy, ale brudny smyczek i popiskujący saksofon w pozie lamentu. Pod sam koniec spod pach artystów dobywa się delikatny swąd free jazzu. 
Das Album enthält zwei verschiedene Konzerte, wobei die ersten sechs Improvisationen das erste bilden. Am Eingang geraten wir in die dunklen Dämpfe einer schnaubenden großen Klarinette und eines geschlungenen Kontrabassbogens. Von der ersten Phrase an ist die Handlung lebhaft, dynamisch, mit einer gewissen flüchtigen Tanzbarkeit. Von Noise Acoustic bis Stoned Post-Chamber! Im nächsten Satz gibt es einen faszinierenden Vorgeschmack auf Industrial – Vorbereitungen, kürzere oder längere Drones und zum ersten Mal den kehligen Gesang des Kontrabassisten. Diesmal ein wenig Dissonanz – die Blechbläser wirken zart, während der Kontrabass kraftvoll und farbenfroh leuchtet. Im dritten Abschnitt tritt ein Blechblasinstrument auf, tief und ganz undefiniert im Klang – es säuselt und zischt gegenüber dem Bogen, der sehr tief auf seinen Füßen arbeitet. Hier kämpfen zwei Bären um die Gunst ihrer Geliebten, aber nach einer Weile blicken sie zum Himmel auf und beschließen, gemeinsam einen Spaziergang zu machen. Die vierte Improvisation ist im Pizzicato-Modus aufgebaut und wird von einer großen Klarinette gesungen. Hier riecht es nach schnellem Jazz, und die Temperatur der Aufnahme steigt stetig an, trotz recht sauberer Phrasierung auf beiden Seiten. Das Finale verliert sich in charmanten Kleinigkeiten. Im fünften Satz präsentieren uns die Musiker eher physiologische Klänge. Wir riechen unangenehme Gerüche und singen angestrengt mit zusammengebissenen Zähnen. Viel Nachahmung, gegenseitiges Geplänkel und kehliges Jodeln. Das letzte Vorspiel des ersten Konzerts verströmt eine düstere Atmosphäre mit tief hängenden Phrasen von Bogen und großer Klarinette. Und hier drängt die Erzählung zum Spiel und eskaliert die Emotionen gut, die am Ende zu einem einzigen Klangstrom zusammenkleben.
Während des zweiten Konzerts tauschen die Musiker die Seiten. Der Kontrabass tritt nach links, die Blechbläser nehmen die gegenüberliegende Seite ein. Der Anfang gehört einem intensiv postbarocken Bogen und Saxophon, das kalt zischt. Hier gerät der Kontrabassist in Rage, der Saxophonist hingegen hält sich zurück. Es gibt sowohl Gebete als auch betrunkene Gesänge. Danach dämpfen die Musiker sanft ihre Emotionen, hören aber nicht auf, gefährlich zu sein. Im zweiten Teil der recht langen Improvisation lässt ein raffinierter Pizzicato-Modus das Ganze mit dem Feuer des Free Jazz atmen. Peter holt sich hier die Lorbeeren, spielt mit seinem ganzen Körper und sorgt für echten Schrecken! Im nächsten Satz serviert uns Udo ein Fest der überraschenden Klänge. Wir wissen nicht, welches Instrument er benutzt, vielleicht sogar mehr als eines! Der Bass fällt in Schleifen, atmet schwer und sucht nach einer Melodie. Ein singendes Saxophon taucht schließlich aus den Fragezeichen der Blechbläser auf. Die Erzählung streut viel Jazz in die Segel, wieder eine Prise Jodeln und kleine Vorbereitungen. Das neunte Stück auf der Scheibe ist kaum eine Miniatur – Fastenreue und Blechbläserresonanzen. Und gleich danach kommt das Opus magnum des Albums! Eine tief hängende Verbeugung, Blechbläser murmeln und singen. Der Kontrabassist tanzt wieder Tango – er singt barocke, vernichtende Streicher und baut Drones auf, unter denen sich ein schäbiger Blechmann einhakt. Schreie, Stöhnen und Katzenjammern, was für ein Spiel! Die letzte Improvisation muss die Wunden heilen. Postbarocke, aber schmutzige Verbeugungen und ein kreischendes Saxophon in Klagestimme. Ganz zum Schluss kommt ein sanfter Hauch von Free Jazz unter den Armen der Künstler hervor. 
The album contains two different concertos, with the opening six improvisations forming the first. On the entrance we get into the dark vapours of a snorting big clarinet and a looped double bass bow. From the first phrase the action is feisty, dynamic, with a certain fleeting danceability. From noise acoustic to stoned post-chamber! In the next movement there is an intriguing taste of industrial – preparations, shorter or longer drones and, for the first time, the throaty singing of the double bass player. A little dissonance on this occasion – the brass seems delicate, while the double bass sparkles with power and a multicoloured glow. In the third section, a brass instrument appears, low-pitched and quite undelicate in sound – it purrs and hisses opposite the bow, which works very low on its feet. Here two bears fight for the favour of their beloved, but after a while they look up to the sky and decide to go for a run together. The fourth improvisation is built in pizzicato mode and sung by a large clarinet. There is a smell of fast jazz here and the temperature of the recording steadily rises, despite fairly clean phrasing on both sides. The finale is lost in charming trifles. In the fifth movement the musicians present us with rather physiological sounds. We smell unpleasant odours and singing strained through clenched teeth. Lots of imitation, mutual banter and throaty yodelling. The final antecedent of the first concert oozes a dark atmosphere, with low-hanging phrases of bow and big clarinet. And here the narrative thrusts towards the game and escalates the emotions well, by the end sticking together into a single stream of sound.
During the second concert, the musicians swap sides. The double bass steps to the left, the brass occupies the opposite side. The beginning belongs to an intensely post-baroque bow and saxophone that hisses coldly. Here, the double-bassist goes into a fury, the saxophonist, however, keeps his distance. There are both prayers and drunken chants. Afterwards, the musicians gently dampen their emotions, but do not stop being dangerous. In the second part of the rather long improvisation, a clever pizzicato mode makes the whole thing breathe with the fire of free jazz. Peter takes the laurels here, plays with his whole body and inspires real terror! In the next movement, Udo serves us a festival of surprising sounds. We don't know what instrument he is using, maybe even more than one! The bass falls into loops, breathes hard and searches for a melody. A singing saxophone finally emerges from the brass question marks. The narrative sips a lot of jazz into the sails, again a pinch of yodelling and minor preparations. The ninth track on the disc is hardly a miniature – Lenten regrets and brass resonances. And just after these, the album's opus magnum! A low-slung bow, brass murmurs and chants. The double bassist goes tango again – singing baroque, devastating strings and building up drones, under which a seedy tin man hooks up. Screams, groans and cat whines, what a game! The final improvisation must heal the wounds. Post-baroque but dirty bowing and a screeching saxophone in a pose of lament. Towards the very end, a gentle whiff of free jazz comes from under the artists' arms.
trybuna muzyki spontaniczny / piątek, 8 lipca 2022
Notenpult spontan / Freitag, 8. Juli 2022