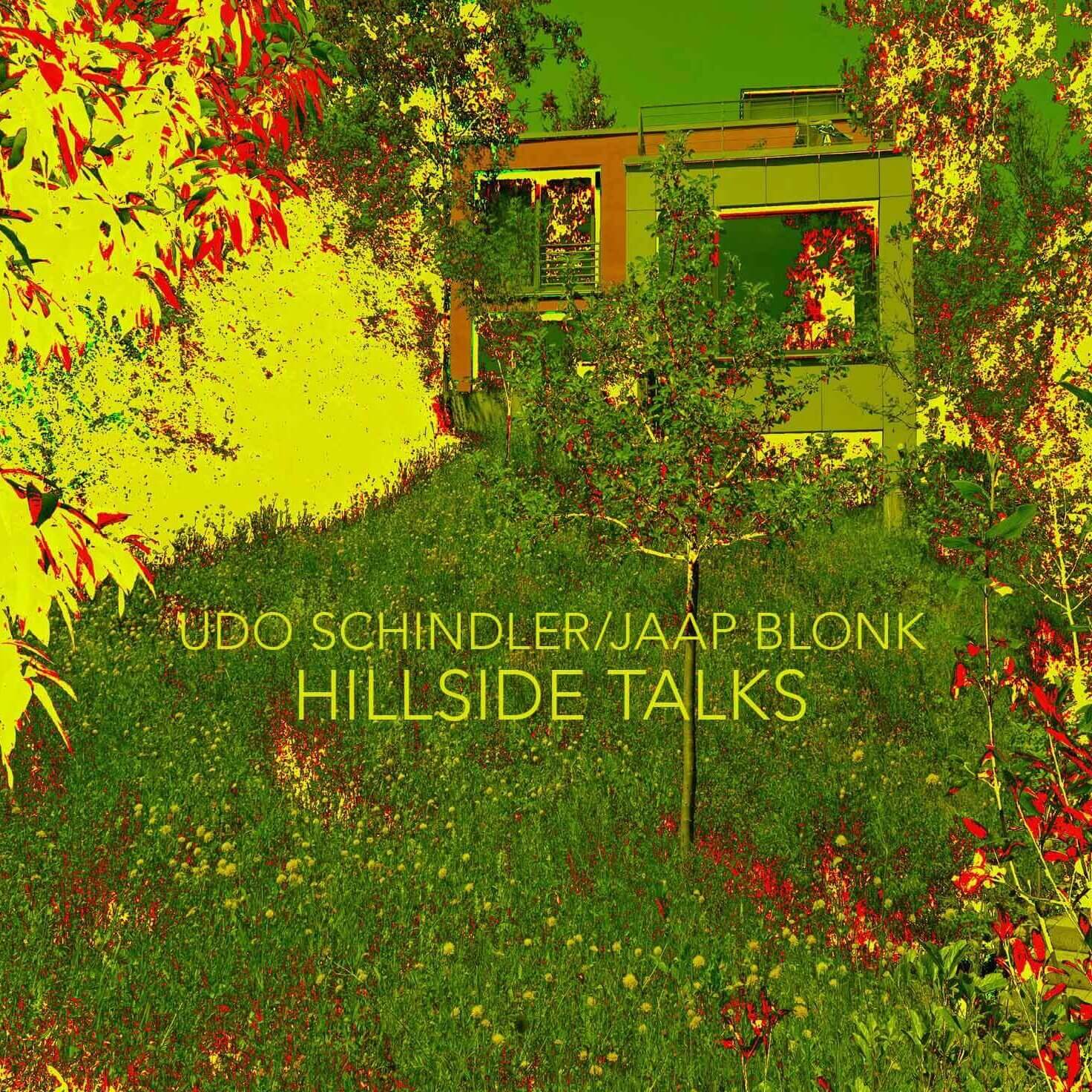 Schindler & Blonk
Hillside Talks
Relative Pitch Records RPR1089
Jaap Blonk voice, computer
Udo Schindler reeds & brass
Proposal Accepted

4:45

Extended Consultation

7:32

Cool Counsel

4:31
No Known Forethought

6:29
Illegible Prescription

8:12
Finer Points

2:06
Colloquy Allowed

7:55
Remarks In Passing

1:50

In A Covenant

3:55

 To Our Discretion

6:36

live recordings of the concerts at June 1st & 11th, 2018 at Salon für Klang+Kunst (Krailling-Munich) by Udo Schindler (arch-musik)
mixed & mastered by Wolfgang Obrecht/Tonstudio RichArt, Munich 
all compositions by Jaap Blonk (Buma/Stemra) & Udo Schindler (GEMA)
photos & architecture by Udo Schindler. Front cover by Jaap Blonk
graphic design by Spl@T!
produced by Jaap Blonk & Udo Schindler
executive production by Kevin Reilly
thanks for support to Wolfgang Obrecht (Tonstudio RichArt), Angelika Donhärl & Gottfried Düren (Galerie artoxin – Munich)
Special thanks to Keith Martin
www.jaapblonk.com
www.arch-musik.de
Performing in Krailling-Munich at Udo Schindler's Salon fur Klang+Kunst in 2018, Netherland free improvising, brilliantly mad vocalist Jaap Blonk joins the reed master for ten acoustic improvisations with Schindler on a variety of reeds and brass instruments, the dialog authoritatively informed, masterful, slightly deranged, and continuously captivating.
squidco
UDO SCHINDLER / JAAP BLONK Hillside Talks (Relative Pitch Records, RPR1089): 
Wenn Schindler & Blonk im April beim 92. Salon für Klang + Kunst und im Juni in München miteinander improXen, werden sie dabei die letztes Jahr beim 84. Salon in Krailling gespon-nenen Fäden weiter verzwirbeln. Blonk passt Schindler gut in seine Vokal-Reihe mit Annette Giesriegl und Franziska Baumann. Und er zackt sich vice versa als weiterer Zacken in die dadaeske Krone von Dr. Voxoid, zwischen Blonk & Terrie (Ex) und Retirement Overdue (Blonks Rentnerband mit Miguel Petruccelli, Frank Rosaly & – oha! – Jasper Stadhouders). Reeds & Brass meet Voice & Computer. Und Schindler wird so Labelgenosse von Paul Flaherty und Christine Abdelnour, was denn sonst, die Klasse hat er nunmal. Gewidmet ist die Scheibe dem Andenken des Mitbegründers von Relative Pitch, Mike Panico (1965-2018), dessen unvermu-teter Selbstmord die Szene schockierte. Blonk erwidert Schindlers quäkende und maunzende Trompetenlaute mit unmöglichen Zungenschlägen, furzendem oder zischendem Mundwerk und überhaupt urkomischen Verlautbarungen, Duckburgerisch inklusive. Zu launigem Klarinetten-schmus erzählt er Witze ohne Worte, er versucht sich, mit Comiclauten verständlich zu machen und mit xenophonem Singsang. Dazu computerisiert er furzelige Töne und zirpigen Klingklang, um mit Ratterzunge und Schlabbergosche weiter zu ballern und zu schwittern. Was für loonytun-eske Deklamationen, in Lautpoesie oder in Geiersprache, zu gezüllten und ploppenden Kürzeln jetzt der Kontrabassklarinette, die elektronisch gegeißelt wird. Laberndes MauMauMaulwerk und trillerndes. Gejodel auf Valium. Zeitlupiges Lullaby – zu fein gefiepten und gewellten Mundstückkunststücken. Ghédalia-Tazartèskes Urmel-auf-dem-Eis-Pathos, sopranogrotesk umtönt. Tieftönende Plops, knarziges Wurzelwerk, röhrende Schreie, gepresste Quetsch-trompetenlaute, R2-D2-mäßig bezwitschert und gläsern-klangschalig umpingt, bedongt, erregt beflimmert von einem videospielsüchtigen Hitechschamanen. Eine balzende Tuba erntet wum mrige und spritzige Resonanzen, närrische Scatkapriolen. Und wieder urmeliger, perkussiv um-flatterter Weltschmerz. Blonk, ein Cyborg aus Spiel und Zeug. Schindler, gerade noch mit Poc-kettrumpet, jetzt schon wieder in Abgründen. Wo er sich mit Altissimo selber leuchtet. Wo Blonk einen Balrog-Blues anstimmt, elektronisch bepoingt. 
Sowas nenne ich wahres Spiel ohne Grenzen und saukomisch dazu. 
[BA 102 rbd] Rigobert Dittmann
UDO SCHINDLER / JAAP BLONK Hillside Talks (Relative Pitch Records, RPR1089):
When Schindler & Blonk improvise at the 92nd Salon für Klang + Kunst in April and in Munich in June, they will continue to twirl the threads that were last year at the 84th Salon in Krailling. Blonk fits Schindler well in his vocal series with Annette Giesriegl and Franziska Baumann. And he zips vice versa as another spike in the dadaeske crown of Dr.Voxoid, between Blonk & Terrie (Ex) and Retirement Overdue (Blonk's retiree band with Miguel Petruccelli, Frank Rosaly & – oha! – Jasper Stadhouders). Reeds & Brass meet Voice & Computer. And Schindler becomes label member of Paul Flaherty and Christine Abdelnour, what else, he has the class. Dedicated to the memory of the co-founder of Relative Pitch, Mike Panico (1965-2018), the disc's unmitigated suicide shocked the scene. Blonk returns Schindler's squealing and mawing trumpet lute with impossible tongue beats, farting or hissing tongue and hilarious announcements, including ducklike sounds. To capricious humor he tells jokes without words, he tries to make intelligible with comic sounds and with xenophonic singing. To do this, he computerized dirty tones and chirping Klingklang to continue to shoot and chatter with Ratterzunge and Schlabbergosche. What loonytun-eske declamations, in phonetic poetry or in vulture, to gezompten and ploping abbreviations now the double bass clarinet, which is scourged electronically. Laberning MauMauMaulwerk and trilling. Yodelling on valium. Slow-motion Lullaby – too delicately sucked and wavy mouthpiece tricks. Ghédalia-Tazartèskes Urmel-on-the-ice-pathos, soprano grotesque. Low-pitched pops, creaky root system, roaring cries, squeezed trumpet lutes, twittering R2-D2-moderately and glass-sounding shell, accentuated, excited flickered by a video-gambling Hitechschaman. A balancing tuba harvests awesome and lively resonances, foolish scatcaprioles. And again urmeliger, percussive fluttered Weltschmerz. Blonk, a cyborg of play and stuff. Schindler, just with Pocket trumpet, now in abyss again. Where he shines himself with Altissimo himself. Where Blonk tunes a balrog blues, electronically pouting. That's what I call true play without borders and hilarious to it.
[BA 102 rbd] Rigobert Dittmann
The text is not really translated into English, as many individual word creations are poetically formulated.
UDO SCHINDLER / JAAP BLONK – Hillside Talks (Relative Pitch 1089; USA) 
Featuring Jaap Blonk on vocal & electronics and Udo Schindler on brass & reeds. This disc was recorded live at two concerts in June of 2018 at Salon fur Klang + Kunst. I am a longtime fan of experimental Dutch vocalist Jaap Blonk, who has collaborated with an impressive cast: The Ex, Maja Ratke, Mats Gustafsson and Ingar Zach. He was involved with the Dada movement and has done some unique performance pieces and sound-poetry. Reeds & brass player, Udo Schindler, has worked with Sebastiano Tramontana, Frank Paul Schubert and Marco Von Orelli. Mr. Schindler is playing a brass instrument (trumpet or trombone) when this disc begins which works well with Mr. Blonk's unique voice. Since both are into extended techniques or sounds, it is difficult to tell them apart at times, especially when Mr. Blonk sounds like he is imitating some of Mr. Schindler's sounds. Jaap sounds like he is singing in an invented language which may of may not have some Dutch thrown in. Although this music is relatively weird or avant-garde, I appreciate that these two never push things too far out. No screaming, no extreme or especially disorienting sounds. When Mr. Blonk plays electronics, he is very selective, just using using it as occasional sonic spice. It sounds to me that this duo was a good choice since they work so well together, complimenting each others sounds. There is a strong sense of calm at the center of these improvs, never going too far out. Mr. Blonk's often childlike sense humor give this quite a bit of charm. I smile as I listen since this makes me laugh or at least giggle at times. I am also fascinated by the way those two work together, shadowing or subtly bending notes or other sounds closer together. Mr. Blonk sounds like he has sampled some everyday sounds like rubber bands or just uses the more restrained side of electronic sounds. 
This is most modest yet still most enchanting effort.
Bruce Lee Gallanter, Downtown Music Gallery/NYC
UDO SCHINDLER / JAAP BLONK – Hillside Talks (Relative Pitch 1089; USA) 
mit Jaap Blonk – Vocal & Electronics und Udo Schindler – Brass & Reed. 
Diese CD wurde im Juni 2018 bei zwei Konzerten im Salon für Klang + Kunst live aufgenommen. Ich bin ein langjähriger Fan des experimentellen niederländischen Sängers Jaap Blonk, der mit einer beeindruckenden Besetzung zusammenarbeitete: The Ex, Maja Ratkje, Mats Gustafsson und Ingar Zach. Er war an der Dada-Bewegung beteiligt und hat einige einzigartige Performance-Stücke und Sound-Poesie gemacht. Udo Schindler, Reeds & Blechbläser, arbeitete mit Sebastiano Tramontana, Frank Paul Schubert und Marco Von Orelli zusammen. Udo Schindler spielt ein Blechblasinstrument (Trompete oder Posaune), wenn diese CD beginnt, was gut zu der einzigartigen Stimme von Herrn Blonk passt. Da sich beide auf erweiterte Techniken oder Sounds konzentrieren ist es schwierig sie manchmal zu unterscheiden, insbesondere wenn Jaap Blonk so klingt, als würde er einige von Schindlers Sounds nachahmen. Jaap klingt so, als würde er in einer erfundenen Sprache singen, in der vielleicht kein Niederländisch gesprochen wird. Obwohl diese Musik relativ ungehört oder avantgardistisch ist, schätze ich, dass diese beiden Musiker die Dinge nie zu weit hinausschieben. Kein Schreien, keine extremen oder besonders verwirrenden Geräusche. Wenn Jaap Blonk Elektronik spielt, ist er sehr wählerisch und verwendet sie nur gelegentlich als Klanggewürz. Es klingt für mich, dass dieses Duo eine gute Wahl war, da sie so gut harmonieren und die Sounds des anderen ergänzen. In der Mitte dieser synergetischen Kooperation herrscht eine starke Ruhe, die nie zu weit ausgedehnt wird. Blonks oft kindlicher Sinnes-Humor verleiht diesen Aufnahmen zusätzlichen Charme. Ich grinse, wenn ich zuhöre, denn es bringt mich manchmal zum Lachen oder zumindest zum Kichern. Ich bin auch fasziniert von der Art und Weise wie diese beiden zusammenarbeiten, indem sie Noten, Klänge oder andere Töne subtil zusammenführen. Jaap Blonk klingt so, als hätte er ein paar Alltagsgeräusche wie Gummibänder gesampelt oder verwendet nur die eher zurückhaltende Seite elektronischer Klänge. 
Dies ist die bescheidenste, aber immer noch bezaubernde Anstrengung.
Bruce Lee Gallanter, DMG_USA/NYC
Relative Pitch's catalogue has been widely expanding and blossoming lately. Since 2011, when the label began, it has been one of the most important labels in the free jazz and improvised music world. But checking out the batch of the label's latest releases, I think a shift towards a more experimental and less "jazz" aesthetic is very clear. All in all with an ever expanding roster of amazing musicians and a catalogue full of great albums Relative Pitch is a label to watch out for every new release.
Jaap Blonk is not a newcomer when it comes to adventurous music, or more accurately, sounds. Using his voice and more often lately electronics, after he quit playing the sax, he has never been afraid of experimenting. Exposing himself through his music has been the only constant in a discography full of experimentation, curiosities and a lack of fear for failure. Hillside Talks is his first for this label. 
I wasn't aware of Udo Schindler's big discography, basically in the field of improvisation. I must blame myself for this, even though the excuse is always there and present. We are all, and me, saturated with information, that there's no time (sometimes there's no will also) to figure out what to keep and what to throw away. Hillside Talks is a keeper for sure. 
From the beginning of the first track from this live recording, I think two facts are pretty clear. Fact number one, this is an ongoing relationship that builds up as the recording unfolds. The two of them seem in a constant dialogue that consists mainly from the horns of Schindler and the vocal experiments of Blonk. Fact number two is that they seem to follow the same trajectory, while they build their sound. What amazes me is that they seem pretty certain and willing not to conform into thinking of what to do next. They do not allow their selves the luxury of preparing. Even in the basics. I might be wrong here, but isn't this what a live recording should be like? 
In all ten tracks of Hillside Talks we listen to a confirmation of a dialogue. Using various techniques they seem to be in a dialogue. Like in seminal improvisational recordings of the past (for example Face To Face with John Stevens and Trevor Watts), they take up the roles of friend and try to conceptualize it. Hillside Talks is like a long friendly discussion. It might incorporate laughs, anger, love, aggression, irony, improvisation, small talk. Whatever is handy. 
An attitude like this comes as an antithesis to the well defined world of "serious" music or "professionalism". Do not get me wrong, they are really serious and passionate. It's just that this dialogue contains the element of a game, even a child's game. Have you ever tried to grab any toy from a child's hand? This music is that serious in the sense that they do not take themselves seriously. In this capitalist corporate careerist world we live in, we should be desperate for all this.
Der Katalog von Relative Pitch hat sich in letzter Zeit stark erweitert und erblüht. Seit 2011, als das Label begann, ist es eines der wichtigsten Labels in der Welt des Free Jazz und der improvisierten Musik. Wenn man sich jedoch die neuesten Veröffentlichungen des Labels ansieht, ist meiner Meinung nach eine Verschiebung hin zu einer experimentelleren und weniger "Jazz" -Ästhetik sehr klar. Insgesamt bietet Relative Pitch eine ständig wachsende Auswahl an fantastischen Musikern und einen Katalog voller großartiger Alben.
Jaap Blonk ist kein Neuling, wenn es um abenteuerliche Musik oder genauer um Klänge geht. Nachdem er mit seiner Stimme und in letzter Zeit häufiger mit Elektronik, nachdem er aufgehört hatte Saxophon zu spielen, hatte er nie mehr Angst vor Experimenten. Sich durch seine Musik zu entlarven war die einzige Konstante in einer Diskografie voller Experimente, Kuriositäten und mangelnder Angst vor dem Scheitern. Hillside Talks ist sein erstes für dieses Label.
Mir war Udo Schindlers große Diskographie im Grunde genommen im Bereich der Improvisation nicht bekannt. Ich muss mich selbst dafür verantwortlich machen, obwohl die Ausrede immer da und gegenwärtig ist. Wir alle und ich sind mit Informationen gesättigt, dass es keine Zeit gibt (manchmal gibt es auch keinen Willen), um herauszufinden, was wir behalten und was wir wegwerfen müssen. Hillside Talks ist auf jeden Fall ein Hüter.
Vom Beginn des ersten Tracks dieser Live-Aufnahme an denke ich, dass zwei Fakten ziemlich klar sind. Fakt Nummer eins, dies ist eine fortwährende Beziehung, die sich im Verlauf der Aufnahme aufbaut. Die beiden scheinen in einem ständigen Dialog zu stehen, der hauptsächlich aus den Hörnern von Schindler und den Vokalexperimenten von Blonk besteht. Fakt Nummer zwei ist, dass sie den gleichen Weg zu gehen scheinen, während sie ihren Sound aufbauen. Was mich erstaunt, ist, dass sie ziemlich sicher und gewillt zu sein scheinen, sich nicht an die nächsten Überlegungen anzupassen. Sie erlauben sich nicht den Luxus, sich vorzubereiten. Auch in den Grundlagen. Ich könnte mich hier irren, aber sollte eine Live-Aufnahme nicht so aussehen?
In allen zehn Tracks von Hillside Talks hören wir eine Bestätigung eines Dialogs. Mit verschiedenen Techniken scheinen sie sich in einem Dialog zu befinden. Wie in wegweisenden Improvisationsaufnahmen der Vergangenheit (zum Beispiel Face To Face mit John Stevens und Trevor Watts) nehmen sie die Rolle eines Freundes ein und versuchen, sie zu konzipieren. Hillside Talks ist wie eine lange freundschaftliche Diskussion. Es kann Lachen, Wut, Liebe, Aggression, Ironie, Improvisation und Smalltalk beinhalten. Was auch immer praktisch ist.
Eine solche Haltung ist ein Gegensatz zu der gut definierten Welt der "ernsthaften" Musik oder der "Professionalität". Versteh mich nicht falsch, sie sind wirklich ernst und leidenschaftlich. Es ist nur so, dass dieser Dialog das Element eines Spiels enthält, sogar ein Kinderspiel. Haben Sie jemals versucht, einem Kind Spielzeug aus der Hand zu nehmen? Diese Musik ist so ernst, dass sie sich selbst nicht ernst nimmt. In dieser kapitalistischen Unternehmenskarrierewelt, in der wir leben, sollten wir nach all dem verzweifelt sein.
The Free Jazz Collective by Fotis Nikolakokolous_15.08.2019
Rozpoczynamy blok recenzji płyt z udziałem głosu ludzkiego! Na początek stały bywalec naszych zbiorówek, niemiecki multiinstrumentalista dęty i blaszany, Udo Schindler w towarzystwie Holendra Jaapa Blonka, który obok szeroko rozumianego głosu własnego, używać będzie także komputera. Na płycie odnajdujemy dziesięć kompozycji, które przy bliższym poznaniu okazują się dość swobodnymi improwizacjami. Odsłuch koncertowej rejestracji z roku 2017 (dwa wydarzenia) zajmie nam 53 minuty i tyleż sekund.
Udo, choć najczęściej sięga po instrumenty dęte drewniane (głównie klarnety), zaczyna swój występ na puzonie. Głos Blonka od początku zdaje się być zawadiacki, prowokacyjny, pełen czarnego humoru, a także młodzieńczej frywolności (niezależnie od metryki urodzenia). Przypomina Phila Mintona i to winno nam starczyć za całą rekomendację. Często i bardzo stylowo korzysta z komputera, który zarówno generuje separatywne fonie, jak i w niektórych momentach sprawia wrażenie, jakby angażował się w live proccesingdźwięków generowanych przez partnera, jak i własny głos. Wachlarz jego artystycznych środków wyrazu jest przeogromny i niech to też wystarczy nam za powód, by nad płytą Hillside Talks pochylić się z należytą starannością. Z obu stron napotykamy na fragmenty intrygująco preparowanych dźwięków, jak i sonorystycznego podejścia do specyfiki procesu swobodnej improwizacji.
W drugim odcinku komputer dostarcza nam, dużymi garściami, ciekawe dźwięki analogowej elektroniki. Łączy się ona ze strumieniem ustnych fonii, które opisywać można w nieskończoność – śpiew, który przechodzi w pisk, charkot, które zaczyna skomleć. Warto pochylić ucho nad mocą perkusyjnych ekspozycji, jaką serwują nam obaj na początku trzeciej części – tylko suche dysze i wilgotne usta, także plastyczne policzki i szkliwo zębów. Czwarty odcinek, to porcja wielokolorowego ambientu, a piąty – garść upoconych parsknięć z wielu źródeł. Szczególnie ciekawy zdaje się być odcinek numer siedem – Udo burczy po niedźwiedziemu zarówno niskim klarnetem, jak i własnym gardłem. Jaap podchodzi do niego na palcach i szeleści elektroniką. Narracja gęstnieje, nabiera epickiej mocy, polotu i zdrowej brawury! Królestwem preparacji i sonorystycznych igraszek jest zaś odcinek dziewiąty. Udo gada przez ustnik blaszaka, Jaap nuci przy goleniu i wsadza głowę w ekran komputera. Wreszcie sam finał płyty, który wydaje się jej najciekawszym epizodem – mamy wrażenie, że słyszymy dźwięki harfy, obok pulsuje niski dęciak, dziwna cisza i tajemnicze mrowienia w stopach. Na to wszystko wchodzi Jaap i głosem pijanego kloszarda, wspieranym akordami piano (?) i garścią plądrofonicznych grepsów, doprowadza nas do ostatniego dźwięku.
Wir starten einen Block von CD-Rezensionen mit der Teilnahme einer menschlichen Stimme! Als regelmäßiger Besucher unserer Sammlungen wird Udo Schindler, ein deutscher Blas- und Blech-Multiinstrumentalist in Begleitung des Holländers Jaap Blonk, der neben seiner allgemein verstandenen eigenen Stimme auch einen Computer benutzen wird, vorgestellt. Auf der Scheibe finden wir zehn Kompositionen, die sich bei näherer Betrachtung als recht freie Improvisationen herausstellen. Das Anhören der Konzertaufzeichnung von 2017 (zwei Veranstaltungen) wird 53 Minuten und ebenso viele Sekunden dauern.
Schindler, der am häufigsten zu Holzblasinstrumente (hauptsächlich Klarinetten) greift, hier beginnt er seine Darbietung auf dem Kornett. Von Anfang an wirkt Blonks Stimme hemmungslos, provokativ, voller schwarzer Humor und jugendlicher Frivolität (unabhängig von der Geburtsurkunde). Es erinnert an Phil Minton und das sollte für die gesamte Empfehlung ausreichen. Er benutzt oft und sehr stilvoll einen Computer, der beide getrennte Phänomene erzeugt und manchmal den Eindruck erweckt, als wäre er an der Live-Verarbeitung der vom Partner erzeugten Klänge sowie seine eigene Stimme beteiligt. Die Bandbreite seiner künstlerischen Ausdrucksmittel ist enorm und es reicht aus, dass wir uns mit gebührender Sorgfalt über das Album von Hillside Talks beugen. Von beiden Protagonisten begegnen wir Fragmenten faszinierend vorbereiteter Klänge sowie einer kongenialen Herangehensweise an die Besonderheiten des Prozesses der freien Improvisation.
Bei #2 liefert uns der Computer eine Handvoll interessanter Klänge analoger Elektronik. Es verbindet sich mit dem Strom der mündlichen Klänge, der unendlich beschrieben werden kann – Gesang, der in ein Quietschen übergeht, ein Zischen, das zu jammern beginnt. Es lohnt sich, das Ohr über die Kraft der Percussion-Expositionen zu beugen, die beide zu Beginn des 3.Stücks teilsweise verwenden – nur trockene Düsen und feuchte Lippen, auch Plastikbacken und Zahnschmelz. #4 ist ein Teil der mehrfarbigen Umgebung, und #5 – eine Handvoll verschwitztes Schnauben aus vielen Quellen. Besonders interessant scheint die Episode #7 zu sein – Udo Schindler brummt sowohl auf der tiefen Klarinette als auch im eigenen Hals. Jaap kommt auf seinen Fingern auf ihn zu und rauscht mit der Elektronik. Die Erzählung verdichtet sich und gewinnt epische Kraft, Phantasie und gesunde Bravour! Das Reich der Vorbereitung und des sonoristischen Spiels ist #9. Udo Schindler singt durch das Blechmundstück, Jaap summt beim Rasieren und steckt den Kopf in den Computerbildschirm. Schließlich das Finale selbst, das seine interessanteste Episode zu sein scheint – wir haben den Eindruck, dass wir die Klänge der Harfe hören können, daneben ein leiser Bowler, seltsame Stille und mysteriöses Kribbeln in den Füßen. All dies wird von Jaap getan und mit der Stimme eines betrunkenen Clochards, unterstützt von Piano (?) Akkorden und einer Handvoll polyphoner Cluster, bringt uns zum letzten Ton eines spannenden Duos emanzipierter Stimmen.
We start a block of CD reviews with the participation of a human voice! As a regular visitor to our collections, Udo Schindler, a German brass and brass multi-instrumentalist accompanied by Dutchman Jaap Blonk, who will use a computer in addition to his widely understood own voice, will be introduced. On the disc we find ten compositions, which on closer inspection turn out to be quite free improvisations. Listening to the concert recording of 2017 (two events) will take 53 minutes and just as many seconds.
Schindler, who most often uses woodwind instruments (mainly clarinets), here begins his performance on the cornet. From the beginning Blonk's voice has been unrestrained, provocative, full of black humor and youthful frivolity (regardless of birth certificate). It's reminiscent of Phil Minton and that should be enough for the entire recommendation. He often and very stylishly uses a computer that creates both separate phenomena and sometimes gives the impression of being involved in the live processing of the partner-generated sounds as well as his own voice. The range of his artistic means of expression is enormous and it is enough that we bend with due care over the album of Hillside Talks. From both protagonists we encounter fragments of fascinatingly prepared sounds as well as a congenial approach to the peculiarities of the process of free improvisation.
At # 2, the computer provides us with a handful of interesting sounds from analog electronics. It connects to the stream of verbal sounds that can be infinitely described – song that transitions into a squeak, a hiss that begins to whine. It pays to bow to the power of percussion exposures, both of which are used in part at the beginning of the third movement – just dry jets and wet lips, also plastic jaws and enamel. # 4 is part of the multicolored environment, and # 5 – a handful of sweaty snorting from many sources. The episode # 7 seems to be particularly interesting – Udo Schindler is buzzing on the deep clarinet as well as in his own neck. Jaap comes up to him on his fingers and rushes to the electronics. The narrative condenses and wins epic power, imagination and healthy bravura! The kingdom of preparation and sonorous play is # 9. Udo Schindler sings through the tin mouthpiece, Jaap buzzes while shaving and sticks his head in the computer screen. Finally, the finale itself, which seems to be its most interesting episode – we get the impression that we can hear the sounds of the harp, along with a quiet bowler, strange silence and mysterious tingling in our feet. All this is done by Jaap and with the voice of a drunken clochard, supported by piano (?) Chords and a handful of polyphonic clusters, brings us to the final note of an exciting duo of emancipated voices.
Udo Schindler / Jaap Blonk: Hillside Talks (Relative Pitch)
Recorded live at Munich's Salon für Klang + Kunst, at concerts on June 1st and 11th 2018, Hillside Talks features German-born Udo Schindler on reeds and brass, with the Dutch voice and computer performer Jaap Blonk. Given their past recordings with others and the compatibility of their styles, it seems remarkable that these two had never before been recorded together. The album's ten tracks, with a total running time just short of fifty-five minutes, are credited jointly to Schindler and Blonk, suggesting they are improvised, a suggestion backed up by the content of the tracks themselves.
The opening track, "Proposal Accepted", begins promisingly with a series of extended swooping notes from Schindler on trumpet, but scarcely fourteen seconds have elapsed before Blonk makes his entrance with a mixture of singing, recitation and vocal sounds which runs parallel to the trumpet, managing to complement it without obviously deferring to it in any way. As an opening, it sets the scene for what is to follow; by and large, the two are both performing throughout, overlapping, responding to and sometimes even imitating something the other has played.
It is not uncommon for listeners hearing free vocal improv for the first time to respond by laughing; this reaction can be nervous embarrassment or fear of the unknown, but it can also be a natural uninhibited reaction to vocals which contains amusing content such as vocal sound effects, animal noises, loony tunes voices, jibber jabber, pompous overblown speech, cod opera, yodelling and suchlike; even seasoned improv fans often listen to vocalists such as Blonk, Phil Minton, Ute Wasserman and Jean-Michel Van Schouwburg with a broad grin on their faces. An instrumentalist in a duo with such vocalists could all too easily fall into the role of straight-man, Abbott to their Costello, Martin to their Lewis…
To his credit, Schindler avoids that trap here. Credited with playing "reeds and brass", he deploys a variety of both, combined with a range of extended breath and embouchure techniques which give him a palette of sounds as broad as those at Blonk's disposal; this means that in response to Blonk he never sounds at a loss for what to play, does not resort to clichÈs or stock phrases. The end result is an adventurous, fluent exchange between the two; dominated by neither, it allows each of them to fully demonstrate what they do best. As free improvisation, without any obvious signs of prior preparation or no-go areas, Hillside Talks makes fascinating listening and sheds light on the possibilities of the genre.
Hillside Talks wurde am 1. und 11. Juni 2018 im Münchner Salon für Klang + Kunst live mit dem in Deutschland geborenen Udo Schindler mit Holz- und Blechblasinstrumenten aufgenommen. Angesichts ihrer früheren Aufnahmen mit anderen und der Kompatibilität ihrer Stile erscheint es bemerkenswert, dass diese beiden noch nie zusammen aufgenommen wurden. Die zehn Titel des Albums mit einer Gesamtlaufzeit von knapp fünfundfünfzig Minuten werden gemeinsam Schindler und Blonk zugeschrieben, was darauf hindeutet, dass sie improvisiert sind, ein Vorschlag, der durch den Inhalt der Titel selbst untermauert wird.
Der Eröffnungs-Track "Proposal Accepted" beginnt vielversprechend mit einer Reihe erweiterter Swooping-Noten von Schindler auf Trompete, doch es sind noch knapp vierzehn Sekunden vergangen, bis Blonk mit einer Mischung aus Gesang, Rezitation und Vokalklängen, die parallel zur Trompete verlaufen, seinen Auftritt hat und schaffen es, es zu ergänzen, ohne es offensichtlich in irgendeiner Weise zu verzögern. Als Eröffnung setzt es die Szene für das, was folgen soll; Im Großen und Ganzen treten die beiden durchgehend auf, überlappen sich, reagieren auf etwas, das der andere gespielt hat, und ahmen es manchmal sogar nach.
Es ist nicht ungewöhnlich, dass Zuhörer, die zum ersten Mal einen freien Vokal-Improv hören, mit einem Lachen antworten. Diese Reaktion kann nervöse Verlegenheit oder Angst vor dem Unbekannten sein, aber sie kann auch eine natürliche, hemmungslose Reaktion auf Gesang sein, der amüsante Inhalte wie Stimmeffekte, Tiergeräusche, verrückte Stimmen, Flackern, pompöse, überblähte Sprache, Kabeljau, Jodeln und dergleichen; Selbst erfahrene Improvisationsfans hören oft Sänger wie Blonk, Phil Minton, Ute Wasserman und Jean-Michel Van Schouwburg mit einem breiten Grinsen im Gesicht. Ein Instrumentalist in einem Duo mit solchen Sängern könnte nur allzu leicht in die Rolle des Straight-Man fallen, Abbott zu ihrem Costello, Martin zu ihrem Lewis …
Zu seiner Ehre vermeidet Schindler diese Falle hier. Er spielt Holz- und Blechblasinstrumente und setzt eine Vielzahl von beiden Techniken ein, kombiniert mit einer Reihe erweiterter Atem- und Embouchure-Techniken, die ihm eine Palette von Klängen bieten, die so breit sind wie die, die Blonk zur Verfügung stehen. Dies bedeutet, dass er als Antwort auf Blonk niemals mit Verlust für das, was er spielen möchte, klischeehaft oder auf Standardphrasen zurückgreift. Das Endergebnis ist ein abenteuerlicher, fließender Austausch zwischen den beiden; Von keinem der beiden dominiert, kann jeder von ihnen voll und ganz demonstrieren, was er am besten kann. Als freie Improvisation ohne offensichtliche Anzeichen von Vorbereitungen oder No-Go-Bereichen bietet Hillside Talks faszinierendes Hörvergnügen und beleuchtet die Möglichkeiten des Genres.
 review by John Eyles /sqiudco-squidear 2020-01-23
Münchner Freiheit – Flashes / Jazz n'More 6/2020 (CH)
Schindler ist ein umtriebiger Mensch. In seinem bürgerlichen Beruf als Architekt erfolgreich, widmet er jeden abkömmlichen Moment seiner Lebenszeit seiner zweiten Leidenschaft, der freien Improvisation. Allein schon durch den beachtlichen Umfang seines Katalogs hat der vielseitig interessierte Instrumentalist eine gewisse notorische Bekanntheit erlangt. Aber auch als Kurator einer bereits langlebigen Konzertreihe hat er sich im Raum München verdient gemacht. In privater Initiative und ohne jegliche öffentliche Unterstützung betreibt Schindler den Salon für Klang+Kunst in Krailling. Bereits mehr als 80 Mal hat er hier Gäste empfangen, mit denen er im intimen Rahmen auftritt und parallel dazu organisiert er je-weils ein Zwillingskonzert in ausgewählten Lokalen im Raum München. Was aus diesen Zusammenkünften entsteht, ist schwer beschreibbar – Schindler selbst beschreibt es als "Randständiges, jedoch hoch anspruchsvoll und kreativ". Eine tentative Verortung ist am ehesten aus dem Spektrum der Kollaboratoren ablesbar, die er für seine Erkundungen der klanglichen Möglichkeiten einlädt. Einen Einstieg ermöglicht beispielsweise die CD "Poetry??? Ein Würfelwurf" mit dem Schlagzeuger Eric Zwang Eriksson. In dieser Konstellation bleibt die freie Interaktion immer in einem bekannten, in der freien Musik der 1970er-Jahre verankerten Duktus und klingt, wenn auch nicht bekannt, so doch einigermassen klar einordenbar. Abenteuerlicher wird es, erwartungsgemäß, mit dem Duo-Partner Jaap Blonk, mit dem die Einspielung "Hillside Talks" vorgenommen wurde. Geräusch, anatomisch Lauthaftes und Sprachähnliches vonseiten Blonks stehen dem tonalen Klang von Schindlers Kornett, Bassklarinette und Sopransaxophon gegenüber. Wieder zu anderem wird Schindler beim Zusammentreffen mit Ernesto und Guilherme Rodrigues an der Viola resp. am Cello animiert. Diese beiden Partner sind sprichwörtlich aus dem gleichen Holz geschnitzt und interagieren sehr sensibel und subtil, was sich wiederum hörbar auf den dazwischen platzierten Schindler auswirkt. Auf der Doppel-CD "Mycelial Studies" ist das Konzert im Salon und jenes in der Galerie arToxin gegenübergestellt, was die spannende Frage der Wirkung des Aufführungsorts auf die Improvisation der Musiker beleuchtet. Die aktuellste CD "BLUE SONIC VIBRATIONS", das Duo mit der Stimm- und Effektkünstlerin Franziska Baumann kann gewissermaßen als Gegenpol zum "Würfelwurf" gehört werden, indem sie den Gegenpol der klanglichen Freiheit der gemeinsamen Improvisation erkundet. Schindler hat einen eigenen Stil, der in jedem Kontext in anderen Farben schillert – für Freunde der freien Musik ist es eine Reise nach München wert.
Christoph Thurnherr
Schindler is a busy person. Successful in his civil profession as an architect, he dedicates every second of his life to his second passion, free improvisation. The wide range of his catalog alone has given the instrumentalist, who is interested in many things, a certain notorious reputation. But also as a curator of an already long-lasting series of concerts, he made a name for himself in the Munich area. Schindler runs the Salon für Klang + Kunst in Krailling on a private initiative and without any public support. He has received guests with whom he performs in an intimate setting more than 80 times and, in parallel, he also organizes a twin concert in selected venues in the Munich area. What emerges from these meetings is difficult to describe – Schindler himself describes it as "marginalized, but highly demanding and creative". A tentative location can best be read from the spectrum of collaborators whom he invites to explore the sonic possibilities. The CD "Poetry ??? Ein Würfelwurf" with drummer Eric Zwang Eriksson, for example, makes it possible to get started. In this constellation, the free interaction always remains in a well-known style, anchored in the free music of the 1970s, and, although not known, sounds somewhat clear. As expected, it gets more adventurous with the duo partner Jaap Blonk, with whom the recording "Hillside Talks" was made. Blonk's sound, anatomically phonetic and speech-like contrast with the tonal sound of Schindler's cornet, bass clarinet and soprano saxophone. Schindler will meet again with Ernesto and Guilherme Rodrigues on the viola and. animated on cello. These two partners are literally carved out of the same wood and interact very sensitively and subtly, which in turn has an audible effect on the Schindler placed in between. On the double CD "Mycelial Studies" the concert in the salon and that in the arToxin gallery are juxtaposed, which illuminates the exciting question of the effect of the performance location on the improvisation of the musicians. The latest CD "BLUE SONIC VIBRATIONS", the duo with the vocal and effects artist Franziska Baumann can be heard as a counterpoint to the "dice roll" by exploring the opposite pole of the tonal freedom of joint improvisation. Schindler has his own style that shimmers in different colors in every context – for friends of free music it is worth a trip to Munich.
Udo Schindler (b.1952) is another prolific musician, and someone who's also prolific as a multi-instrumentalist across the spectrum of reeds & brass. Although I've admired various aspects of his technique, which is quite extensive, particularly considering the wide variety of horns that he plays, his albums haven't totally connected with me. As mentioned (first here in November 2017 & again similarly in February 2018), that's largely because the sorts of detailed articulations he employs seem more tailored to a solo performance, or at least to a format with less simultaneous sound than I usually enjoy. (In these discussions I've noted something like 16 albums on FMR & Creative Sources, plus more elsewhere, so there's plenty to hear….) That's been my impression, anyway, but some recent albums put more emphasis on blending: In particular, I'd intended to discuss Rhizome (recorded in Munich in March 2018, and released last year), but its notes (by Schindler) refer to another trio with Ernesto & Guilherme Rodrigues recorded at the same time, and I'd wanted to wait for that: The Rodrigueses tend to release music so quickly, that I'd expected that album to be imminent, but apparently not, and Schindler has continued to release other albums, so let me make a few remarks on those for now, rather than trying to continue remembering what I want to say…. Rhizome involves Schindler on clarinet, saxophone & euphonium with two string players, Georges-Emmanuel Schneider (violins & electronics) & Gunter Pretzel (viola). The album does make a strong first impression, even as it sometimes "devolves" into soloistic interactions (& the two shorter — of four — tracks are simply solos), and at least superficially recalls various similar trios as noted here. (Two with similar instrumentation on Clean Feed, and so presumably more accessible, are New Artifacts & Fremdenzimmer…. Farther afield, and without a horn, is Growing carrots in a concrete floor with its installation approach, to which Schindler's emphasis on architecture relates, as noted already in a prior Schindler discussion….) Here, though, violin can very much sound like horn while horn can sound like violin, such that the horn & string timbres are relatively intertwined. The result is often then about space & spaciousness (& the rhizome is basically a spatial or geometric form), but some sections are more generally compelling in their detailed & creative trio interactions. (Other sections, as typical with Schindler, have less dynamic simultaneity.) There's again a sense of miniature at work, as well, a sort of little machine… yet more a sense of exhibition than of use (i.e. practical weaponry) per se. Besides the unnamed recording with the Rodrigueses, the duo Kontergesang (released along with Rhizome) also dates from the same sessions & consists of Schindler with only Schneider (who has quite impressive technique himself, e.g. incorporating electronics to loop or boost flutey harmonics), this time instantiating those "little machines" specifically in the "countersongs" of blackbirds. The results don't really sound like birds (i.e. timbrally), but apparently mimic the structures of their interactions. It's also framed by slowness, almost like an organ with combination tones at times. Still, it's an interesting inspiration, and yields a thoroughgoing duo orientation, rather than soloistic exchanges…. Finally in terms of recent Creative Sources releases, there was Blue Sonic Vibrations (the duos for which were recorded in Munich in June 2017, with the solos dating to March 2018 elsewhere), on which Schindler (again spanning brass & reed timbres) is joined by vocalist Franziska Baumann (also on electronics). Again, these seem like studies, particularly in their formal alternation between different sets & combos. And again, they are quite detailed, especially in terms of articulation, if also a bit slow moving. (One might observe, on the positive side, that the listener is really intended to hear the various details of articulation.) And I mention that somewhat earlier release in part because Schindler already has another duo album with a vocalist, Hillside Talks with Jaap Blonk (voice, computer), also recorded in Munich, this time on two dates in June 2018, and released on Relative Pitch. Here one often finds close imitation between the two, and so another step toward combining Schindler's detailed style with that of another musician. One might say that the two then focus on weirdness… in a sort of "can you top this?" exchange: The result can be rather animated, with the electronics sometimes adding another dimension (as they had to some degree on Blue Sonic Vibrations), but also produces a sort of "hovering" feel as the interactions intertwine themselves. (Let me further note that Blonk himself, on the heels of his self-released album with Ute Wassermann & Michael Vorfeld, as just discussed here in March, has also appeared on a recent grand release from Leo Records, Readings – Gileya Revisited composed by Simon Nabatov. The latter is more oriented on the historical poetry per se, with the musical contributions of its all-star cast more to the background…. and there's a similar companion release with Phil Minton rather than Blonk, Readings – Red Cavalry.) So, what to make of all this? I guess it's that Schindler has a uniquely detailed style that interests me as potential for broader relations, in these cases especially involving bowed strings & voice….
Udo Schindler (geb. 1952) ist ein weiterer produktiver Musiker, der auch als Multi-Instrumentalist im Bereich der Blechblasinstrumente sehr erfolgreich ist. Obwohl ich verschiedene Aspekte seiner Technik bewundere, die ziemlich umfangreich ist, insbesondere wenn man die große Vielfalt an Hörnern bedenkt, die er spielt, haben mich seine Alben nicht völlig überzeugt. Wie bereits erwähnt (zuerst hier im November 2017 und erneut in ähnlicher Weise im Februar 2018), liegt das vor allem daran, dass die Art der detaillierten Artikulationen, die er anwendet, eher auf eine Solo-Performance zugeschnitten zu sein scheinen, oder zumindest auf ein Format mit weniger gleichzeitigem Klang, als ich es normalerweise mag. (In diesen Diskussionen habe ich etwa 16 Alben auf FMR & Creative Sources notiert, plus weitere anderswo, es gibt also viel zu hören….) Das war jedenfalls mein Eindruck, aber bei einigen neueren Alben wurde mehr Wert auf die Mischung gelegt: Insbesondere wollte ich Rhizome besprechen (im März 2018 in München aufgenommen und letztes Jahr veröffentlicht), aber die Noten (von Schindler) verweisen auf ein anderes Trio mit Ernesto & Guilherme Rodrigues, das zur gleichen Zeit aufgenommen wurde, und darauf wollte ich noch warten: Die Rodrigueses neigen dazu, Musik so schnell zu veröffentlichen, dass ich erwartet hatte, dieses Album stünde unmittelbar bevor, aber anscheinend nicht, und Schindler hat weiterhin andere Alben veröffentlicht, also lassen Sie mich im Moment ein paar Bemerkungen dazu machen, anstatt zu versuchen, mich an das zu erinnern, was ich sagen möchte…. Auf Rhizome spielt Schindler Klarinette, Saxophon und Euphonium zusammen mit zwei Streichern, Georges-Emmanuel Schneider (Geigen und Elektronik) und Gunter Pretzel (Bratsche). Das Album hinterlässt einen starken ersten Eindruck, auch wenn es manchmal in solistische Interaktionen "abgleitet" (& die beiden kürzeren – von vier – Tracks sind einfach Soli) und zumindest oberflächlich an verschiedene ähnliche Trios erinnert, wie hier erwähnt. (Zwei mit ähnlicher Instrumentierung auf Clean Feed, und damit vermutlich zugänglicher, sind New Artifacts & Fremdenzimmer…. Noch weiter entfernt und ohne Horn ist Growing carrots in a concrete floor mit seinem installativen Ansatz, auf den sich Schindlers Betonung der Architektur bezieht, wie bereits in einer früheren Schindler-Diskussion erwähnt….) Hier kann die Geige allerdings sehr stark wie ein Horn klingen, während das Horn wie eine Geige klingen kann, so dass die Klangfarben von Horn und Streichern relativ eng miteinander verwoben sind. Im Ergebnis geht es dann oft um Raum und Weite (und das Rhizom ist im Grunde eine räumliche oder geometrische Form), aber einige Abschnitte sind in ihren detaillierten und kreativen Trio-Interaktionen allgemein überzeugender. (Andere Abschnitte haben, wie bei Schindler typisch, weniger dynamische Gleichzeitigkeit.) Auch hier ist wieder ein Gefühl der Miniatur am Werk, eine Art kleine Maschine… doch eher ein Gefühl der Zurschaustellung als des Gebrauchs (d.h. der praktischen Waffen) an sich. Neben der unbenannten Aufnahme mit den Rodrigueses stammt auch das Duo Kontergesang (das zusammen mit Rhizome veröffentlicht wurde) aus denselben Sessions und besteht nur aus Schindler und Schneider (der selbst über eine ziemlich beeindruckende Technik verfügt, z.B. Elektronik zum Loopen oder Verstärken von Flötenharmonien), die diese "kleinen Maschinen" diesmal speziell in den "Gegengesängen" von Amseln einsetzen. Die Ergebnisse klingen nicht wirklich wie Vögel (d. h. klanglich), sondern ahmen offenbar die Strukturen ihrer Interaktionen nach. Es ist auch von Langsamkeit umrahmt, manchmal fast wie eine Orgel mit Kombinationstönen. Dennoch ist es eine interessante Inspiration, die eher zu einer durchgehenden Duo-Orientierung als zu einem solistischen Austausch führt…. Was schließlich die jüngsten Veröffentlichungen von Creative Sources betrifft, so gab es Blue Sonic Vibrations (die Duos dafür wurden im Juni 2017 in München aufgenommen, die Solos stammen aus dem März 2018), auf dem Schindler (wieder mit Blech- und Holzblasinstr-umenten) von der Sängerin Franziska Baumann (auch an der Elektronik) begleitet wird. Auch diese Stücke wirken wie Studien, insbesondere in ihrem formalen Wechsel zwischen verschiedenen Sets und Combos. Und wieder sind sie recht detailliert, vor allem in Bezug auf die Artikulation, wenn auch ein wenig langsam. (Man könnte positiv anmerken, dass der Hörer die verschiedenen Details der Artikulation wirklich hören soll). Ich erwähne diese etwas frühere Veröffentlichung auch deshalb, weil Schindler bereits ein weiteres Duo-Album mit einem Vokalisten hat, Hillside Talks mit Jaap Blonk (Stimme, Computer), das ebenfalls in München aufgenommen wurde, diesmal an zwei Terminen im Juni 2018, und auf Relative Pitch erschienen ist. Hier findet man oft eine enge Nachahmung zwischen den beiden und damit einen weiteren Schritt, Schindlers detaillierten Stil mit dem eines anderen Musikers zu verbinden. Man könnte sagen, dass sich die beiden dann auf das Seltsame konzentrieren… in einer Art "Kannst du das toppen?"-Austausch: Das Ergebnis kann ziemlich lebhaft sein, wobei die Elektronik manchmal eine weitere Dimension hinzufügt (wie sie es bis zu einem gewissen Grad auf Blue Sonic Vibrations getan hat), aber auch eine Art "schwebendes" Gefühl erzeugt, wenn sich die Interaktionen ineinander verschlingen. …Ich schätze, dass Schindler einen einzigartig detaillierten Stil hat, der mich als Potenzial für breitere Zusammenhänge interessiert, in diesen Fällen vor allem mit Streichern und Stimme….
Todd McComb / www.medieval.org
—
The more I listen to his music, the more convinced I become that Udo Schindler is one of the un(der)sung master reedsmen both in the strange streams of sound he coaxes out of his horns and the concerted way he avoids the conventional grammar. It is as if he is building a new vernacular for his instrument in real time. 
Schindler's unique style comes through particularly well in duos and, it seems, in live performances. He took the pandemic to dig through his back catalog of recordings. Many of these reached public ears through download only releases on his Bandcamp page and, notably, many were duos. Indeed, Schindler seems to have really gravitated to the duo, likely somewhat because of practicality but also because of the possibilities of that configuration. It offers big spaces for each musician to be heard — full blast or sotto voce — and gives each a counterpart — sometimes a companion and others a sparring partner — with whom to bounce around ideas and to whom to respond. Depending on the instrumentation and the players, it also frees the musicians from rhythm's centripetal force and gives them license to explore other, in this case amelodic and atonal, places. …

Je öfter ich seine Musik höre, desto mehr bin ich davon überzeugt, dass Udo Schindler einer der un(der)besungenen Meisterbläser ist, sowohl in den seltsamen Klangströmen, die er seinen Hörnern entlockt, als auch in der konzertierten Art und Weise, wie er die konventionelle Grammatik vermeidet. Es ist, als ob er in Echtzeit eine neue Umgangssprache für sein Instrument entwickeln würde. 
Schindlers einzigartiger Stil kommt besonders gut in Duos und, wie es scheint, bei Live-Auftritten zur Geltung. Er nutzte die Pandemie, um sich durch seinen alten Katalog von Aufnahmen zu wühlen. Viele davon wurden der Öffentlichkeit nur als Download auf seiner Bandcamp-Seite zugänglich gemacht, und vor allem waren viele davon Duos. Schindler scheint sich tatsächlich zum Duo hingezogen zu fühlen, wahrscheinlich aus praktischen Gründen, aber auch wegen der Möglichkeiten dieser Konstellation. Es bietet jedem Musiker einen großen Raum, um gehört zu werden – mit voller Wucht oder sotto voce – und gibt jedem ein Gegenüber – manchmal einen Begleiter und manchmal einen Sparringspartner -, mit dem er Ideen austauschen und auf den er reagieren kann. Je nach Besetzung und Spielern befreit es die Musiker auch von der zentripetalen Kraft des Rhythmus und gibt ihnen die Freiheit, andere – in diesem Fall amelodische und atonale – Orte zu erkunden. …
NYC / review by Nick Ostrum / 2023-04-04