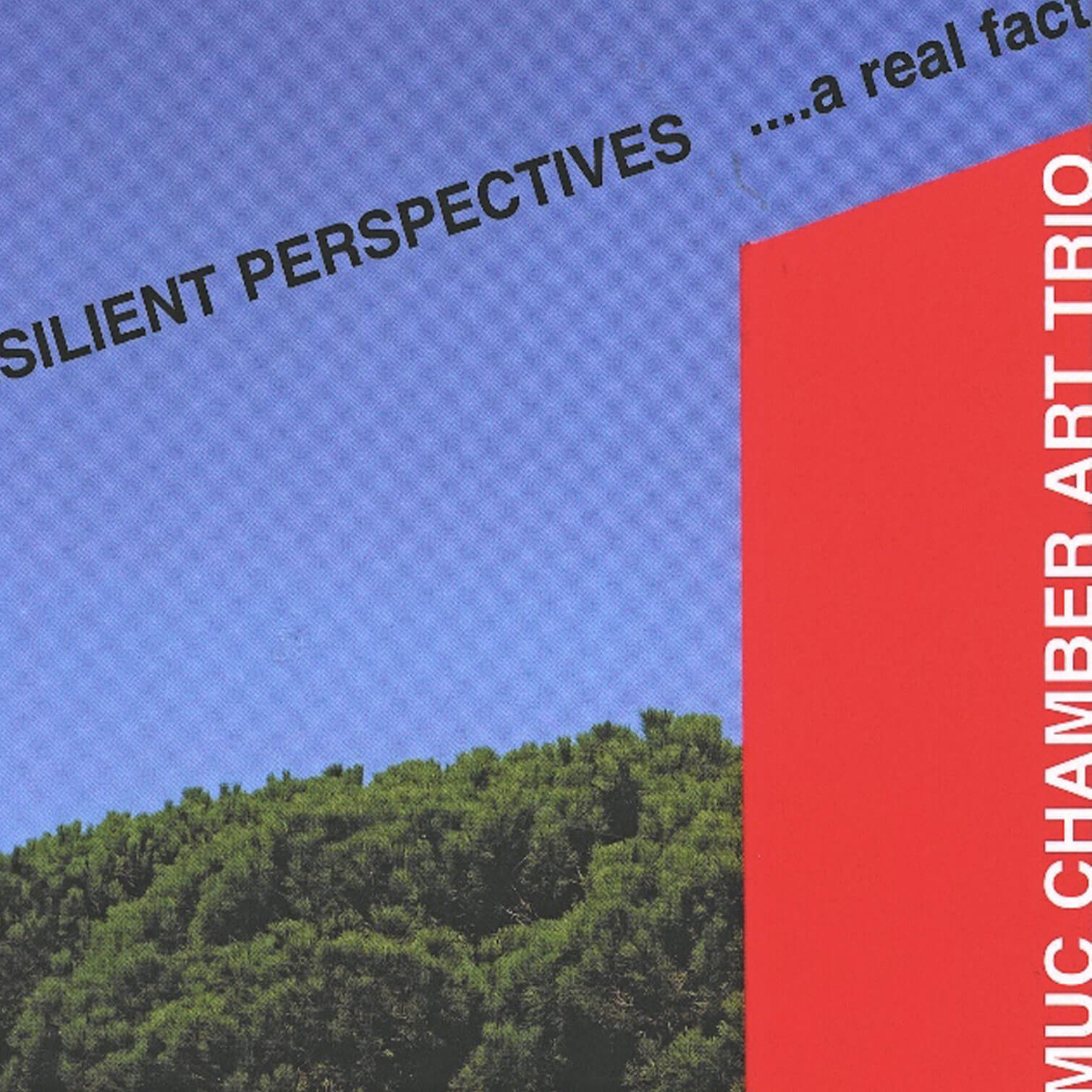 MUC_ChamberArtTrio
RESILIENT PERSPECTIVES…a real fact?
[LowToneStudies#9+]
Udo Schindler alto & sopranino saxophone, bass clarinet
Sebastian Gramss double bass
Gunnar Geisse laptop guitar
A resident order   11:34
does not have a unchangeable   13:59
from the adjustment*   08:59
new strength arises   06:46
for credibility*   10:31
REVIEWS
Süddeutsche Zeitung (Dachau) 14. Oktober 2022, 21:35 Uhr
Kultur in Dachau: Jazz versus Küchenradio
(Konzert am 13.Oktober in der Kulturschranne in Dachau c/o Jazz in Dachau e.V.)

(Foto: Toni Heigl)
Zeigen in der Kulturschranne unfassbar variable Mittel der Klangerzeugung: 
Das MUC Chamber Art Trio mit Gunnar Geisse, Udo Schindler und Sebastian Gramss.
Beim Konzert des "MUC Chamber Art Trio" in der Kulturschranne werden die Münchner Musiker von lauter Popmusik aus dem Küchenradio gestört. Trotzdem performen sie mit "klangerkundender Laborarbeit" und ihrem Entdeckergeist.
Von Andreas Pernpeintner, Dachau
In diesem Moment wünscht man sich fast das Schnitzelklopfen zurück, mit dem vor langer Zeit im einstigen Café Teufelhart mancher stille Moment auf der Bühne des Jazz e.V. aus der Küche um einen herzhaften Beat bereichert wurde. Von solchem Charme ist die Situation in der Kulturschranne weit entfernt, als die Schiebetür zur Küche geöffnet und das filigrane Konzert des MUC Chamber Art Trio mit plärrend lauter Popmusik aus dem Küchenradio geflutet wird. Man wartet gebannt, dass der Türmechanismus das Intermezzo beendet. Doch auch fortan ist die Popmusik im Hintergrund zu erahnen. Man könnte darüber schmunzeln, denn ein bisschen lustig ist das ja. Muss man aber nicht, denn vor allem ist es einer Kulturschranne unwürdig.
Ob der Schnitzelklopfer besser gepasst hätte als die Popmusik, ist die Frage. Er hätte der Musik etwas hinzugefügt, was sie nicht hat: Beat. Er hätte damit aber eine Komponente ergänzt, die diese Musik gar nicht braucht. Das Trio tritt ohne Schlagzeug auf, und es ist eine faszinierende Klangstudie, der man hier beiwohnt. Man darf sich dem Glauben hingeben, ein wirkliches Instant-Composing zu erleben, also eine Improvisation aus dem Moment heraus. Denn nichts deutet sichtbar auf kompositorische Vorfixierung hin. Doch dann ist es Saxofonist und Klarinettist Udo Schindler selbst, der beim abschließenden Werbeblock für die käuflichen Tonträger mitteilt, man habe an diesem Abend eine CD "eins zu eins runtergespielt", aber das meint er nur scherzhaft.
Wenngleich diese Musik keinen Beat hat, hat sie doch einen Puls. Denn so sehr die Darbietung wie eine große Klangkulisse wirkt, so sehr ist ihre musikalisch-dramaturgische Entwicklung konsequent nach vorne gerichtet. Wirklich spannend sind dabei die unfassbar variablen Mittel der Klangerzeugung. Am einfachsten zu beschreiben ist das noch bei Udo Schindler. Wenn er das Altsaxofon, das Sopranino oder die Bassklarinette spielt, zielt er auf subtile Geräuschhaftigkeit – mit wohlkalkuliertem Überblasen und einem feinen Spiel der Obertöne. Ein besonders breites und schönes Frequenzspektrum ergibt sich bei der Bassklarinette.
Musik ohne Beat, aber mit Puls
Sebastian Gramss am Kontrabass steht diesem Entdeckergeist in nichts nach. Lustig ist, dass bei ihm die Instrumentenbezeichnung "double bass" eine neue Bedeutung bekommt. Eigentlich nur die Übersetzung von "Kontrabass", ist der Begriff bei ihm wörtlich zu nehmen, denn sein Kontrabass hat unterhalb der normalen Saitenlage weitere Saiten gespannt. Somit ist dieser Bass gleichsam ein Doppelbass, und wie Gramss zwischen gezupftem Spiel und diversen Bogentechniken wechselt, ist beeindruckend. Wenn er sogar noch seinen zweiten Bogen nimmt, um damit den ersten rhythmisch gegen die Saiten klopfen zu lassen, entsteht ein flirrender Effekt irgendwo zwischen Bogenstrich und Col-legno-Spiel.
Besonders interessant aber ist, was Gunnar Geisse auf der E-Gitarre und dem Laptop beisteuert. Beide Geräte sind bei ihm zu einer Sound-Station verquickt. Leises akustisches Klimpern der Saiten lässt erahnen, dass er wirklich Gitarre spielt und einige Skalen blitzen hier und da auch auf. Vor allem aber steuert er mittels Gitarre und sonstigen Bedienoberflächen die Elektronik, streut gesampelte Klavier-Einwürfe ein, verleiht der Darbietung durch einen kraftvollen Klangteppich immer wieder orchestrale Breite. Dass Geisse während dieser klangerkundenden Laborarbeit mit seinen langen weißen Haaren an den Tüftler Doktor Emmett Brown aus "Zurück in die Zukunft" erinnert, ist ein ziemlich hübscher Nebeneffekt.
Denn auf gewisse Weise passt dieser Titel perfekt zur Musik dieses Trios: In ihrem oft auf der Geräuschebene angesiedelten Transformationsprozess enthält sie – obgleich auch mit akustischen Instrumenten erzeugt – starke Reminiszenzen an jene elektronische Musik, für die einst Avantgardekomponisten wie Karlheinz Stockhausen und Josef Anton Riedl an ihren Soundgeneratoren schraubten und deren klanganalytische Spektrogramme einem vor dem geistigen Auge als assoziierte Partitur vorüberziehen, wenn man der Darbietung des MUC Chamber Art Trio lauscht. Und dem Küchenradio.
Showing incredibly variable means of sound production in the Kulturschranne: The MUC Chamber Art Trio with Gunnar Geisse, Udo Schindler and Sebastian Gramss.
At the concert of the "MUC Chamber Art Trio" in the Kulturschranne, the Munich musicians are disturbed by loud pop music from the kitchen radio. Nevertheless, they perform with "sound-exploring laboratory work" and their spirit of discovery.
At this moment, you almost wish for the Schnitzel knocking back, with which many a quiet moment on the stage of Jazz e.V. in the former Café Teufelhart was enriched by a hearty beat from the kitchen a long time ago. The situation in the Kulturschranne is far from such charm when the sliding door to the kitchen is opened and the delicate concert of the MUC Chamber Art Trio is flooded with blaringly loud pop music from the kitchen radio. One waits spellbound for the door mechanism to end the intermezzo. But even from then on, the pop music can be guessed at in the background. You could smile about it, because it is a bit funny. But you don't have to, because above all it is unworthy of a culture cabinet.
Whether the Schnitzel knocker would have been a better fit than the pop music is the question. It would have added something to the music that it doesn't have: Beat. But it would have added a component that this music doesn't need at all. The trio performs without drums, and it is a fascinating sound study that one witnesses here. You can believe that you are experiencing a real instant composing, an improvisation out of the moment. For nothing visibly indicates compositional pre-fixation. But then it is saxophonist and clarinettist Udo Schindler himself who, during the concluding advertising block for the available recordings, says that they played a CD "one to one" this evening, but he is only joking.
Translated with www.DeepL.com/Translator (free version)Although this music has no beat, it does have a pulse. For as much as the performance seems like a large sound backdrop, its musical-dramaturgical development is consistently directed forward. What is really exciting are the incredibly variable means of sound production. The easiest way to describe this is with Udo Schindler. When he plays the alto saxophone, the sopranino or the bass clarinet, he aims for subtle noisiness – with well-calculated overblowing and a fine play of overtones. A particularly broad and beautiful frequency spectrum is produced by the bass clarinet.
Music without a beat, but with a pulse 
Sebastian Gramss on the double bass is in no way inferior to this spirit of discovery. It's funny that with him the instrument name "double bass" takes on a new meaning. Actually just the translation of "double bass", the term is to be taken literally with him, because his double bass has additional strings stretched below the normal string position. This makes this bass a double bass, so to speak, and the way Gramss switches between plucked playing and various bowing techniques is impressive. When he even takes his second bow to let the first one tap rhythmically against the strings, a shimmering effect is created somewhere between bow stroke and col-legno playing. But what is particularly interesting is what Gunnar Geisse contributes on the electric guitar and the laptop. He combines both devices into a sound station. Quiet acoustic strumming of the strings suggests that he is really playing the guitar and a few scales flash up here and there. Above all, however, he controls the electronics by means of guitar and other control surfaces, intersperses sampled piano interjections, and lends the performance an orchestral breadth through a powerful carpet of sound. The fact that Geisse, with his long white hair, reminds us of the tinkerer Doctor Emmett Brown from "Back to the Future" during this sound-exploring laboratory work is a rather nice side effect. 
For in a certain way, this title fits the music of this trio perfectly: in its transformation process, often located on the sound level, it contains – although also produced with acoustic instruments – strong reminiscences of that electronic music for which avant-garde composers such as Karlheinz Stockhausen and Josef Anton Riedl once screwed on their sound generators and whose sound-analytical spectrograms pass before the mind's eye as an associated score when listening to the performance of the MUC Chamber Art Trio. And the kitchen radio.
___________________________________________________________________
I do listen to your music and I I think it's excellent. It's just it's impossible on our end to cover a wide range of CDs at this point. I will personally promote a couple titles of yours and maybe play some of it on my podcast.
David Haney / Cadence Magazine (USA)
fascinating chamber jazz trio performing in a 2021 live concert in the Galerie at arToxin, in Munich, Germany from the collective free improvising trio of Udo Schindler on alto & sopranino saxophones & bass clarinet, Sebastian Gramss on double bass and Gunnar Geisse on laptop guitar, subtitled RESILIENT PERSPECTIVES… a real fact? [LowToneStudies#9+]
SQUIDCO NYC
In chronologischer Revue treffen wir unseren Klang-Architekten am 15.12.2021 in der Münchner Galerie arToxin. Mit 'LowToneStudies'9+' im Zusammenklang mit dem Kontrabass von SEBASTIAN GRAMSS, teils erweitert mit dem Plus von GUNNAR GEISSE an Gitarre und Laptop zum MUC_ChamberArtTrio. Um sich zu vertiefen in Resilient Perspectives… a real fact? (FMR Records, FMRCD634-0822). Geisse & Schindler, einander vor allem schon in münchenNEUS (mit noch Anton Kaun) verbunden, haben als Alternative Facts ja schon festgestellt, dass das Leben, bei näherer Betrachtung, sich meist als kompliziert und voller Widersprüche erweist. Die es nicht nur auszuhalten, sondern mit William Blakes "Without contraries is no progression" als treibende Kraft zu nutzen gilt. Für Gramss als LowTone-Fixstern und Jazzpreis-Magnet mit Hard Boiled Wonderland, States Of Play, Slowfox und dem BASStrio war das ein kleiner Zwischenstop, um seinen Bogen mit und gegen den Strich zu schrammeln. Zusammen mit Geissens metagitarristischen Schraffuren und Camouflagen als Flügelzange, die Schindlers Alto- & Sopraninosound zwickt, dass er diskant krächzt, ächzt und mit Blechriss zirpt, und zugleich behütet, dass er in dreamscape-artigen Verlaufsformen mitmorpht und mitmäandert. Dabei träumt er auch bassklarinettistisch abgedunkelt und lässt sich weder von holzigem Knarzen und jauligem Wetzen noch von drahtigen, metallkantigen oder phantompianistisch gehämmerten Einwürfen die Lust am schön-hässlichen Röhren vermiesen. Wo ist die Schöne, die seine minotaurische Biestigkeit durchschaut, die ihn, wie Gramss es vormacht, striegelt und die Zecken aus dem Pelz pickt, so dass er himmelhoch jauchzt und tiriliert? Und auch wieder zirpt und quäkt, wenn Gramss mit singsummendem Zauberstab die Reize der LowTones hervorkehrt. [BA 116 rbd]
In chronological revue we meet our sound architect on 15.12.2021 in the Munich gallery arToxin. With 'LowToneStudies'9+' in harmony with the double bass of SEBASTIAN GRAMSS, partly extended with the plus of GUNNAR GEISSE on guitar and laptop to the MUC_ChamberArtTrio. To delve into Resilient Perspectives… a real fact? (FMR Records, FMRCD634-0822). Geisse & Schindler, who are already connected in münchenNEUS (with Anton Kaun), have already established as Alternative Facts that life, on closer inspection, usually proves to be complicated and full of contradictions. Not only to be endured, but also to be used as a driving force with William Blake's "Without contraries is no progression". For Gramss as a LowTone fix¬star and jazz prize magnet with Hard Boiled Wonderland, States Of Play, Slowfox and the BASStrio, this was a little stopover to scratch his bow with and against the grain. Together with Geissen's meta-guitaristic hatchings and camouflages as wing pincers that tweak Schindler's alto & sopranino sound so that it squawks discreetly, groans and chirps with a crack of brass, while at the same time guarding it so that it morphs and meanders along in dreamscape-like progressions. At the same time, he dreams in a darkened bass clarinetistic manner and does not let woody creaking and mewling or wiry, metal-edged or phan-tompianistic hammered interjections spoil the pleasure of the beautifully ugly roaring. Where is the beauty who sees through his minotauric beastliness, who grooms him, as Gramss demonstrates, and picks the ticks out of his fur, so that he whoops and tiri¬les sky-high? And again chirps and squawks, when Gramss brings out the charms of the LowTones with a singing wand. 
Bad Alchemy Magazine #116 (Rigobert Dittmann) [BA 116 rbd]
The MUC ChamberArtTrio feature Udo Schindler on alto & sopranino saxes & bass clarinet, Sebastian Gramms on double bass and Gunnar Geisse on laptop guitar. This set was recorded live at Galerie arToxin in Munich in December of 2021. German saxist Udo Schindler is indeed most prolific with more than 60 releases in the past decade or so. I've heard bassist Sebastian Gramms on several discs with Fred Frith, OIR Trio and The Remedy. Laptop guitarist Gunnar Geisse is a member of the ICI Ensemble, who've worked with Phil Minton & William Parker, plus he has a couple of discs out on the Neos label as a composer. A unique resume for all three members indeed. The music starts off sparse, dark and simmering nicely. Gunnar Geisse plays laptop guitar which refers to him playing his electric guitar through a computer to alter its sounds. The music seems to move in waves, the bowed bass and saxes cover similar textures or areas with the laptop/guitar providing other odd sounds, electronic swirls & other shifting sounds. Mr. Schindler switches to bass clarinet for the second long piece, slowing things down for a more cerebral section with probing bass and sly electric guitar which keeps changing its sound due to the laptop manipulations. There is a marvelous section where the contrabass starts playing these throbbing notes which stir up some deep, hypnotic currents while Mr. Schindler adds some tactile sopranino spirals. Mr. Gramms bows quickly on the fourth piece, bending some strings, creating odd drones while the guitar and sax chatter together around him. Mr. Geisse carefully stretches out his notes until they turn into controlled feedback at times, the bent notes of the sopranino sax and bowed bass all hovering in a similar timbral area. What I like most about this is that it sounds very focused as if each note or sound evokes a different vibe or (inner) scene. Strong, well-seasoned improv.  
Bruce Lee Gallanter, DMG / NYC
Das MUC ChamberArtTrio besteht aus Udo Schindler an Alt- und Sopranino-Saxophon und Bassklarinette, Sebastian Gramms am Kontrabass und Gunnar Geisse an der Laptop-Gitarre. Dieses Set wurde live in der Galerie arToxin in München im Dezember 2021 aufgenommen. Der deutsche Saxophonist Udo Schindler ist in der Tat sehr produktiv mit mehr als 60 Veröffentlichungen in den letzten zehn Jahren oder so. Den Bassisten Sebastian Gramms habe ich auf mehreren Platten mit Fred Frith, OIR Trio und The Remedy gehört. Der Laptop-Gitarrist Gunnar Geisse ist Mitglied des ICI-Ensembles, das mit Phil Minton und William Parker zusammengearbeitet hat, und er hat als Komponist einige Platten auf dem Neos-Label veröffentlicht. In der Tat ein einzigartiger Lebenslauf für alle drei Mitglieder. Die Musik beginnt spärlich, dunkel und köchelt schön vor sich hin. Gunnar Geisse spielt Laptop-Gitarre, was sich darauf bezieht, dass er seine E-Gitarre durch einen Computer spielt, um ihren Klang zu verändern. Die Musik scheint sich in Wellen zu bewegen, der gestrichene Bass und die Saxophone decken ähnliche Texturen oder Bereiche ab, während die Laptop-Gitarre andere seltsame Klänge, elektronische Wirbel und andere sich verändernde Klänge liefert. Im zweiten langen Stück wechselt Udo Schindler zur Bassklarinette und verlangsamt die Dinge für einen eher zerebralen Abschnitt mit sondierendem Bass und durchtriebener E-Gitarre, die ihren Klang durch die Laptop-Manipulationen ständig verändert. Es gibt einen wunderbaren Abschnitt, in dem der Kontrabass diese pochenden Noten zu spielen beginnt, die tiefe, hypnotische Strömungen erzeugen, während Schindler einige taktile Sopranino-Spiralen hinzufügt. Herr Gramms verbeugt sich im vierten Stück schnell, indem er einige Saiten verbiegt und seltsame Drones erzeugt, während die Gitarre und das Saxophon um ihn herum klappern. Herr Geisse dehnt seine Noten vorsichtig aus, bis sie manchmal in kontrolliertes Feedback übergehen, wobei die gebogenen Noten des Sopraninosaxophons und des gestrichenen Basses alle in einem ähnlichen Klangbereich schweben. Was mir am meisten gefällt, ist, dass es sehr konzentriert klingt, als ob jede Note oder jeder Klang eine andere Stimmung oder (innere) Szene hervorruft. Starke, gut gewürzte Improvisation. Bruce Lee Gallanter, DMG

MUC Chamber Art Trio  Resilient Perspectives (…A Real Fact) (
FMR Records, CD 2022)
arToxin, Monachium, grudzień 2021: Udo Schindler – saksofon altowy, sopranino, klarnet basowy, Sebastian Gramss – kontrabas oraz Gunnar Geisse – gitara laptopowa (w utworach 1, 2 i 4). Pięć improwizacji, 52 minuty.
Niemiecki multiinstrumentalista dęty Udo Schindler śmiało pracuje na miano jednego z najpłodniejszych improwizatorów współczesnej Europy. Redakcyjne pióro nie jest już od dawna w stanie nadążać za kolejnymi produkcjami, ale od czasu do czasu zdarza nam się pochylić nad jego nowym nagraniem. Dziś trio znane z portfolio artysty (choć tym razem pod nazwą własną), które zabiera nas na frapującą podróż po meandrach swobodnie improwizowanej kameralistyki. Emocji jest sporo, ale nie brakuje, jak to często na albumach Schindlera, momentów delikatnie przegadanych. Nagranie sieje wszakże dużo artystycznego fermentu, zwłaszcza w momentach, gdy z laptopowej gitary płyną dźwięki … wielkiej orkiestry symfonicznej, tudzież zgrabne, fortepianowe pasaże. 
Początek koncertu dobrze wprowadza nas w kameralny klimat i w pełni uzasadnia nazwę własną formacji. Drgające struny, prychające dysze i sporo niespodzianek brzmieniowych ze strony gitary. Kontrabas pracuje w obu trybach, ale częściej korzysta z dobrodziejstw techniki arco, saksofony i klarnet sięgają zarówno po frazy śpiewane, jak i drobne, nienachalne preparacje, a gitarowe sample zdolne są tu zaproponować każdy dźwięk. Pierwsza improwizacja zdaje się być szczególnie udana, gdy muzycy idą na wymianę krótkich, rwanych fraz lub gdy tempo intrygująco rośnie. W drugiej części Schindler najwcześniej korzysta z klarnetu basowego, przez co opowieść nabiera bardziej mrocznego klimatu. Gitara dba o emocje, raz frazuje jak … gitara, innym razem jak klawesyn lub matowo brzmiący fortepian. W trzeciej i piątej odsłonie improwizacja prowadzona jest tylko przez saksofon i klarnety do pary z kontrabasem, który nie stroni od jazzowego pizzicato. Pod nieobecność wszechmogącej gitary bywa, że improwizacja traci tu ducha walki, ale na sam koniec śle nam dużo dobrego za sprawą kontrabasowego smyczka i melodyjnego saksofonu altowego. Z kolei w części czwartej, granej pełnym składem, dobrych emocji jest chyba najwięcej. Smyczek rwie włosy z głowy, gitara zionie niemal rockową ekspresją, a w tubie dętego instrumentarium pojawiają się jakieś przedmioty, dzięki czemu całe trio charczy jak stado gruźlików, a narracja toczy się między hałasem, a mroczną ciszą. 
arToxin, München, Dezember 2021: Udo Schindler – Altsaxophon, Sopranino, Bassklarinette, Sebastian Gramss – Kontrabass und Gunnar Geisse – Laptop-Gitarre (auf den Tracks 1, 2 und 4). Fünf Improvisationen, 52 Minuten.
Der deutsche Bläsermultiinstrumentalist Udo Schindler ist auf dem besten Weg einer der produktivsten Improvisatoren im zeitgenössischen Europa zu werden. Die Redaktion ist seit langem nicht mehr in der Lage mit neuen Produktionen Schritt zu halten, aber von Zeit zu Zeit gelingt es uns, auf seine neue Aufnahme zurückzu-greifen. Heute nimmt uns ein aus seinem Portfolio bekanntes Trio (wenn auch diesmal nicht unter seinem eigenen Namen) mit auf eine unruhige Reise durch die Mäander der frei improvisierten Kammermusik. Es gibt viel Gefühl, aber es mangelt nicht, wie oft bei Schindler-Alben, an zart überspielten Momenten. Die Aufnahme sät jedoch viel künstlerisches Ferment, besonders in den Momenten, wenn die Klänge eines großen Symphonieorchesters oder anmutige Klavierpassagen aus der Laptop-Gitarre fließen.
Der Beginn des Konzerts führt uns gut in die intime Atmosphäre ein und macht dem Namen der Band alle Ehre. Zuckende Saiten, schnaubende Düsen und jede Menge klangliche Überraschungen von der Gitarre. Der Kontrabass arbeitet in beiden Modi, genießt aber häufiger die Vorteile der Arco-Technik, die Saxophone und die Klarinette greifen sowohl zu gesungenen Phrasen als auch zu kleinen, unaufdringlichen Präparationen, und die Gitarrensamples sind in der Lage hier jeden Klang zu bieten. Die erste Improvisation scheint besonders dann erfolgreich zu sein, wenn die Musiker kurze, abgehackte Phrasen austauschen oder das Tempo auf faszinierende Weise erhöhen. Im zweiten Satz setzt Schindler zum ersten Mal die Bassklarinette ein und verleiht der Geschichte eine düstere Atmosphäre. Die Gitarre sorgt für die Emotionen, manchmal phrasiert sie wie eine … Gitarre, manchmal wie ein Cembalo oder ein dumpf klingendes Klavier. Im dritten und fünften Satz wird die Improvisation nur vom Saxophon und den Klarinetten angeführt, die sich mit dem Kontrabass paaren, der auch vor Jazz-Pizzicato nicht zurückschreckt. In Abwesen-heit der allmächtigen Gitarre verliert die Improvisation hier manchmal ihren Kampf-geist, aber dank des Kontrabassbogens und des melodischen Altsaxophons schickt sie uns ganz am Ende noch eine Menge Leckerbissen. Im vierten Satz hingegen, der mit voller Besetzung gespielt wird, sind die guten Gefühle wahrscheinlich am stärksten. Der Bogen reißt einem die Haare vom Kopf, die Gitarre atmet mit einem fast rockigen Ausdruck, und in der Tuba der Blechblasinstrumente tauchen einige Gegenstände auf, die das ganze Trio grunzen lassen wie eine Herde Tuberkulosekranker, und die Erzählung bewegt sich zwischen Lärm und dunkler Stille. 
arToxin, Munich, December 2021: Udo Schindler – alto saxophone, sopranino, bass clarinet, Sebastian Gramss – double bass and Gunnar Geisse – laptop guitar (on tracks 1, 2 and 4). Five improvisations, 52 minutes.
German wind multi-instrumentalist Udo Schindler is boldly working his way to becoming one of the most prolific improvisers in contemporary Europe. The editorial pen has long been unable to keep up with new productions, but from time to time we manage to lean on his new recording. Today, a trio familiar from his portfolio (albeit this time under his own name) takes us on a fractious journey through the meanders of freely improvised chamber music. There is a lot of emotion, but there is no shortage, as is often the case on Schindler albums, of delicately overplayed moments. The recording, however, sows a lot of artistic ferment, especially in the moments when the sounds of … a large symphony orchestra or graceful piano passages flow from the laptop guitar. 
The beginning of the concert introduces us well into the intimate atmosphere and fully justifies the band's own name. Twitching strings, snorting jets and plenty of sonic surprises from the guitar. The double bass works in both modes, but more often enjoys the benefits of arco technique, the saxophones and clarinet reach for both sung phrases and small, unobtrusive preparations, and the guitar samples are capable of offering every sound here. The first improvisation seems to be particularly successful when the musicians go for exchanges of short, choppy phrases or when the tempo increases intriguingly. In the second movement, Schindler makes the earliest use of the bass clarinet, giving the story a darker atmosphere. The guitar takes care of the emotion, at times phrasing like a … guitar, at other times like a harpsichord or a dull-sounding piano. In the third and fifth movements, the improvisation is led only by the saxophone and clarinets to pair with the double bass, which does not shy away from jazz pizzicato. In the absence of the almighty guitar, there are times when the improvisation loses its fighting spirit here, but it sends us a lot of goodies at the very end thanks to the double bass bow and the melodic alto saxophone. On the other hand, in the fourth movement, played with a full band, the good emotions are probably at their strongest. The bow rips the hair out of your head, the guitar breathes with an almost rock expression, and some objects appear in the tuba of the brass instrumentation, making the whole trio grunt like a herd of tuberculosis, and the narrative moves between noise and dark silence. 
trybuna muzyki spontaniczny (pl) 
MUC_ChamberArtTrio
Resilient Perspectives … a real fact?
FMR CD 634-0822
Jean-Marc Foussat/Urs Leimgruber/Carlos Zingaro
L'Aile d'Icare
FOU CD 44
A heady mix of brass, strings and electronics, these European sessions show how enriching the blending of timbres from distant sound sources can be when worldly-wise improvisers are involved. The MUC ChamberArtTrio, an all-German affair, consists of laptop guitarist Gunnar Geisse, who is a member of the ICI ensemble among others, bassist Sebastian Gramss, who collaborates with musicians like Philip Zoubek, and saxophonist/clarinetist Udo Schindler, who has been improvising with various musicians for at least three decades. L'Aile d'Icare is an international piece composed by Swiss saxophonist Urs Leimgruber, Portuguese violinist Carlos Zingaro and French synthesiser master Jean-Marc Foussat, all of whom have experience working with a wide range of creative musicians.
L'Aile d'Icare focuses on the unexpected, mixing electronic noise and oscillations with extended reed and string techniques. Alongside Foussat's wiggling waveforms and drones, Leimgruber and Zingaro go all out to dismantle their instruments to create original intonation. Leimgruber moves between siren-like howls, staccato bites and minimalist sighs, and is juxtaposed with Zingaro's arco swipes, which include spiccato swipes, jew's harp-like twangs and concentrated string snares. Each progression can also be doubled by programmed electronics, which also bring in steps and voices recorded in the field. In the middle of the piece, violin stops and squeaks merge into expansive glissandi, while tongue thrusts and flicks lead into a sequence of circular breathing. Both structures develop over a tapestry of static buzzing, with this blunt decipherment further subdivided by bell-like ringing. Despite Foussat's synthetic rumble, the final sequence includes a formalist reconstruction with a violin expression that is as soft as it is spiky and muted reed vibrations. Finally, an almost whistling nasal blast of saxophone and string trills are doubled by synthesiser expression until electronic squeals signal the end.
Resilient Perspectives is divided into five tracks and gets its electronic boost from laptop guitar manipulations. But as the pieces develop at different tempos, indistinct burbling and growling vibrations from Schindler, as well as upward string cuts and sul-tasto stops, contribute to the deconstruction of the theme and, in some places, to its later reconfiguration. While some of the sequences emphasise the kaleidoscopic shuffling of the trio, which concentrates and expands smears, hums and alternating high and low notes, individual strategies stand out. For example, the bassist's consistent rhythmic tempo on "New Strength Arises" introduces Geisse's electronic crackle, which easily connects with Schindler's overblowing and lip wiggling. Single string vibrations from the guitarist form a solid mass as they combine with the buzz of the bass strings and the split tones of the reeds. A similar transformation takes place on Does Not Have To Be Unchangeable. While Schindler coaxes notes from the chalumeau register from his horn and bent note vibrations echo from the guitar, Gramss' bowed continuum regulates the exposition. In addition, the guitarist's vortex pops and string strains echo the bass strokes and snares and snares of the extended irregular reed vibrations. Despite the emphasis on hardware, there are always unforeseen acoustic chills and shivers to be heard on these trio discs. Both satisfy and impress in a unique way.
___________________________________________________________________
Diese europäischen Sessions sind eine berauschende Mischung aus Bläsern, Streichern und Elektronik und zeigen, wie bereichernd die Mischung von Klangfarben aus weit entfernten Klangquellen sein kann, wenn weltgewandte Improvisatoren beteiligt sind. Das MUC ChamberArtTrio, eine rein deutsche Angelegenheit, besteht aus dem Laptop-Gitarristen Gunnar Geisse, der unter anderem Mitglied des ICI-Ensembles ist, dem Bassisten Sebastian Gramss, der mit Musikern wie Philip Zoubek zusammenarbeitet, und dem Saxophonisten/ Klarinettisten Udo Schindler, der seit mindestens drei Jahr-zehnten mit verschiedenen Musikern improvisiert. 
L'Aile d'Icare ist ein internationales Stück, das der Schweizer Saxophonist Urs Leimgruber, der portugiesische Violinist Carlos Zingaro und der französische Synthesizer-Meister Jean-Marc Foussat komponiert haben, die alle über Erfahrung in der Zusammenarbeit mit einer Vielzahl kreativer Musiker verfügen.
L'Aile d'Icare konzentriert sich auf das Unerwartete und vermischt elektronisches Rauschen und Oszillationen mit erweiterten Techniken für Rohrblatt und Streicher. Neben Foussats wackelnden Wellenformen und Drones setzen Leimgruber und Zingaro alles daran, ihre Instrumente zu demontieren, um eine originelle Intonation zu erzeugen. Leimgruber bewegt sich zwischen sirenenartigem Heulen, stakkatoartigen Bissen und minimalistischen Seufzern und steht Zingaros arco swipes gegenüber, die spiccato swipes, Maultrommel-ähnliche Twangs und konzentrierte Saitenschnarren umfassen. Jede Entwicklung kann auch durch programmierte Elektronik verdoppelt werden, die auch im Feld aufgenommene Schritte und Stimmen einbringt. In der Mitte des Stücks verschmelzen Geigenstopps und Quietschgeräusche zu ausladenden Glissandi, während Zungenstöße und Zungenschläge in eine Sequenz von Zirkularatmung münden. Beide Strukturen entwickeln sich über einem Wandteppich aus statischem Summen, wobei diese stumpfe Dechiffrierung durch glockenartiges Läuten weiter unterteilt wird. Trotz Foussats synthetischem Rumpeln beinhaltet die abschließende Sequenz eine formalistische Rekonstruktion mit einem ebenso weichen wie stacheligen Geigenausdruck und gedämpften Rohrblattvibrationen. Schließlich werden ein fast pfeifender nasaler Stoß des Saxophons und Streichertriller durch Synthesizerausdruck verdoppelt, bis elektronische Quietschgeräusche das Ende signalisieren.
Resilient Perspectives ist in fünf Tracks unterteilt und erhält seinen elektronischen Schub durch Laptop-Gitarrenmanipulationen. Doch während sich die Stücke in verschiedenen Tempi entwickeln, tragen undeutliches Plätschern und knurrende Vibrationen von Schindler sowie aufwärts gerichtete Streicherschnitte und Sul-Tasto-Stopps zur Dekonstruktion des Themas und an einigen Stellen zu seiner späteren Rekonfiguration bei. Während einige der Sequenzen das kaleidoskopische Mischen des Trios betonen, das Verschmie-rungen, Brummen und abwechselnd hohe und tiefe Töne konzentriert und ausweitet, stechen einzelne Strategien hervor. Zum Beispiel leitet das konse-quente rhythmische Tempo des Bassisten auf "New Strength Arises" das elektronische Knistern von Geisse ein, das sich leicht mit Schindlers Über-blasen und Lippenwackeln verbindet. Einzelne Saitenvibrationen des Gitarristen bilden eine solide Masse, wenn sie sich mit dem Summen der Basssaiten und den Split-Tönen der Zungen verbinden. Eine ähnliche Transformation findet bei "Does Not Have To Be Unchangeable" statt. Während Schindler seinem Horn Töne aus dem Chalumeau-Register entlockt und von der Gitarre gebogene Notenschwingungen widerhallen, reguliert Gramss' gestrichenes Kontinuum die Exposition. Darüber hinaus spiegeln die Wirbelstimmungsknalle und Saitenzerrungen des Gitarristen die Bassschläge sowie das Schnarchen und Schnarchen der erweiterten unregelmäßigen Rohrblattschwingungen wider. Trotz der Betonung der Hardware sind bei diesen Trio-Scheiben immer wieder unvorhergesehene akustische Schauer und Zittern zu hören. Beide befriedigen und beeindrucken auf einzigartige Art und Weise. 
–Ken Waxman / jazzword / February 22, 2023
Track Listing: Resilient: 1. A Resilient Order 2. Does Not Have To Be Unchangeable 3. From The Adjustment 4. New Strength Arises 5. For Credibility
Personnel: Resilient: Udo Schindler (alto, sopranino saxophones, bass clarinet); Gunnar Geisse (laptop guitar) and Sebastian Gramss (bass)
Track Listing: Aile: 1. L'Aile d'Icare
Personnel: Aile: Urs Leimgruber (soprano, tenor saxophones); Carlos Zingaro (violin) and Jean-Marc Foussat (AKS synthesizer, voice)
The more I listen to his music, the more convinced I become that Udo Schindler is one of the un(der)sung master reedsmen both in the strange streams of sound he coaxes out of his horns and the concerted way he avoids the conventional grammar. It is as if he is building a new vernacular for his instrument in real time.
Schindler's unique style comes through particularly well in duos and, it seems, in live performances. He took the pandemic to dig through his back catalog of recordings. Many of these reached public ears through download only releases on his Bandcamp page and, notably, many were duos. Indeed, Schindler seems to have really gravitated to the duo, likely somewhat because of practicality but also because of the possibilities of that configuration. It offers big spaces for each musician to be heard — full blast or sotto voce — and gives each a counterpart — sometimes a companion and others a sparring partner — with whom to bounce around ideas and to whom to respond. Depending on the instrumentation and the players, it also frees the musicians from rhythm's centripetal force and gives them license to explore other, in this case amelodic and atonal, places. …
—
Je öfter ich seine Musik höre, desto mehr bin ich davon überzeugt, dass Udo Schindler einer der un(der)besungenen Meisterbläser ist, sowohl in den seltsamen Klangströmen, die er seinen Hörnern entlockt, als auch in der konzertierten Art und Weise, wie er die konventionelle Grammatik vermeidet. Es ist, als ob er in Echtzeit eine neue Umgangssprache für sein Instrument entwickeln würde. 
Schindlers einzigartiger Stil kommt besonders gut in Duos und, wie es scheint, bei Live-Auftritten zur Geltung. Er nutzte die Pandemie, um sich durch seinen alten Katalog von Aufnahmen zu wühlen. Viele davon wurden der Öffentlichkeit nur als Download auf seiner Bandcamp-Seite zugänglich gemacht, und vor allem waren viele davon Duos. Schindler scheint sich tatsächlich zum Duo hingezogen zu fühlen, wahrscheinlich aus praktischen Gründen, aber auch wegen der Möglichkeiten dieser Konstellation. Es bietet jedem Musiker einen großen Raum, um gehört zu werden – mit voller Wucht oder sotto voce – und gibt jedem ein Gegenüber – manchmal einen Begleiter und manchmal einen Sparringspartner -, mit dem er Ideen austauschen und auf den er reagieren kann. Je nach Besetzung und Spielern befreit es die Musiker auch von der zentripetalen Kraft des Rhythmus und gibt ihnen die Freiheit, andere – in diesem Fall amelodische und atonale – Orte zu erkunden. …