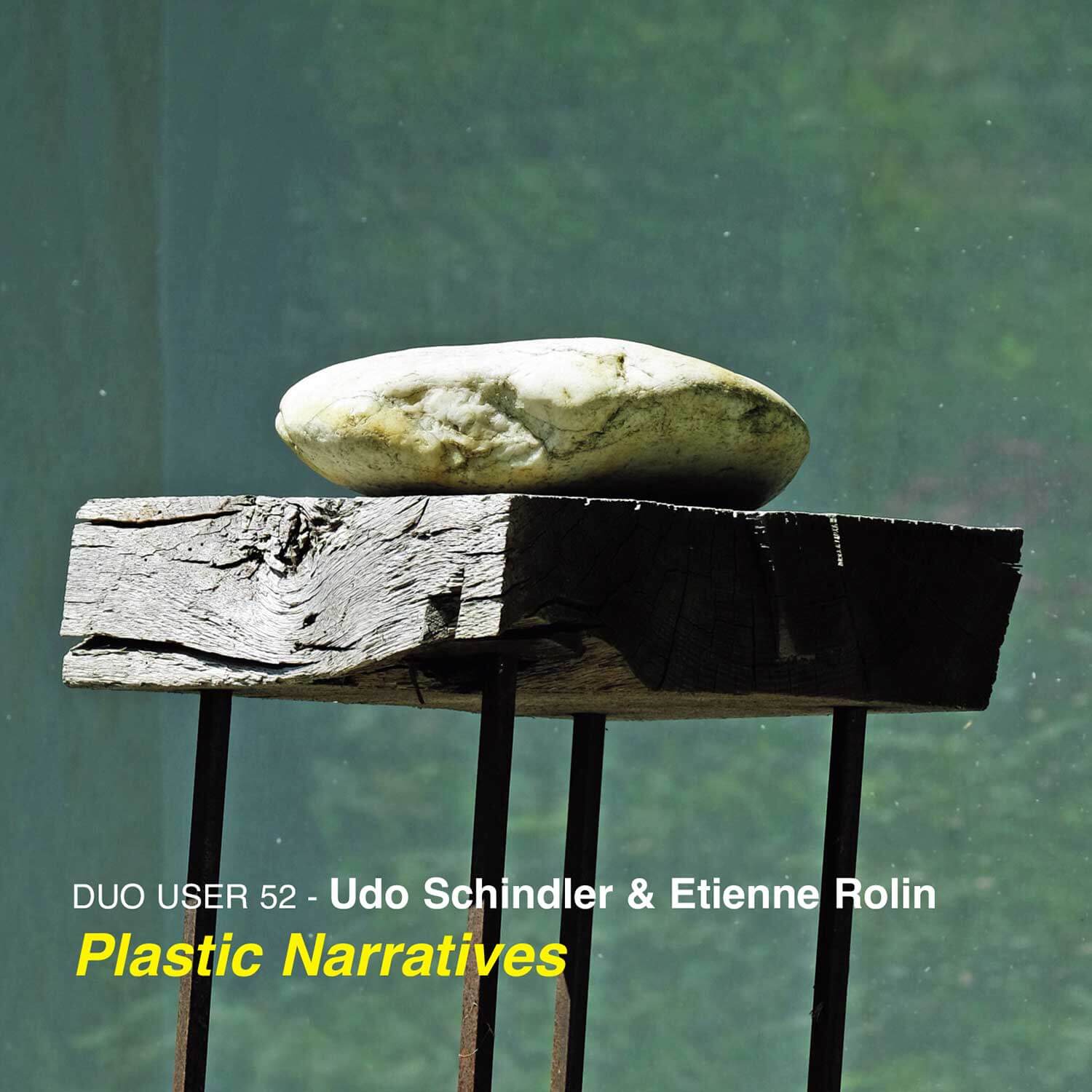 DUO USER 52
RESILIENT PERSPECTIVES…a real fact?
FMRCD646-1222
Udo Schindler    clarinets, cornet, tuba
Etienne Rolin.    basset horn, glissotar, bansuri
read the music   08:04
listen to the poetics   05:58
of yesterday carried   08:58
shimmering iridescent   04:18
the gaze covered   07:11
from   01:53
the silk slide   07:00
the perception   05:54
of the NOW   11:13
the music titles are a poem (jetzt / now) by Udo Schindler from the cycle "frequenz schaukelt / frequency swings".
Unusual Sonorites Effervescent Rotations
Utopian Structures Ethereal Relations
Undergound Synthesis Exotic Recollection
Etienne Rolin
live recordings from December 2020 till February 2021 by Udo Schindler (arch-musik) at Salon-Studio in Krailling / Munich & Villa Waldberta in Feldafing / Starnberger See
mixed by Wolfgang Obrecht
edited by Udo Schindler & Etienne Rolin
mastered by Wolfgang Obrecht / Tonstudio RichArt, Munich
all compositions by Udo Schindler (GEMA) & Etienne Rolin (SACEM)
cover photo by Udo Schindler
Inside photo by Anne Buscher
graphic design by Udo Schindler & FMR
produced by Udo Schindler
Executive Production by FMR records
The cd cover object stands in front of the entrance to the Schindler's Salon für Klang+Kunst in Krailling, where 99th performances of improvised music took place.
thanks for support to Wolfgang Obrecht, Gabi Sabo & Carlton Bunce, the Kulturreferat der Stadt München (Dr. Martin Rohmer), the caretaker couple of the Villa Waldberta & the residency fellows in the villa: Viola Yip, Silke Eberhard, Nikolaus Neuser, Nicola L. Hein, Luc Láine, Anne Buscher
https://www.arch-musik.de
https://pilgrims-of-sound.com
REVIEWS
Plastic Narratives (FMRCD648-1222) zeigt Udo Schindler mit seinem Blasfächer inklusive Tuba mit wieder Etienne Rolin, wie Neuser eine Villa Waldberta-Bekanntschaft, an Bassethorn, Glissotar & Bansuri. Als DUO USER 52. Schindler gliedert den Zusammenklang mit seinem Gedicht 'Jetzt': Read the music / listen to the poetics / of yesterday carried / shimmering iridescent / the gaze covered / from / the silk slide / the perception / of the NOW. Doch statt seidiges Schillern ruft das erstmal einen dt.-frz. grollenden und röhrenden Ochsenkrieg in den Sinn, bei dem Rolin mit einem Temperament wie Léandre auftrumpft, bevor man sich mit schmusigen und glissonischen Umlauten annähert, mit de Funès-Humor, dem Lob gallischer Hähne, sürrealem Vibrato, Tirili, Schmatz, Plop und Pfiff. Mit einer Überfülle biermöslseliger, bassklarinetter, flötenvogeliger, ätherischer, exotischer Koloraturen von guttural bis altissimo. Ich kann mich irren, aber ich halte das für Belustigung der synapsenkitzligsten, ja sogar saukomischen Sorte. 
Plastic Narratives (FMRCD648-1222) features Udo Schindler with his brass fan including tuba with again Etienne Rolin, like Neuser a Villa Waldberta acquaintance, on basset horn, glissotar & bansuri. As DUO USER 52. Schindler structures the harmony with his poem 'Jetzt': Read the music / listen to the poetics / of yesterday carried / shimmering iridescent / the gaze covered / from / the silk slide / the perception / of the NOW. But instead of silky iridescence, this first calls to mind a German-French rumbling and roaring ox warfare, with Rolin showing off a temperament like Léandre, before approaching with cuddly and glissonic umlauts, de Funès hu¬mor, the praise of Gallic cocks, sürreal vibrato, tirili, smack, plop and whistle. With an overabundance of beery, bass-clearinet, flute-bird, ethereal, exotic coloratura from guttural to altissimo. I may be wrong, but I consider this to be amusement of the most synapse-tickling, even hilarious kind.
[BA 118 rbd] Rigobert Dittmann
Udo Schindler continues to be one of the most prolific musicians in this space, i.e. embarking on an ongoing exploration of detailed timbral (microtonal, spectral) interactions in small groups of close-listening musicians. Schindler often explores in the duo format (albeit with an array of changing partners…), but his acoustic-resonant approach also means that notes & textures tend to blend (& shift), i.e. differ from traditional note-against-note polyphony & indeed depart from the chromatic scale. It's that sort of infrachromatic approach, plus the focus Schindler is able to bring on a variety of horns, that keeps me listening — although it's often a challenge to pick out a particular release for more detailed discussion. I'd reviewed In Search of Surprise back in November 2021 though, and that album articulates his underlying duo with Etienne Rolin together with vibraphone in trio. It's not easy to insert a third part into these ongoing horn duo interactions, but the extra tension or intervention brings an extra sizzle for me…. And In Search of Surprise had already involved some duo tracks too, these now being bolstered by Plastic Narratives, itself consisting of more than an hour (9 tracks…) of duet interactions between Schindler & Rolin, as recorded between December 2020 & February 2021. Although the album thus presents a bit as "odds & ends," it also involves more & different timbral explorations: Schindler is on clarinets, cornet & tuba this time, while Rolin adds bansuri to basset horn & glissotar, yielding striking (low) combos from the opening, and eventually including some extended vocalizing as well…. (It's an ongoing exploration of what two can do with horns, pace e.g. the review of Perelman's Reed Rapture in Brooklyn from this past October… where I'd also cited Schindler's work, more microtonal, acoustically twisty….) Although the result is generally tight, there can be a little more of a rambling quality as well, and that's given more rein in the other Schindler album just released on FMR: Rhapsotic Topologies returns to a trio format (with a spelling that varies across release materials…), this time with Nikolaus Neuser (trumpet) as the "other" horn & Georg Karger on double bass. The latter is new to me (but does invoke a jazzy vibe at times, and even solos…), but Neuser has been on my radar since Trialectics (from 2017), another surprisingly multidimensional trio album — there perhaps even invoking the creepy or inhuman. Rhapsotic Topologies retains a strongly human quality though (beyond merely being an acoustic album), also emphasizing more brass interactions (with Schindler on cornet, but also clarinets…), versus e.g. Rolin's reeds. Recorded in Munich in May 2022, it opens already with percussive pops, its abstract pitch clashes soon taking on more emotional contours, e.g. yielding almost feelings of romance, perhaps even a dance vibe around (jazzy) pizzicato bass…. The "rhapsodic" also yields a sense of joint-collective waves (i.e. a sort of spectral, quasi-harmolodic motion?), a kind of processual quality, but with subtle "noise" as well (as itself a sort of articulation), i.e. squawks, growling, static…. And then the music also drifts, intervals cycling absent e.g. piano, twisting lines & shadowy shapes, flowing without ground or destination…. (One might thus note a sort of open, incommensurate quality here: There're certainly more twists & tangents than e.g. the considerably more "linear" Braxton, pace his 2021 duet at Other Minds, but there's also an overall balance projected between the spatial-resonant & the animalistic-calling….) One thing about Schindler though, despite what the vocabulary here (i.e. from me) might suggest, he's always basically articulate & tuneful. (That's his exploratory, musical context.) More than anything then, the trio format multiplies the avenues for close interval correspondences & timbral interrogations (as e.g. there're three duos embedded in any trio). So Rhapsotic Topologies does seem like another good choice for more attention to Schindler, as well as provides some distinctive affective (open, quasi-)satisfaction itself.
Udo Schindler ist nach wie vor einer der produktivsten Musiker in diesem Bereich, d.h. er erforscht ständig detaillierte klangliche (mikrotonale, spektrale) Interaktionen in kleinen Gruppen von Musikern, die ihm zuhören. Schindler erforscht oft im Duo-Format (wenn auch mit einer Reihe von wechselnden Partnern…), aber sein akustisch-resonanter Ansatz bedeutet auch, dass Noten und Texturen dazu neigen, sich zu vermischen (und zu verschieben), d.h. sich von der traditionellen Note-gegen-Note-Polyphonie zu unterscheiden und tatsächlich von der chromatischen Skala abzuweichen. Diese Art von infrachromatischer Herangehensweise und der Fokus, den Schindler auf eine Vielzahl von Hörnern zu legen vermag, lässt mich immer wieder zuhören – auch wenn es oft eine Herausforderung ist, eine bestimmte Veröffentlichung für eine ausführlichere Besprechung auszuwählen. Ich hatte In Search of Surprise bereits im November 2021 rezensiert, und dieses Album zeigt sein grundlegendes Duo mit Etienne Rolin zusammen mit Vibraphon im Trio. Es ist nicht einfach, eine dritte Stimme in diese ständigen Horn-Duo-Interaktionen einzufügen, aber die zusätzliche Spannung oder Intervention bringt für mich ein zusätzliches Knistern…. Auch auf In Search of Surprise gab es bereits einige Duo-Tracks, die nun durch Plastic Narratives ergänzt werden, das wiederum aus mehr als einer Stunde (9 Tracks…) Duett-Interaktionen zwischen Schindler und Rolin besteht, die zwischen Dezember 2020 und Februar 2021 aufgenommen wurden. Obwohl sich das Album also ein wenig als "odds & ends" präsentiert, beinhaltet es auch mehr und andere klangliche Erkundungen: Schindler spielt diesmal Klarinetten, Kornett & Tuba, während Rolin Bansuri zu Bassetthorn & Glissotar hinzufügt, was zu auffälligen (tiefen) Combos vom Anfang führt und schließlich auch einige ausgedehnte Vokalisierungen als gut…. (Es ist eine fortlaufende Erkundung dessen, was zwei mit Hörnern machen können, siehe z.B. die Rezension von Perelmans Reed Rapture in Brooklyn vom letzten Oktober… wo ich auch Schindlers Arbeit zitiert hatte, die mikrotonaler und akustisch verworrener ist….) Obwohl das Ergebnis im Allgemeinen straff ist, kann es auch ein wenig ausschweifender sein, und das wird auf dem anderen Schindler-Album, das gerade bei FMR erschienen ist, stärker betont: Rhapsotic Topologies kehrt zu einem Trio-Format zurück (mit einer Schreibweise, die je nach Veröffentlichungsmaterial variiert…), diesmal mit Nikolaus Neuser (Trompete) als dem "anderen" Horn und Georg Karger am Kontrabass. Letzterer ist neu für mich (hat aber manchmal einen jazzigen Vibe und sogar Soli…), aber Neuser ist seit Trialectics (von 2017) auf meinem Radar, einem weiteren überraschend multidimensionalen Trio-Album – das vielleicht sogar das Unheimliche oder Unmenschliche beschwört. Rhapsotic Topologies behält jedoch eine stark menschliche Qualität bei (und ist nicht nur ein akustisches Album) und betont auch mehr Blechbläser-Interaktionen (mit Schindler am Kornett, aber auch Klarinetten…), im Gegensatz zu z.B. Rolins Bläsern. Aufgenommen in München im Mai 2022, beginnt es bereits mit perkussiven Pops, deren abstrakte Tonhöhenclashs bald emotionalere Konturen annehmen, z.B. fast romantische Gefühle hervorrufen, vielleicht sogar eine tänzerische Stimmung um (jazzige) Pizzicato-Bässe herum…. Das "Rhapsodische" ergibt auch ein Gefühl gemeinsamer, kollektiver Wellen (d.h. eine Art spektrale, quasi-harmonische Bewegung?), eine Art prozessuale Qualität, aber auch mit subtilen "Geräuschen" (als selbst eine Art Artikulation), d.h. Kreischen, Knurren, Rauschen…. Und dann driftet die Musik auch, Intervalle zirkulieren ohne z.B. Klavier, verschlungene Linien und schattenhafte Formen, fließend ohne Grund oder Ziel…. (Man könnte hier also eine Art offene, inkommensurable Qualität feststellen: Es gibt sicherlich mehr Wendungen & Tangenten als z.B. bei dem wesentlich "lineareren" Braxton, z.B. in seinem 2021er Duett bei Other Minds, aber es wird auch eine Gesamtbalance zwischen dem räumlich-resonanten & dem animalisch-anrufenden projiziert….) Eine Sache über Schindler, entgegen dem, was das Vokabular hier (d.h. von mir) vermuten lässt, ist er im Grunde immer artikuliert und melodiös. (Mehr als alles andere vervielfacht das Trioformat die Möglichkeiten für enge Intervallkorrespondenzen und klangliche Befragungen (da z.B. drei Duos in jedem Trio enthalten sind). Rhapsotic Topologies scheint also eine weitere gute Wahl zu sein, um Schindler mehr Aufmerksamkeit zu schenken, und bietet auch selbst eine ausgeprägte affektive (offene, Quasi-)Befriedigung.
Todd MCComb – 28 February 2023 / http://www.medieval.org/music/jazz/