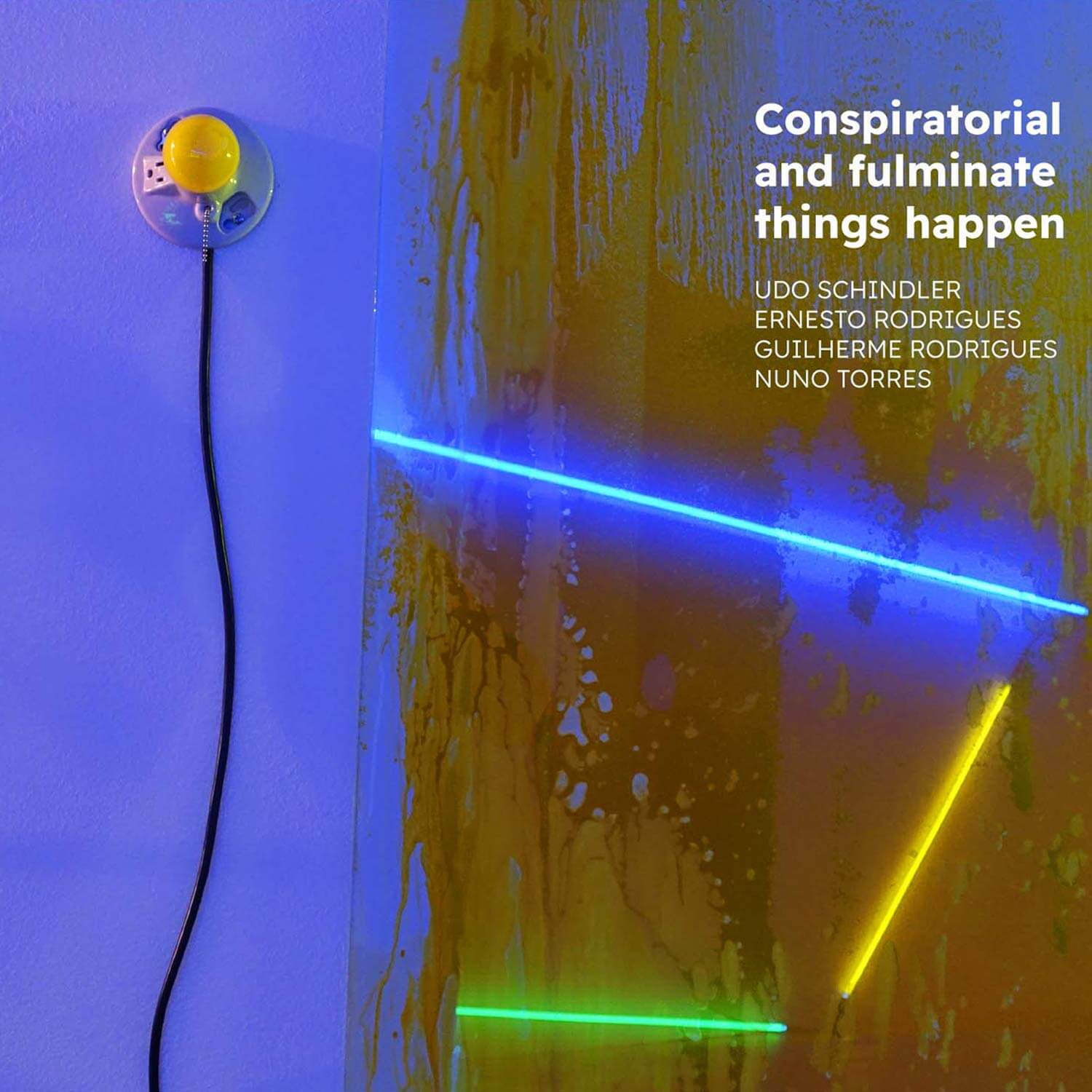 SCHINDLER-RODRIGUES-RODRIGUES-TORRES
Creative Sources CS 776 CD
Udo Schindler clarinets, alto saxophone
Ernesto Rodrigues viola
Guilherme Rodrigues violoncello
Nuno Torres alto saxophone
conspiratorial and fulminate things happen
Conspiratorial things happen in the Kommandozentrale (live)
Starry Rhymes 13:33
Memory Gardens 10:47
The Trembling of the Veil 12:02
Don't Get Grow Old 13:04
Cosmopolitan Greetings 02:37
Sunflower Sutra 07:50
City Midnight Junk Strains 07:51
The titles of the music pieces are borrowed from the poetry of Allen Ginsberg
(Lyrik.Poetry – The Essential Ginsberg 2015)
… Syntax condensed, sound is solid.
Intense fragments of spoken idiom, best.
Consonants around vowels make sense.
Savor vowels, appreciate consonants.
Subject is seen by what she sees.
Others can measure their vision by what we see.
Candor ends paranoia.
Allen Ginsberg (1986)
fulminate things happen … in space (studio)
thoughts spinning from paragraph to paragraph 03:08
bakunin jubilates 08:58
strange preferences between the lines 11:25
flying irritations of the plot 04:05
ceiling spotlights whirring 06:55
thomas mann is shocked 05:10
marx jumps hesitantly &#09:41
BASIS_SoundSpace (BASIS Booksalon & Klangraum at MUCCA / Munich Center of Community Arts) – german Basis means basic in English.
A new sound space for contemporary, experimental and improvised music I've introduced at MUCCA.
It can be seen as a successor project to the Salon für Klang+Kunst, which gave up after the 99th event due to corona.
The performances are co-sponsored and supported by the dasvinzenz theatre.
The acoustically performed space is the book estate of the legendary left-wing former bookshop with antiquarian bookshop, the Basis-Buchhandlung GmbH.
Founded in 1972, the bookshop on Adalbertstraße in Munich was a focal point for critical minds for almost 40 years and an intellectual staple for many, including me. The institution, as such it was to be called, had to close about ten years ago.
The recorded space with the leftover books is an adequate shell for the unadjusted improvised sounds we create there – a transformation of the past into a freely designed future!
Recordings November 10th 2022 at BASIS_Klangraum (studio) and
November 11th 2022 at Kommandozentrale (live) at MUCCA & dasvinzenz (Munich) by Wolfgang Obrecht
Audio mix & master by Wolfgang Obrecht
Music By Udo Schindler (GEMA),
Ernesto Rodrigues, Guilherme Rodrigues, Nuno Torres (???)
Band photos by KP Mendler
Cover photo by Udo Schindler
Graphic design by Udo Schindler & …
Produced by Udo Schindler
Executive production by CS
Udo Schindler plays a Leblanc contrabass clarinet modified till low C by Bruno Waltersbacher (& Benedikt Eppelsheim), a bass clarinet heavy neck made by Martin Suter (Blashaus Luzern) & a clarinet mod.3000 build by Jochen Seggelke (Schwenk & Seggelke).
Thanks for support to
Wolfgang Obrecht, Michael Kurz, the Schauer family, Ernst Nebhuth,
Tom Biburger, Gabi Sabo & Carlton Bunce, Theater dasvinzenz, KP Mendler,
the hardcore fans & my instrument builders Benedikt, Bruno, Max, Jochen & Gerd.